About the Nature Photographers Network™

Nature Photographers Online Magazine
Welcome to Nature Photographers Online Magazine, the official website of the Nature Photographers Network™. The NPN website is intended to serve as an online resource for nature photographers of all skill levels, from beginner to professional. Our focus is on the art and technique of nature, wildlife and landscape photography.
Learn more about the NPN culture in our commentary Defining NPN
We welcome all of our visitors to peruse the extraordinary nature, wildlife and landscape photos posted in our Galleries, as well as the selection of nature photography products and services offered by our members using the Shop menu at the top of the page.
Use the drop-down menus in the navigation bar above to view all content on the Nature Photographers Network™ website, which is best viewed using the Mozilla Firefox or Google Chrome browser.
Important Copyright Notice! All content, including photography and text on this site is copyright the respective photographers/authors. Unless otherwise specified, any use or reproduction of the content without the written permission of the photographer and/or author is strictly forbidden. Please refer to our Terms of Use.
The Internet's top-ranked nature photography site!
Easily found on the major search engines using popular search phrases such as nature photography, wildlife photography, bird photography, landscape photography and many more, the widely acclaimed Nature Photographers Network™ website is an unrivaled resource for both the nature photographer as well as those who simply enjoy viewing superb nature photos.
We also take great pride in the friendly, non-commercial setting we provide for all visitors. What you will not find on the NPN website is pop-up banners, excessive advertising, rude behavior or blatant self-promotion by those who own and operate this website. In fact, the NPN website is listed in the newly published reference book The Young Person's Guide to the Internet as a recommended resource for nature photography enthusiasts of all ages, and is listed as a top-ranked wildlife photography resource by DMOZ open directory project.
If you would like to learn more about the Nature Photographers Network™, visit our NPN Membership page.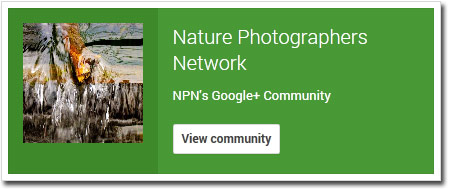 Thanks for visiting the Nature Photographers website - we hope you enjoy your stay!
Jim and Donna Erhardt
Publishers
Nature Photographers Online Magazine
P.O. Box 10601
Bedford, NH 03110
Questions, comments or suggestions? Contact us at editor@naturephotographers.net.