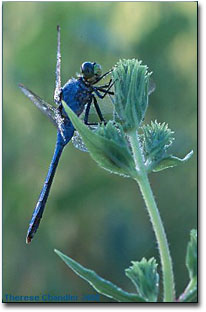 I clambered out of bed at 4:30 AM thinking how my morning's photography was going to be perfect. I couldn't have planned it any better! Judging by the Internet's forecast, soupy dew would prevail, leaving me with an opportunity to find an immobile insect to photograph. Since my past two outings, every slide had met up with the Round File , so this glorious morning would cure the "slump" I was in.
As I neared the Horseshoe Lakes meadow area, thoughts of insects and arachnids filled my mind. After only ten minutes, I found a blue dew-laden dragonfly. " Wow", I thought, "here's a great find!" When I lowered my tripod legs and knelt on the dewy carpet of grass, this blue insect flew away. I figured maybe I could find another still dragonfly, and I did about fifteen minutes later. This insect was in even a better location, background wise, so I decided to try again. I had to bring my tripod down all the way to the ground to get the film plane parallel with my subject. Everything was set up and ready to go as I watched glistening wings soar above my head!
Still knowing I had plenty of quality light, I wasn't really concerned. As the golden light began to pour in, I started noticing jeweled spiders' webs. One in particular caught my eye because this web wasn't the usual circular shape, and the bottom seemed to be made like a strand of pearls. I advanced on this web thinking what a marvelous image this could be! I concentrated on the left hand side because it was more intricate. When finally I had raised the tripod height correctly, I noticed the background as being bright green, and there wasn't enough contrast. After working a bit more, I decided to try another spider's web. When I turned around, I viewed a meadow full of golden, shimmering webs! One in particular caught my attention. I liked the way the weeds bent down because of the weight of condensation. This, along with the wonderful lighting, certainly had to be the image I had been waiting for! After decreasing the length of my soaked tripod, I brought the legs almost to the ground when I observed horrible glare coming right through my chosen web. I tried rearranging my position three times but to no avail. By this time, my jeans were saturated from theknees down, and I was growing impatient and tired. I also was getting nervous because I could hear a bellowing contest between two alligators relatively nearby. Then, I heard a loud SNAP and a rustling commotion! I decided that it was time to head left and away from these beasts.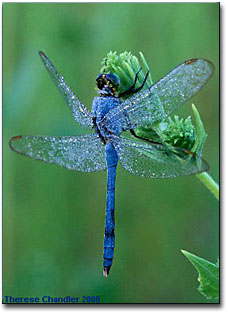 By this time, an hour had elapsed, and so did sixty minutes of golden light. For unknown reasons, I started to walk toward a huge Oak Tree. I observed an unusual, triangular backed spider with tiny legs that I had never seen before. Its web had a hole torn right through the middle. Thinking, this had to be my photography highlight, I once again, lowered my equipment to the spider's level. There was only one problem- this arachnid would not stop moving! This combined with the shaded area meant another passed chance. Now my pessimism had begun to override my earlier excited anticipation of nature's wonders, especially since I also realized that I had lost my cable release! I was very frustrated at the end of this photography session because I felt that although many opportunities were present, I couldn't capitalize on any due to my impatience and inexperience.
The following Saturday, dew conditions were not forecasted to be quite as optimal, but I decided to try my hand at macro work again. This time, I was determined just to enjoy nature and not think about the need for obtaining a satisfying image. Within minutes into my venture , I discovered a blue, inactive dragonfly clinging to a simple green plant! I spent the next forty-five minutes experimenting with different compositions, backgrounds, and aperatures intently enjoying the sparkling light and the privilege of being admitted into this small insect's world. As I packed up my equipment, I had begun to reflect on why this photography session had gone so much better than the last. Perhaps, my mind set and attitude were more geared toward enjoying the simple beauties of nature instead of planning the outcome. The next time you're in a photographic "slump" just remember that a marvelous image will happen eventually - it's Nature's Way!
Editor's Note - Be sure to visit Therese's web site.