Telephoto Lens Review...
Sigma 300/2.8 HSM EX
Text and Photography Copyright Jim Erhardt.
All rights reserved.
Click on images to see larger versions.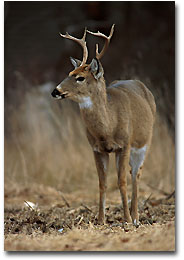 Big, fast glass is a serious investment for any photographer and for those who specialize in nature photography, it's no different. Depending on the size of the subject, a 300-millimeter telephoto lens is considered by most knowledgeable wildlife photographers to be the absolute minimum practical focal length for fieldwork. Most prime (single focal length) telephoto lenses can accept and work well with teleconverters to extend their reach, but at the expense of shutter speed due to the smaller effective aperture when a teleconverter is employed. Just as 300 millimeters is considered the minimum focal length for serious wildlife photography, so is an aperture of 5.6. While a 300 f/4 lens with a matched 2X teleconverter will yield a 600mm focal length with acceptable image quality, the effective aperture of f/8 makes the viewfinder dark, shutter speeds long and autofocus in most camera systems slow or inoperative.
I have been using Canon's excellent EF 300/4L telephoto lens and matched 1.4X teleconverter for some time now and have become accustomed to the excellent image quality the combination provides. In the Canon line, the next step up in "big glass" is a huge one monetarily, about $5000 for their EF 300/2.8L IS, over $3700 more than the lens I now own. No doubt about it, once you move up beyond the typical 300/4 or 400/5.6 lenses in the major camera manufacturer's product lines, prices take a huge jump for essentially nothing more than an extra stop or two of lens speed. There's also no doubt that these top-end lenses are of the highest quality, from both a performance and durability standpoint, the reason many advanced amateur and professional photographers are willing to invest in the camera manufacturer's big glass lenses.
As a less-costly alternative to the camera manufacturer's telephoto lenses, Sigma, a manufacturer best known for its line of consumer camera lenses, offers three "big glass" telephoto and super-telephoto lenses in its professional grade "EX" series. After spending a few days in the field with their 300/2.8 HSM EX lens and an opportunity to closely examine it, I offer the following commentary and subjective review.
A Closer Look
Initial examination of the lens revealed construction that is on par, and in some cases, better than the Canon EF 300/4L lens I personally own. The lens barrels and detachable hood are made of a lightweight metal alloy, very attractively finished in matte black. The hood attaches via a bayonet system with a knurled locking nut to secure it. The detachable tripod collar is very well engineered and constructed, turning more smoothly and locking more securely than the collar on my 300/4L. The wide focusing ring turns very smoothly with a nicely damped action that rivals the finest mechanically focused lenses. The lens features a drop-in filter holder at the rear that will accept any standard 46mm screw-in filter. The holder is well designed and very easy to use. There's also a nicely damped filter ring just in front of the holder for turning the filter, making the design a joy to use with polarizing filters. The lens also features an easy-to-reach autofocus switch at the rear of the lens but oddly, no focus range selector. My initial impression of this lens was that it's ergonomically well designed, very attractively finished and extremely well made, comparing very favorably to its Canon or Nikon counterparts.
Lens Specifications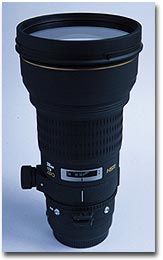 Focal length - 300 millimeters
Angle of view - 8.2 degrees
Lens construction - 11 elements in 9 groups, including two Extraordinary Low Dispersion glass elements (Abbe number 90.3)
Maximum aperture - f/2.8
Minimum aperture - f/32
Minimum focusing distance - 98.4 inches (2.5m)
Maximum magnification - 1:7.5
Autofocus drive - Internal focus, HSM in Sigma SA, Canon and Nikon (D) mounts.
Filter size - 46mm rear drop-in
Dimensions - 4.7 inches (120mm) in diameter by 8.3 inches (212mm) in length
Weight - 84.7 ounces (2400 grams)
Available mounts - Sigma SA, Canon and Nikon (D) with HSM
Minolta and Pentax (no focusing motor in lens)
Approximate retail - $3,150.00
In the Field
Like Canon's USM and Nikon's AF-S focusing motor systems, Sigma's HSM (HyperSonic Motor) is fast, sure and silent. Mounted on a Canon EOS 1n, the focus locks onto the subject with authority, with no hunting or back-and-forth fine-tuning. Also like Canon's USM and Nikon's AF-S, Sigma's HSM offers full-time manual focus override in one-shot autofocus mode without having to switch the lens into manual focus mode. Both of these benefits I have come to appreciate with my 300/4L and found them to be just as beneficial to my photography with the big Sigma lens. The narrow depth of field afforded by the fast f/2.8 aperture is also immediately evident through the viewfinder, allowing greater creativity in framing a subject.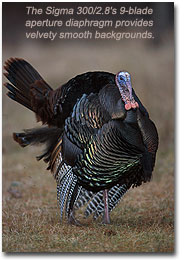 I also had the opportunity to test Sigma's matching 1.4X and 2X teleconverters for the EX series of lenses and this is where some differences to the Canon equipment became apparent. Like the lens, the converters are beautifully finished to match the lens and appear extremely well made. Like the Canon counterparts, they lock onto the Sigma lens cleanly with no wobble or looseness. However, upon depressing the shutter button to activate autofocus, I immediately noticed the first real difference; unlike the Canon combination, the Sigma 300/2.8 appears to focus as swiftly and surely with the converters as it does without them! This has always been a trait of the Canon lens/teleconverter combination that annoys me; as soon as I install the matched Canon 1.4X teleconverter on my EF 300/4L lens, autofocusing becomes noticeably slower. Even with a 2x teleconverter in place, yielding a 600mm f/5.6 super-telephoto, the Sigma's autofocus performance remains superb. The additional stop of lens speed also results in a brighter viewfinder and allows for a more selective depth-of-field. The 9-blade diaphragm renders smooth, out-of-focus backgrounds. With its smooth turning tripod collar and focusing ring, easy-to-use filter holder and excellent autofocus performance (with or without teleconverters), the Sigma 300/2.8 HSM EX is a joy to use in the field, even more so than my Canon EF 300/4L.
The Slides
All images included with this review were taken on Fuji Provia 100F, rated nominally. Examination of the slides with a 4X loupe on a light box reveals superb sharpness and excellent contrast. When shooting into strong backlighting, the lens exhibits little flare or ghosting. The out-of-focus background (bokeh) is very smooth and pleasing. While a very slight loss of contrast and sharpness is evident when using Sigma's matched EX teleconverters, results remain outstanding and on par with Canon and Nikon lenses/teleconverters, as witnessed by this series of shots taken of the Old Grist Mill.
Conclusion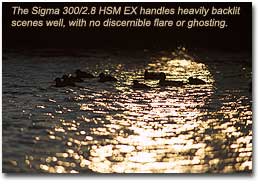 For the serious nature photographer looking to make the step up from a 300/4 or 400/5.6 lens, what does the Sigma 300/2.8 HSM EX have to offer? For many, this lens represents an opportunity to make that step and save 30 to 40 percent as compared to buying the camera manufacturer's version. In terms of image and construction quality, in my opinion little or nothing at all is sacrificed by going the Sigma 300/2.8 HSM EX route. In fact, the design and operation of the tripod collar is better than the one on my Canon EF 300/4L. The focusing ring on the Sigma turns more smoothly as well, especially in cold weather, and autofocus performance with the matching Sigma EX teleconverters is slightly faster than the Canon EF 300/4L with the matching Canon 1.4 teleconverter. What do you get with Canon's EF 300/2.8L IS that you don't get with the Sigma? Obviously, the image stabilization (IS) technology and a few other bells and whistles, including a focus range limiting switch. Whether these features are worth an additional $2000 (including the more costly Canon teleconverters) is something only the individual photographer can determine for him or herself.
Is a 300/2.8 lens (regardless of the manufacturer) a viable nature photography lens? Again, this is something only the individual photographer can determine. While the 300mm focal length may be just barely adequate in many cases, the f/2.8 aperture is a godsend in low light. With the addition of their matched 1.4X and 2X teleconverters, the Sigma 300/2.8 HSM EX also serves as a 420/4 and 600/5.6 autofocus lens, capable of delivering excellent results. For other than the song bird photographer, this may be all that is ever needed.
Would I consider owning the Sigma 300/2.8 HSM EX with a set of matching Sigma EX teleconverters myself? As I sit here in front of my PC writing this, I'm scheming on how to make just that happen!
JE-NPN