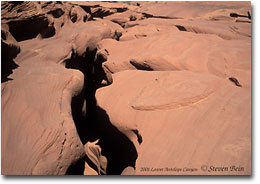 Slot canyons are among of the most magnificent geological features of the American Southwest. Carved through the eons by the relentless onslaught of running water, the typical slot canyon may be only a few feet wide but hundreds of feet deep. The soft Navajo sandstone, with its brilliant shades of reds and oranges, provides the perfect terrain for the formation of these beautiful and highly photogenic places.
The following slide show presentation is a collection of 12 images taken and contributed by the members of the Nature Photographers Network for this photo essay.
Useful links to learn more about slot canyons -
Comments on this photo essay? Send them to the editor.