Insights on Images
Photography and Text Copyright Jerry and Barbara Jividen
All rights reserved.
Turning Images Into Income
Today's marketplace is filled with excellent photography. Not only do you find colorful images in books and magazines, on calendars and post cards, you see the world of advertising explode with great pictures. Even everyday products like mugs, T-shirts, mouse pads, and wallpaper are donned with the vision of great photographers. Plus, with the popularity of digital cameras, more home computers, scanners, and the Internet, the handiwork of many amateur photographers can be seen in many more places.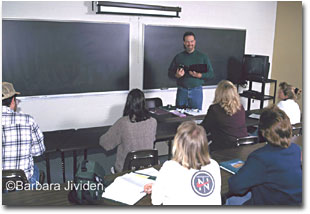 While photography may first seem like an inexpensive hobby to some, those of us who take it seriously know that it can soon rival almost any other expensive item in the home. So how can you turn those images into income rather than having your photography drain your dollars? Here are a few ideas to help you recover some or all of your investment, cover your film and processing bills, and possibly provide a lucrative income.
Educate yourself. Before incurring time and expense in selling your work, take a photography workshop or class, read how-to books and magazine articles written by the pros, or sign up for a photo correspondence course. Fill yourself with photography information. Strive to improve your work until it is competitive with the very best that you see published.
Join a photo club. Affiliate yourself with a photographers' group. Is there a camera club or professional photography association in your area? Collaborating with other photographers is another productive method of improving your skills while sharpening your business strategies.
Sell it. Offer some of your favorite images as photographic prints--matted and framed. For each sale you make, it is probable that you can double your investment. Local art galleries, gift shops, and art fairs provide excellent opportunities for the sale of good photographic artwork.
Enter photo contests. Challenge yourself to shoot better than you did the last time. The benefits of winning contests include recognition, prestige, a meaningful addition to your bio, and possibly prizes ranging from cash to equipment and trips.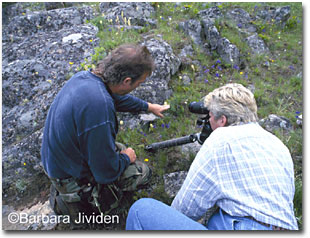 Build your photo files. Remember that the publishing industry demands images of superior quality. As well, you'll need an extensive file in at least a few subject categories before aggressively marketing your work. Because the majority of publishers prefer slides or larger transparencies, shoot chrome films (versus negatives) for stock. If you are building digital files, know which markets will consider digital images before you make a big investment of time and money.
Know the market. Buy the latest copy of Photographer's Market (Writer's Digest Books) and use it. You'll find a comprehensive listing of publishers and the publications that buy and use photography--including those who purchase work from freelancers. Most do not stipulate that you must be a full-time shooter.
Expand. If you already specialize in nature and wildlife photography, consider adding other types of photography services. A good source of income is to incorporate portrait or commercial photography as a "division" of an existing photo business if you have one. If you're good, and confident about it, you can supplement your income with photo jobs of weddings, school functions, reunions, businesses, outdoor events, and studio work.
Submit, submit, submit. After you have the quantity and quality of images, devote a specific number of hours per week to submitting images to potential markets. Too many photographers fail here because they love photography but hate this type of work.
Promote your work. Use your success stories to build an impressive portfolio, including tear sheets and samples of your best work. Create a web site to display your specialties and elaborate on your areas of expertise and your accomplishments. If you accept assignments, be sure that it's clearly stated and include your contact information. For more credibility, add references and a list of publishers who have printed your photography as you advance.
Give presentations. If you are comfortable speaking to groups, lecture about photography. You can also include slide presentations. Do you frequently give free advice to others just starting out? Speaking is a good way to increase your income.
Write about it. How did you take that picture? What film did you use? What is the best time of year to photograph that subject? You know, don't you? Then propose an illustrated article about a particular type of photography to a publisher. This could be your first photo/text package sale. In addition to photo magazines, look for other special-interest publications. If you enjoy mountain biking or fly fishing, for example, propose an illustrated article on how other readers can get great photos of their favorite pastime.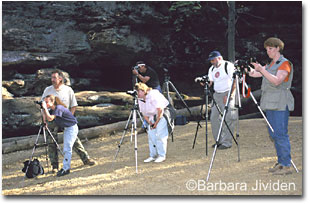 Teach photography. You can do it. Look at how far you've come. Find an organization in your area that offers non-credit adult courses or programs for kids. When you feel qualified, apply. Because you aren't providing or reselling a "product," but rather marketing a "service," compensation is all profit.
The techniques we've learned and the advice we offer is now the creed by which we live. With the success of building and marketing good photo files, we now shoot for and submit to magazines and publishers nationally and internationally. We teach adult education photography courses and summer classes for young adults. We lecture, conduct wildlife and nature photo workshops, and write about photography. We also find strength in professional organizations as members. For example, we are active in the Nature Photographers Network (NPN), ASMP (American Society of Media Photographers), and NANPA (North American Nature Photography Association), among others.
We realize that not everything on our list is suitable for everyone. But the point is this: there is more to professional photography than just taking good pictures. If you want a successful vocation as a photographer, if you want to become a pro, find as many ways to incorporate photography into your life as possible. When you do, you might just discover the formula for turning images into income.
JJ/BJ-NPN
---
Jerry and Barbara Jividen are members of the North American Nature Photography Association (NANPA) and the American Society of Media Photographers (ASMP). Barbara is also a member of the Outdoor Writers Association of America and serves as Assistant Editor for NANPA's Currents. Both are certified photography instructors and lead numerous photo workshops and tours throughout the year. They also write a monthly e-journal, called the "Insights on Images: E-Journal," which can be obtained via email by requesting a free copy at: www.imagesunique.com/insights/journal.html. For more information, call (800) 866-8655.