Insights on Images
Photography and Text Copyright Jerry and Barbara Jividen
All rights reserved.
Note - This new column by Jerry and Barbara Jividen is dedicated to the ABC's of nature photography:
Advancement of the nature photographer,
Betterment of our natural world through responsible photography &
Creative enrichment of the craft.
Here, we hope to make the world of nature photography a little wider and a lot deeper.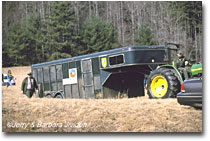 Elk Return to the Smokies
As avid nature photographers who spend as much leisure time in the field photographing as we do professionally, we were thrilled by news that the Great Smoky Mountains National Park would be the site for an experimental elk release in 2001.
Like many outdoor enthusiasts and nature lovers, we travel westward to see the bugling bulls, the crowned kings, and one of the most majestic mammals in North America, the elk. Although we spend many weeks a year photographing in the Smokies, we still venture far from home to other parts of the county in order to see and photograph an animal that has been absent from the Smokies for an estimated 170 years.
The elk, hunted to extinction in many states, now travels the road to recovery in the Smokies--thanks to the unified efforts of several dedicated organizations and determined individuals. Monies to support a five-year feasibility study of self-sustaining elk populations in the Smokies are being raised and donated by the Rocky Mountain Elk Foundation, the Friends of the Smokies, and the Great Smoky Mountains Natural History Association. It is expected that this noble project will cost an estimated $1.1 million to complete.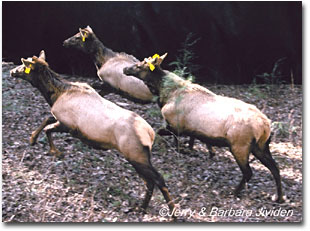 For those who understand that reintroducing elk to this region is as important to the ecosystems as maintaining the balance of predator and prey, or other important links in nature's chain, the historic elk release is both monumental and moving. The elk study will determine if elk can not only survive again in the Smokies, but it will assess whether the herds are thriving and where they are moving. It will also determine the impact of the animals to the land and flora, which is also important.
On February 2, we watched and photographed a total of 25 elk bolt from three trailers (consecutively). Transported from Kentucky's Land Between the Lakes, the elk are currently confined to a 3-acre acclimation area in the Cataloochee Valley in North Carolina. This type of "soft release" will help them adjust to their new habitat and will allow biologists to conduct further health studies and fit the animals with radio collars for tracking after they are turned into the wild. Although this number represents only one-third of the elk to be released over the next two years, this first herd consists of bulls, cows, and calves. It is, therefore, likely that the herd will increase its own number.
What does all this mean to the nature photographer?
Once again, beautiful landscapes in the Smokies may be accented with an animal that sets itself apart from the others. Not unlike the commonly seen White-tailed deer in form, its size, however, is much more formidable. A healthy, adult male may weigh between 600 and 700 pounds with antlers spanning up to 5 feet. Returning elk to the land is like putting a missing subject back into a picture; and that certainly gets our attention.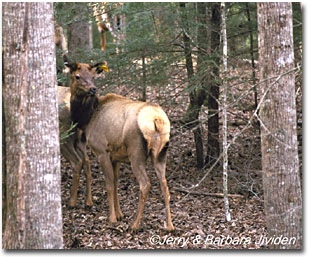 Photographic Considerations - a Short Checklist
First, in order to get great photos of elk or any species, you need to understand its behavior, life cycle, and habitat. After learning about a particular animal, you need to couple the knowledge with patience. And patience, as we know all too well, is a virtue in the nature photographer.
Next, you need to consider what type of photos you want to create: an environmental portrait, a close-up, or an action shot. Then, proceed to scout your selected area, taking along the most appropriate equipment and lenses. For example, if you want a tight shot of an animal and you can't or shouldn't get close enough with your "normal" lens, you'll want to use a lens (or lens and teleconverter combination) that is capable of achieving your desired results--possibly a focal length as long as 600mm or more. If you prefer composing your scene with the animal as just a small part of the picture for better perspective of the landscape, a middle-range zoom lens (like an 80-200mm zoom lens) or wide angle would be best.
Note that zoom lenses offer more diversity in unpredictable situations. With zooms, you'll have the freedom to recompose and create very different scenes without much physical movement. This is especially beneficial if your movement would cause the animal to move or flee.
For a complete checklist of getting great results in photographing elk and other sizeable subjects, be sure to check out the April issue of NPN for the perfect companion article, "Photographing Big Wildlife with Big Results."
JJ/BJ-NPN
---
Jerry and Barbara Jividen are members of the North American Nature Photography Association (NANPA) and the American Society of Media Photographers (ASMP). Barbara is also a member of the Outdoor Writers Association of America and serves as Assistant Editor for NANPA's "Currents." Both are certified photography instructors and lead numerous photo workshops and tours throughout the year, including four workshops annually in the Smokies. They also publish a quarterly photography journal, called "Insights on Images," which can be obtained through the Gift Shoppe or directly from their website at www.imagesunique.com. For more information, call (800) 866-8655.