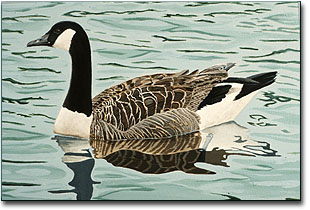 John was born in 1953 to Southern Baptist Missionary parents, John and Lillian Isaacs in Kentucky. His family moved to Fairbanks, Alaska in 1960 where John attended and finished grades 1-12. In 1972, they moved to Tallahassee, Florida.
John continued his academic education by obtaining his Applied Associates, Bachelor of Art and Masters Degrees in Reading from Tallahassee Community College and Florida State University.
In 1979, John began working at the Federal Correctional Institute where he currently teaches Adult Basic Education.
John began using different types of art media while in high school. He has since attended numerous wildlife workshops taught by notable wildlife artists. John has taught art lessons himself for a number of years, and has had a number of entries in the Federal Duck Stamp Contest, a competition of the highest magintude for wildlife artists.
As seen on his website, John uses a variety of art media, including pen and ink, watercolor and acrylic, and airbrush. He specializes in animals of the Southeatern U.S.