Recently, much of my photography has been in and around the water working subjects like least grebes and black-bellied whistling ducks. These are common species near my home in south Texas, and are highly prized by visiting birders and photographers because of their limited U.S. distribution. Unfortunately, they are difficult to approach except by water.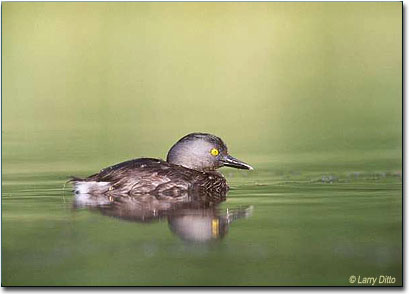 I prefer to keep over-water photography as simple as possible because it's just too difficult to move a heavy blind and lots of equipment through dense shoreline cover and into a pond. Murphy's Law says (indirectly) that the more equipment one carries to the pond, the greater the odds are that some will get wet. My basic equipment for these outings is limited to a large inner tube, a short board (shooting platform), a camouflage cover, monoball, camera, lens and small, water-proof container.
The shot selected for this article was taken from a tube similar to those used for float fishing, fitted with a 3' x1"x10" board laid across the tube for a shooting platform. An Arca Swiss monoball was attached to the board and used to support a Canon 300mm EF lens, Canon 2X teleconverter and Canon EOS 1-N Camera. Extra film and batteries are about the only extra items I carry when floating and those ride on the shooting platform in a plastic container. I don't recommend zip-lock bags since they usually leak...sealed Tupperware is more certain to keep the contents dry if the item slips into the drink (and, eventually, it will).
I try to find a secluded spot or well protected cove to get into the tube. After draping a camouflage cloth (or netting), I'm ready to crawl away from shore; I use camou-cloth with a shooting port and viewing window sewed in. Since the material drapes over everything and into the water, the edges get wet and pretty much hold the cover in place. My arms are locked over the tube or rest on the shooting platform, and I simply crawl along, staying in shallow water where I maintain contact with the bottom. Depending on the position, my knees, feet or backside are always on the bottom and keep me and tube fairly stable for shooting. For deeper water, a fishing tube with seat would be more suitable but is much less stable for shooting.
A slow, indirect and quiet approach will prove successful, especially for wading birds, turtles, and even mammals that come to water. On the other hand, ducks, geese, and swans are always sensitive to unnatural objects, but they can be approached if not otherwise disturbed. Since most photographers shoot early and late, the birds are more likely to be preoccupied with feeding and/or tending to their young. Also, the wind is more likely to be calm at those hours, and still water helps keep the tube steady. Float tubes work especially well in small, isolated ponds where wave action is minimal and wildlife is less disturbed.
For most of us, this is a warm weather technique, but simple, inexpensive and effective. Furthermore, it allows the photographer to capture those eye-level shots that are so much more appealing that anything taken from a car window or conventional blind.
---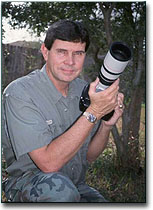 Larry Ditto is well-known in south Texas as a photographer and wildlife biologist. Larry was the manager of the Santa Ana National Wildlife Refuge in the Rio Grande Valley for years. His photos have been on the cover of Texas Parks & Wildlife, Birder's World, Wild Bird and others. Larry teamed-up with Greg Lasley to win the 2000 Valley Land Fund Photo Contest and Larry placed in several major categories in past contests. Larry's photo are marketed by KAC Productions.