Book Review...
The Art of Nature Photography:
Perfect Your Pictures In-Camera and In-Computer
by Niall Benvie
Text Copyright Donna Bollenbach
All rights reserved.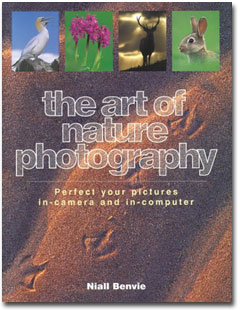 Paperback - 160 pages, first edition (September 1, 2000), Watson-Guptill Publications.
As a beginning nature photographer, I bought every book on nature photography that I could find. Each time a new book by a well-known nature photographer came out I did not rest until I had it. At first I read each book from cover to cover, absorbing anything and everything on the technical and artistic aspects of nature photography. But as my library grew, and I reached a new level of competency in my own photography, I found many of the "how to" nature photography books repetitive and became very selective before adding a new one to my collection. I set criteria for buying a new book: first and foremost, the images must inspire me, and secondly, the book should tell me something new. Niall Benvie's book The Art of Nature Photography: Perfect Your Pictures In-Camera and In-Computer easily met these criteria and more.
The first thing I was attracted to in Benvie's book was the images. They are excellent: Perfect exposures, great compositions and a wide scope of interesting subjects. The photographer's style is one that I seek in my own images; simple and uncluttered, yet an engaging view of a subject in its natural environment. Second, as the title implies, there is a wealth of new information in this book, particularly about the function of the computer in nature photography. In the introduction, Benvie describes his approach to nature photography and the computer "…a large part of this book is devoted to the creation of as good an in-camera image as possible. The remainder describes what to do when the camera fails to deliver, how to bring your vision alive on film or in print, and some of the fun you can have with digitised photographs…It would be convenient to draw a clear line between image enhancement (using digital technology to overcome the constraints of the photographic process) and image manipulation (using it to create something which was not there in the first place), but no such demarcation exists, and enhancement in your book may be manipulation in mine - and vice versa…There is no absolute 'truth' in photography, but there is misrepresentation of the subject. Our respect for the integrity of the natural world dictates to each of us the appropriate use of digital technology."
Benvie begins his book with a chapter on "Personal Vision," explaining why what we shoot on film often does not meet our expectations in terms of what we saw when we pressed the shutter. He sets the tone for the rest of his book when he writes, "Well applied technique narrows the gap between the photographer's vision and the final image, and digital technology provides a means to reduce that gap further." The next two chapters (2 & 3) cover the photographic and computer hardware available to "narrow the gap."
Chapters 4-12 deal with "In-Camera Perfection," and present essential photographic techniques and principals in an organized, easy to read narrative. They cover everything from Exposure to Composition, Natural Light to Flash, Techniques for Active and In-active Subjects and, my favorites, in-field techniques on "How to Make a Good Image Even Better," and "Things to Consider Before Your Press the Button." Because Benvie conveys a great deal of useful information in a fresh, interesting manner, one can truly enjoy reading Benvie's book from cover to cover. But, the lists of "Top Tips" in each chapter are great reviews for the busy the advanced amateur and professional photographer.
Chapters 13, 14 & 15 are concerned with "Nature Photography in the Digital Age," and include In Pursuit of the Perfect Image, Essential Procedures and Techniques, and Creating Images Step by Step. At this point I should point out that this is not a book about digital photography. In his book, Benvie takes the "shoot and scan" approach, or, in other words, assumes you are using a 35mm film camera, not a digital camera. The author's opinion, when the book was published last year, is stated clearly in the beginning of Chapter 14, "I want to re-emphasise that, at the moment, shooting on film and then scanning the images is still a much better and affordable option than using a digital camera. In time this may change, but computer-screen viewing can never compare to looking at a perfectly exposed transparency on a light box."
In these three chapters, Benvie covers everything from scanning the image into the computer to making initial color corrections, to enhancement of the image, to saving and storing the images. He discusses enhancement vs. manipulation at some length, concluding that "I try to follow the advice given to me by a respected landscape painter, -- to remain true to the spirit of the subject, or the place or to the character of the light" and "a real danger exists for the photographer who wishes to move freely between the worlds of art photography and photo-journalism in that the question of authenticity then hangs over all his or her work, whether it is 'straight' or otherwise." Each of these chapters also contains before and after photos, with a detailed account on how each image was enhanced in Photoshop. A list of "pitfalls" to avoid making your image look fake or tacky is also discussed. "The less work you need to do, the easier it is to avoid pitfalls," he writes, " Digital enhancement is no substitute for good photographic technique." A bonus "Appendix" at the end of the book contains information on Organising All Those Pictures, Creating a Website and Website Addresses.
In my opinion, The Art of Nature Photography: Perfect Your Pictures In-Camera and In-Computer is written for the advanced amateur and professional nature photographer. It assumes a certain degree of proficiency behind the camera and in front of the computer. But, when it comes to distinguishing the professional from the amateur nature photographer, Benvie makes it clear that it is the business of photography, not the images, that makes the distinction: In praise of the amateur, Chapter 17, he writes, "There is an implication in a lot of the advertising surrounding outdoor photography that 'pro' is good and 'amateur' should be aspiring 'pro'. In truth, these distinctions are not only arbitrary, but fail to acknowledge the value of amateur photography practised with passion and individuality." He goes on to write, "Amateur nature photography is done for the photographer only and so has the potential to be more distinctive than that done professionally, where market demands inevitably play a part."
Thus, besides being a great review of the tried and true techniques of outdoor photography, Benvie's book is a boost for the amateur nature photographer who is creating good images, but wants to reach the next level in achieving or defining their own style. It is also valuable for any photographer who is in an artistic rut and needs a boost of inspiration. Professionals, who have yet to explore the digital age, will find the computer chapters a great start to defining their own ideas on enhancement vs. manipulation, and putting them to work. In conclusion, it is a must book for all devoted nature photographers who desire to capture more than just an image on film, but an experience to share with others.
Reviewer's notes: If you think that many of the words in this article, particularly the quotes, are misspelled, well, you must not be from the United Kingdom. Niall Benvie is from the United Kingdom, and I must admit the nuances of the language made this book more interesting to me. He also uses the metric system exclusively where measurements are discussed, so if you are not familiar with the metric system, it would be best to have a conversion table near-by when you read the book.
Editor's Note - You can buy The Art of Nature Photography: Perfect Your Pictures In-Camera and In-Computer by Niall Benvie in the NPN Gift Shoppe. To learn more about Niall Benvie and his art work, visit his web site at www.niallbenvie.com.
DB-NPN