Book Review...
National Audubon Society
The Sibley Guide to Birds
by David Allen Sibley
Text Copyright Bill Horn
All rights reserved.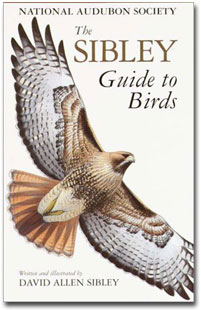 Borzoi book with 544 pages... 6-1/2" X 9 1/2 with 6,600 full color illustrations.
Published by Alfred A. Knopf, Inc.
We birding enthusiasts love Field Guides. You will rarely find us out in the field without one, and we often have two or three stashed away in our vests. Why carry two or three field guides you ask? Because no single guide is fully comprehensive and completely illustrated..... until now! "The Sibley Guide to Birds" is the only guide you will need from now on.
What sets this birding guide apart from the many other illustrated bird guides available to birders and photographers? First and foremost, the author, David Allen Sibley under the tutelage of his father, well known ornithologist Fred Sibley, began watching and drawing birds at the age of seven. Today he is one of America's most gifted contemporary painters of birds. His illustrations, some 6,600 of them along with descriptions of 810 species and 350 regional populations grace the pages of the bird guide.
Almost every species is depicted in flight, a most unusual birding guide feature, and captioned illustrations show many previously unpublished field marks. Subspecies and geographic variants are covered thoroughly. Complete voice descriptions for every species are included as well as a complete distribution: summer and winter ranges, migration routes and rare occurrences. The book is entirely user-friendly and easy to follow. A convenient introductory page for each family or group of related families makes species comparison simple. Identification instructions and keys are presented in a simple, easy to read format. The color-coded range maps illustrate traditional migration patterns, where birds can be found during different times of year, and where breeding occurs. Distinctive traits and particular habits of each species are included to help with identification and for general educational purposes.
Why painted illustrations instead of photographs? Photographs, depending on light, time of year, and region where the image was taken, do not not always depict the bird as it really exists in the natural world. Sibley's painted illustrations emphasize the way birds look in the field. Birds are depicted in similar poses to make comparisons between species quick and easy.
Sibley began toying with the idea for a comprehensive field guide in the 1970s, and he knew then he wanted his guide to be different and stand out from the others. He wanted a format that would give explicit details, describe songs and calls, and show the complete distribution of each species, all on the same page and all in a format that would allow for easy comparisons between species. Birds are depicted in all stages of plumage including juvenile, 1st, 2nd, 3rd year, breeding, and non-breeding plumage. Variations by region are also shown, as well as distinctive differences between sexes. Sibley intentionally avoided using scientific names for subspecies, as they can be more confusing than helpful to the casual birding enthusiast. The taxonomy of families and species as well as common names used in the book follow the seventh edition of the American Ornithologist's Union (AOU) Check-list of North American Birds
The book appeals to all levels of bird watchers, from the neophyte wanting to identify avian visitors to his flower garden or the expert attempting to make sense of the complex identification problems and distribution patterns. This book takes bird identification to the next level, and it can be enjoyed by birders of all ages and levels of expertise. My copy of Sibley Guide to Birds is always neatly stashed in my photo vest or handy in the car during trips. I have found it to be a wonderful resource - you will too!
Editor's Note - You can buy The Sibley Guide to Birds by David Allen Sibley in the NPN Gift Shoppe. To learn more about David Sibley and his art work, visit his web site at www.sibleyart.com.
BH-NPN