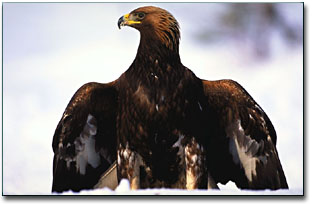 The chapter at an end, I paused, glanced through the viewfinder for the thousandth time and resigned myself to the fact that it just wasnšt going to happen. Had I been unreasonable to expect at least a little snow 62 degrees north lattitude, in Norway, in February? Even a covering would have encouraged the resident sea eagles and golden eagles to visit the carcass laid out 30 metres from my hide in the pine forest. But what little snow there had been when I arrived rapidly found its way back to the nearby fjord, hastened by torrential rain and unseasonally mild air. The possibility of fresh meat was a greater attraction than the now fetid carcasses provided by Livar, my Norwegian host.
I had come to this area west of Trondheim to photograph sea eagles, not because we donšt have them in Scotland but because, in theory, it should have been a lot easier. In this part of coastal Norway, the population is growing steadily and in the country as a whole there are around 1800 breeding pairs, joined by another 100 or so annually. Furthermore, access to the land is much freer in Norway than at home, freedoms embodied in Allesmansretten - every manšs right to roam - a key component of Norwegian national identity. Working in a country which constitutionally encourages responsible, recreational use of the land makes for a pleasant change from Scotland.
I was assured by my contacts in Norway that their eagles regularly fed on carcasses during the winter, so long as the weather was hard. And there was the rub. This first visit was during the year of El Niņo; weather patterns across the globe were disrupted to a greater or lesser extent. And for this sequestered part of northern Europe, that meant temperatures hovering around 5 degrees C for days on end when there should have been a metre or more of snow.
It was a mistake, perhaps, to attribute the absence of eagles at the bait site solely to the weather. I had built a hide in the channel of a small stream at some distance which, although inconspicuous to human eyes had clearly been spotted by the the resident hoodie crows and ravens. These are smart, versatile birds which, through a thorough knowledge of their environment, are skilled at avoiding risk and exploiting opportunities. The two eagle species are at least smart enough to realise that the corvids can be relied upon to visit a carcass only when it is safe to do so; where the raven goes, the eagle will follow. Usually.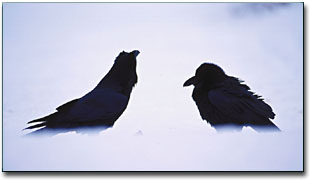 For the first few days, the thaw lured the crows to pasture near the forest to prod for invertebrates. Visits to the bait site were short and infrequent, as much, perhaps, to evaluate the hide as to feed. Each day Livar escorted me to and from the hide; he had once been forced to leave a hide when ravens were still down at a carcass. They didnšt return for a week.
Though the weather remained mild, day by day the number and boldness of the hoodies around the carcass grew. Even two ravens, as black and shiny as anthracite, perched nearby like a pair of crones, spectators not yet trusting enough to join the grey and black męlée. But still no eagles dignified the throng.
On the sixth afternoon I began to shake with cold earlier than usual and with darkness came a sprinkling of snow to the slopes above the forest. The dawn came in clear and hard with the promise of at least a couple of hours of good light.
There were changes too in the behaviour of the corvids. The hoodies arrived early, noisy and pushy. More importantly, the ravens, at last, took their place over bared rib cages. Yet still no eagles appeared. Livar, from hundreds of hours in his own hides watching eagles had found that if they were to visit at all, they would normally do so by mid-day. And so, at 1pm, the chapter completed, I resigned myself to failure and looked forward to Livaršs return in a few hours hence.
At 2.30, attracted by a shaft of brightness from the viewfinder, I drew my eye close to the camera. As I did so, the crows suddenly slipped away without a protest and a golden eagle landed on one of the carcasses. My work began.
Although smaller than the havørn, the kongeørn (king eagle) is much more aggressive over a carcass. I've seen one young male golden eagle displace seven sea eagles from a carcass in less than 10 seconds, recalls Dr. Duncan Halley, a sea eagle expert working for the Norsk Institutt for Naturforskning in Trondheim, and on no occasion during two winters of watching was a sea eagle ever able to defend a carcass from a golden eagle.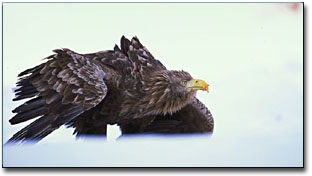 The goldie was soon joined by a second and, surprisingly, the two fed almost side by side. A golden eagle's psychopathic tendencies aren't displayed only towards other species; I've seen on several occasions a new arrival fly directly at another already on the carcass, knocking it off with some force. The chances are that these two birds were paired.
It was beginning to grow dark when a second-year sea eagle (erne in Scots) sidled, vulture-like, into frame, keeping its distance from the golden eagles. Once they left (and often goldies will continue feeding until dark, after ernes and ravens have gone to roost), the crows and ravens, clearly more at ease with an erne returned. Before long, but in poor light, another four immature ernes and one adult flapped into the clearing.
This agonising process was in marked contrast with my experience a year later, in February 1999, when both golden eagles (up to 4) and sea eagles (up to 5, including a full adult) used another bait site 3 km away, beside one of Livaršs permanent hides, on a daily basis. Deep snow undoubtedly sharpened appetites, but the eagles displayed remarkable tolerance, not only allowing me to photograph from a range of just 17m but sometimes coming down to the carcass only twenty minutes after I had entered the hide.
Is there any prospect that Scottish sea eagles (perhaps occasionally supplemented by migrants from Norway) will one day become a common sight along the sea lochs of western Scotland? At the moment, the population is increasing, albeit slowly, but there remain environmental and human factors which may stifle expansion. The major physical difference between coastal Norway and the north west Highlands is in the extent of tree cover; in Trøndelag, natural pine forest extends from near sea- level up to the natural tree-line. In the north west of Scotland, where the sea eagle reintroduction programme has been focused, the drastic reduction of natural tree cover centuries ago coupled with intensive grazing since has led to nutrients in the soil being washed away by heavy rainfall. The resulting impoverished vegetation is capable of supporting little prey. Sea eagles also catch fish, but inshore stocks are much reduced by a combination of over-fishing and low nutrient input from the land.
In coastal Norway, most sea eagles opt to nest in trees, leaving cliff sites to golden eagles. The greater abundance of prey in Norway also means that the two species have quite distinct diets; golden eagles concentrating on mountain hares and grouse while sea eagles exploit seabirds and fish. In the absence of choice, sea eagles and golden eagles come into more direct competition in Scotland, especially over carrion. And as we have seen, the smaller bird wins every time.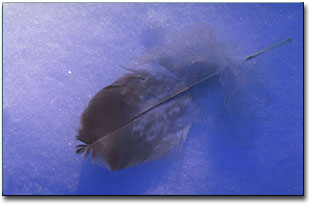 That sea eagles on Mull have developed a taste for lamb is unsurprising in light of the relative scarcity of prey. In Norway no attacks on live lambs have ever been confirmed and Dr. Halley reports that, most farmers seem to regard the sea eagles like big gulls and donšt worry about having them around. This tolerance is rewarded by the birds which often nest within a few hundred metres of homes, putting a lie to the idea that they need isolation.
The introduction earlier this year of an SNH compensation scheme, worth up to Ŗ15 000 annually, was an official acknowledgement that a problem exists on Mull. Yet the burden of proof is light and the precedent dangerous; why not compensate owners of grouse moors for grouse lost to golden eagles; a grouse is worth rather more than a lamb after all (and golden eagles take grouse, for sure). When the beaver is reintroduced in 2003, it will be hard to argue against compensation for any lost timber or flooded pasture. To cite conservation organisations who attempt to restore lost, native species as the culprits is clearly wrong-headed.
Sea eagles are amongst the most exciting subjects I've ever worked with. But I'd rather not have to trail all the way to Norway to photograph them. Instead of viewing eagles as pure liability, those fortunate enough to share space with them should be tapping into the interest in the birds, providing bait and hides and charging an appropriate access fee once the birds have learned to use the site. True, it is easier simply to apply for compensation, but agriculturally marginal areas required more imaginative use of their scarce resources if they are to remain economically active in the next century. And the sea eagle should be regarded as a prime one.
---
Niall Benvie was born in Angus, Scotland, in 1964. On leaving school, he spent the next seven years running and working his family's fruit farm near Friockheim. When the farm was sold, he read for an Honours Degree in Geography at the University of Dundee and it was during this time that a life-long passion for natural history and photography blossomed. He was founder and organiser for the first five years of the Scottish Nature Photography Fair, now managed by Scottish Natural Heritage. Since graduation in 1993, Niall has worked full time as a photographer and writer, specialising in Scottish topics.
Although Scotland provides him with an unending source of inspiration (and frustration!), Niall has recently travelled to the US, Latvia, Poland, the Netherlands and Norway to cover stories on wilderness, beavers, bison, otters and sea eagles and expects to do more work in Latvia and eastern Europe over the next few years.
Niall's pictures and features have appeared in, amongst others,: Amateur Photographer; BBC Wildlife; British Journal of Photography; Country Life; Fotografie draußen?NaturFoto (Germany); Grasduinen (Holland); Outdoor Photographer (USA); Outdoor Photography (UK); Photo Technique; Professional Photographer; RSPB Birds; Scottish Field; Scottish Wildlife; Sinra (Japan); all the main Scottish newspapers; the Independent; and the Times
Other clients include: the BBC; Colin Baxter Photography; Corbis; David and Charles; Merpro Leisure; the National Trust for Scotland; NPI; Scottish Natural Heritage; the Wildlife Trusts; and the Woodland Trust.
His first book of photographs, Red Squirrels, was published by Colin Baxter Photography in 1997. He was one of the three principal contributors to Living Britain, the book to accompany the major BBC TV series of that name, first screened in November / December 1999. Niall's latest book, The Art of Nature Photography: Perfect Your Pictures in-Camera and in-Computer, is the definitive new reference for nature photographers at the start of the century and was published by David and Charles in March 2000. Amphoto publish the book in the US in June. He is currently working on a book about landscape photography and a long term project which explores Europe's wild corners.
Editor's Note - Be sure to visit Niall's web site at www.niallbenvie.com.