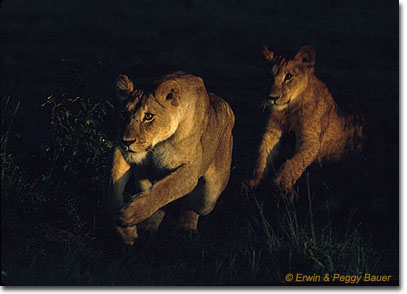 Even well-traveled wildlife photographers feel a surge of excitement at the prospect of visiting a foreign destination, one that promises good wildlife photo ops. Erwin and I have been photographing in the U.S. and around the globe for three decades, and we still lay awake at night planning the new adventure.
Before framing the "killer shot" in your mind, there are preliminary things that must be attended to. First, thereís a passport. Be sure it is valid for six months past your expected return date and that you have any required visas.
Make a list of each item of photo gear (whether you plan to take it or not) with its serial number. Take this to the Customs Office when you arrive at the airport and transfer the information to their form and have it stamped. This avoids paying duty on items you already own when re-entering the U.S. It can be used over and over so long as you make no changes in your equipment.
There are also health concerns. Check with your tour company if you have one, or the Center for Disease Control in Atlanta for up to date information on inoculations required or recommended for your destination.
Now is the time for focused thinking about what to pack: clothing and photo gear.
For clothing, of course it depends on the weather youíll find. But bringing along the least you can use is usually the best idea. There are new shirts and pants for the tropics that can easily be hand washed and will dry overnight. For colder climes we recommend fleece garments.
The most important consideration for the photographer is the photo equipment to carry. Do bring more than one camera body and lots of batteries and plastic sacks of various sizes. A flash is also useful. Since you will have to carry all your gear at some point (or several points), try to keep the weight to a minimum by using zoom lenses. For places where wildlife is approachable you wonít need anything longer than a 300mmm. Even 200mm might do. Elsewhere, as in Africa, bring the longest lens you have and a teleconverter. The new carbon fiber tripods are lightweight, but very costly.
For film, Velvia is a favorite, but often, at ASA 50, too slow. We find that 100 ASA is good, and can be pushed to 200 with little or no loss of quality. Most people figure on using between five and ten rolls per shooting day.
Now the hard part: transporting your valuable gear and the film on the plane. Most airlines are very strict about carry-ons, especially in economy class. You may be forced to check items you would rather carry. Do not check the film. The new CTX 5000 scanners used on checked bags can utterly destroy your film and make your trip a total loss.
We suggest you put all film in clear canisters and then in clear Ziploc bags and ask for hand checking at the gate. Most American airports will do this, especially if you arrive early and have a nice smile. Overseas be prepared to have it X-rayed. Normally this wonít harm it, so avoid it if possible, but donít worry if itís not.
Many photographers carry their gear in backpacks designed for the purpose. We prefer locked hardsided cases with wheels. If traveling business class, we hand carry both the film and the cases. But if something must be checked, then the hardsided cases are chosen.
All this seems cumbersome, and it is. But once you see the African sun rise behind a flat-topped acacia tree with elephant silhouettes in a line, or thousands of penguins crowded together at the edge of the ice, or a brilliant macaw in a bright green tree, it will all be forgotten, and you can breathe
---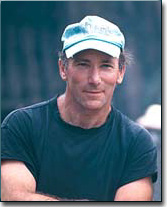 Jim Zuckerman left his medical studies in 1970 to turn his love of photography into a career. He has lectured and taught creative photography at many universities and private schools, including UCLA, Kent State University, the Hallmark Institute of Photography, and the Palm Beach Photographic Center. He also has led international photo tours to destinations such as Burma, Thailand, China, Brazil, Eastern Europe, Alaska, Greece, Papua New Guinea, and the American Southwest.
Zuckerman specializes in wildlife and nature photography, travel photography, photo- and electron microscopy, and digital special effects.
Zuckerman is a contributing editor to Petersen's Photographic Magazine. His images, articles and photo features have been published in scores of books and magazines including several Time-Life Books, publications of the National Geographic Society, Outdoor Photographer, Outdoor and Travel Photography, Omni Magazine, Conde Nast Traveler, Science Fiction Age, Australia's Photo World, and Greece's Opticon. He is the author of seven photography books: Visual Impact; The Professional Photographer's Guide to Shooting and Selling Nature and Wildlife Photos; Outstanding Special Effects Photography on a Limited Budget, Techniques of Natural Light Photography, Jim Zuckerman's Secrets of Color in Photography, Fantasy Nudes, and Capturing Drama in Nature Photography.
His work has been used for packaging, advertising, and editorial layouts in thirty countries around the world. Jim's images have also appeared in calendars, posters, greeting cards, and corporate publications. His stock photography is represented by Corbis Images.
To learn more about Jim and to view his work, visit his web site at www.jimzuckerman.com.