Education Sells Fine Art

Text and photography copyright © Alain Briot. All rights reserved.



The man who stops advertising to save money is like the man who stops the clock to save time. Thomas Jefferson
Donít be just a salesperson, be an educating salesperson. People enjoy learning new things. Educating them about you, your artwork, and the places that you photograph will make them see you as someone who is helpful and not just there to sell something.
After we started selling artwork at Grand Canyon National Park we bought several panoramic postcards of the Grand Canyon. These postcards showed the well-known locations and geological formations in the Grand Canyon. The name of each location was written on the postcards making the locations easy to identify and memorize. These locations included the Colorado River, the Inner Gorge, the Bright Angel Trail, the Kaibab Trail, Vishnu Temple, Isis Temple, Zoroaster Temple, OíNeil Butte, Havasu Falls and many more. By studying these postcards we memorized the name of each location and learned where they were located in the Grand Canyon. This was an inexpensive investment but over the years it returned its weight in gold.
Sunset from Yavapai Point, Grand Canyon, Arizona
This is my best selling photograph of Grand Canyon. My book (see below) tells the story of this photograph and explains why it played such an important role in my career.
My fine art photographs featured all of these locations. When customers showed interest for a specific photograph, we told them the name of the locations featured in that photograph. By doing so we helped our customers learn more about the Grand Canyon and we also educated them about the geology and the history of the Canyon. Often, this started an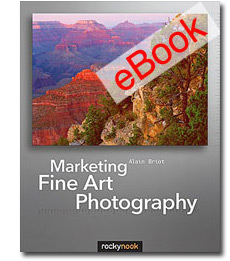 exchange between us and the customers. Customers were curious to find out how we knew so much about the Grand Canyon, how long we had lived there, what brought us there, and so on. Many of these customers ended up purchasing my artwork. They purchased it because the knowledge we shared with them created a bond between them and the photograph. The photograph was more than an image. It was a reminder of the time they spent at the Grand Canyon, of what they had seen and learned, and of our encounter.
Educating your customers and sharing your knowledge creates a bond between you and your clients. It enriches your customerís experience and it will often lead to a sale.
If you enjoyed this essay, you will also enjoy my book on Marketing Fine Art Photography. You can purchase it both as a book or ebook at this link: www.beautiful-landscape.com/Ebooks-Books-1-2-3.html.
About Alain Briotís Advanced Marketing Mastery Workshop on DVD
I just released a new photography marketing tutorial: the Advanced Marketing Mastery Workshop on DVD This tutorial teaches you how to sell your work in the [post]-recession environment. It is designed complement my book Marketing Fine Art Photography. While my book is a good introduction to the subject of marketing your photography, the new Mastery Workshop on DVD goes way beyond the book by giving you knowledge and information that I have not made available previously. The goal is to show you exactly what you need to do to sell your work profitably today. It also tells you what not to do so that you don't make the mistakes everyone else is making.
It includes a study of limited editions and a detailed Ďmanualí to handling stalls and objections. After reading this Ďmanualí youíll no longer have customers Ďget one on you!í You will know what to say, no matter what they come up with. And if there is a stall or objection I forgot to include (unlikely but possible) let me know and Iíll add it to the free DVD Owner Updates Area together with the answers appropriate for this specific stall or objection. In short, you will learn how to make sales to people that before you would have let walk away! Think about how many sales you lost that are now going to be yours.
It also includes much more but I donít have the space to explain everything here so go to the Advanced Mastery DVD description page to read the rest of the story.
Alain Briot - NPN 2054

Alain Briot creates fine art photographs, teaches workshops and offers DVD tutorials on composition, conversion, optimization, printing and marketing photographs. Alain is also the author of Mastering Landscape Photography. Mastering Photographic Composition, Creativity and Personal Style and Marketing Fine Art Photography. All 3 books are available from Amazon and other bookstores as well from Alainís website.
You can find more information about Alain's work, writings and tutorials as well as subscribe to Alainís Free Monthly Newsletter on his website at http://www.beautiful-landscape.com To subscribe simply go to http://www.beautiful-landscape.com and click on the Subscribe link at the top of the page. You will have access to over 40 free essays by Alain, in PDF format, immediately after subscribing.
Alain welcomes your comments on this essay as well as on his other essays. You can reach Alain directly by emailing him at alain@beautiful-landscape.com.