Reviews for December 2012

Text and photography copyright © Paul W. Faust. All rights reserved.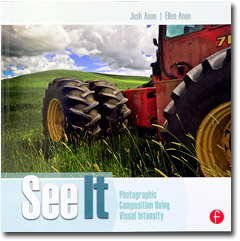 Photographic Composition Using Visual Intensity by Josh & Ellen Anon
Usually when I see another book on the subject of photo composition I yawn and expect just another book on the list of the rules of composition, like the Rule of Thirds, that we have all learned long ago. After glancing at just a few pages in this new book I saw that it was a LOT different than ALL of the others I have reviewed over the years.
It is not just a rehash of a set of rules, but it goes far into detail not only of what makes for a good composition, but also what makes a better composed image in every way. It covers what light, color, texture, lines, shapes, framing, and everything else does in creating a "better" composition. It is also richly illustrated and includes many images that show you what does not work and why, and next to it an image that shows what does work, and why. This book would make another great gift because it is filled cover to cover with useful picture taking information that even the most experienced photographer can use. I might also add that it is the first book that I have ever reviewed that was written by a mother and son team, and a job well done!
This soft cover book is 9x9 inches, with 333 pages, retails for US-$29.95 and is distributed by Focal Press, an imprint of the Taylor & Francis Group at www.focalpress.com. I Rate it; A+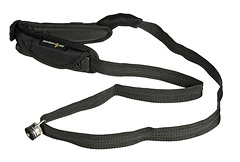 Product Review - Sun Sniper Pro Camera Strap by Sun Sniper Products
One of the best new photo products that I just found is this new (and different) camera carrying strap. I like it so much because it is not the usual shoulder strap that most of us see and use. The new Sun Sniper Pro strap is more of a sling that you wear over your head and across your body. I found it a lot more comfortable to use than having my camera hang from one shoulder and always seeming to slip off whenever I move around. With this new strap I can slide it around to the back of my hip and out of the way when using a second camera. The mounting screw collar slides easily along the whole length of the strap for fast access to use that camera again, and the shoulder pad is extra thick, and soft, for even more comfort. The strap is all nylon with heavy stitching so it will probably never come apart. The Sun Sniper Pro retails for just $80.99 (street prices are less) and if you want something really fancy there is an all leather version that retails for $153.46, but either one would make for a great holiday gift. You can see more of these two straps and other Sun Sniper products at www.sun-sniper.com. This is one super A+ product!
Paul Faust - NPN 1680

Paul W. Faust is a self-taught Photographer, Writer, Digital Imaging, Photo Restoration, and Photo Stock Service professional. You can see more of his images on his web site at www.Impressions-of-Light.com plus two web galleries of his images at www.paul-w-faust.artistwebsites.com and www.redbubble.com/people/pwfiol.