Book Reviews for November 2013

Text and photography copyright © Paul W. Faust. All rights reserved.



2013 Holiday Gift Guide
With the holidays coming soon many people will be looking for the gifts they want to give to loved ones. Beautiful picture books have always been a favorite choice for many and here are three new publications that would please anyone. Two are from Abrams, and one from National Geographic, which is world famous for its photography. All three of these new books are of equal superior quality and would be a great addition to any home. In this review set I am not holding the best for last, and I say best only because of the incredible images in my first review book.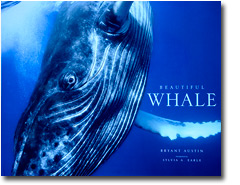 Beautiful Whale by Bryant Austin, foreword by Sylvia Earle
"Beautiful Whale" I would say is about the best book, with the most beautiful and amazing images, that I have ever reviewed. The book covers three types of whales, the Humpback, the Sperm, and the Minke whale in the three parts of the world that they frequent and live. Each whale section includes how those images were taken and the amazing eye-to-eye stories that went with them. A book that is 15 inches wide to begin with becomes a jaw dropper when you come to the images that cover a full two-page spread. Even at arms length you still have to move your head side to side to view the whole shot, and then when that image is just a portion of the whales head you will understand why I find this book so amazing. And just when you think you've seen it all, you come to the couple of three page wide fold outs, and then in the center of the book you find a double fold out (four pages 60" wide) of a full length view of a Minke Whale. Then there are also the large images of mother whales and their young. Beautiful Whale is a photo masterpiece that will make you the best gift-giver ever.
This hardback book is about 12x15 inches, with 125 pages, and retails for US-$50.00 and if a local bookstore does not have a copy you can order it from the web site at www.abramsbooks.com. I Rate it; AAA+ (my highest rating ever)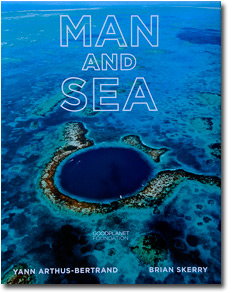 Man and Sea by Yann Arthus-Bertrand and Brian Skerry
Man and Sea will probably become one of the main reference books on the largest living organism on earth, the oceans, and the lives that depend on them. The book's 12 chapters covers both the good life-giving aspects of the oceans, as well as the bad (sad) treatment it receives, mostly from man's indifference, greed and pure ignorance of what they are causing or allowing to happen. The images in this book are as amazing as any you will ever see on the subject. Many are full two page spreads, which makes them even more enjoyable to look at. I for one would love to be able to swim past a huge whale shark, but not too interested in being in the middle of a school of Sward Fish. The images will amaze you that they were even able to have been taken at all. A well-written and beautifully printed book and a perfect match for the Beautiful Whale book.
This hardback book is about 11x13 inches, with 305 pages, and retails for US-$50.00 and if a local bookstore does not have a copy you can order it from the web site at www.abramsbooks.com. I Rate it; A++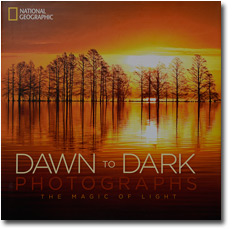 DAWN to DARK Photographs - The Magic of Light by a collection of National Geographic sources
Here is a beautiful new book on how light effects different subjects at different times of the day. The book is divided into eight sections from dawn to night, with each having a one-page introduction, but this book is more stories in pictures than it is stories in text. The images are from many of National Geographic's photographers as well as some stock sources, and even some from Geographic's "My Shot" web site section. Images come from every corner of the world of every subject large and small. Scattered throughout the book are quotes, sayings, and proverbs, such as "Turn your head to the sun and the shadows fall behind you." If you like to be able to just sit and look at beautiful images and not have to read that much, this book is for you, or whoever is lucky enough to get it as a gift from you.
This hardback book is about 10x10 inches, with 400 pages, and retails for US-$40.00 and if a local bookstore does not have a copy you can order it from the NG web site at www.nationalgeographic.com. I Rate it; A++
Paul Faust - NPN 1680

Paul W. Faust is a self-taught Photographer, Writer, Digital Imaging, Photo Restoration, and Photo Stock Service professional. You can see more of Paul's images on the web gallery where he sells his images at www.paul-w-faust.artistwebsites.com.