Book Reviews for October 2013

Text and photography copyright © Paul W. Faust. All rights reserved.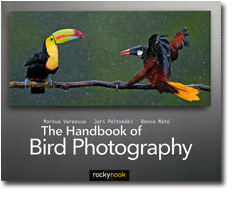 The Handbook of Bird Photography by Varesvuo, Peltomaki & Mate
I have always thought that bird photography was one of the hardest types of photography there is because no sooner do you get up to your subject than it flies away. Thatís why I like landscape photography, it doesnít go anywhere. No matter if you want to get started in bird photography or have been doing it for a while, this new book will be a great aid in your efforts. It is written by three pro wildlife photographers and compiled into one large collection of their knowledge on how they shoot birds in all corners of the world. They tell you what to use to get great looking natural images, the light you have to look for, how to hide in plain sight, and even how to shoot birds from a car or boat. Shooting birds from Sparrow size to four foot tall Cranes will be a breeze when you have this book and know how the pros do it.
This hardback- soft cover book is about 10x8 inches, with 358 pages, retails for US-$49.95 and is published by Rockynook. I Rate it; A+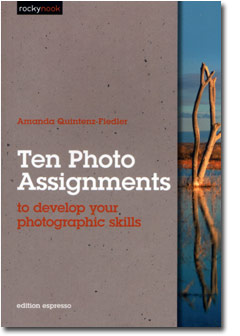 Ten Photo Assignments to Develop Your Photographic Skills by Amanda Fiedler
Ten photo assignments is a nice way to sharpen your photography craft no matter what you shoot, and the best way to learn anything is by doing it. The book gives you photography assignments that you actually have to carry out and it guides you along the way as you do them. You can do them 1-10 or skip around in whatever order you want to learn what you need when you need it. The book is well illustrated to show how each assignment progresses and it is even a nice pocket size so that you can carry it with you in the field.
This hardback- soft cover book is about 5x8 inches, with 110 pages, retails for US-$19.95 and is published by Rockynook. I Rate it; A
Paul Faust - NPN 1680

Paul W. Faust is a self-taught Photographer, Writer, Digital Imaging, Photo Restoration, and Photo Stock Service professional. You can see more of Paulís images on the web gallery where he sells his images at www.paul-w-faust.artistwebsites.com.