Canon EF 500mm f/4L IS II USM Lens Review

Text and photography copyright © Richard Bernabe. All rights reserved.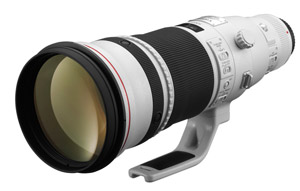 This super telephoto lens is the long-awaited replacement to the circa 1999 Canon EF 500mm f/4L IS USM classic. Canon, quite frankly, was due for an upgrade on this one and I can happily say that it was well worth the wait. Iíve always believed that the 500mm f/4 telephoto is the perfect compromise between lighter weight (compared to the 600mm f/4) and the reach needed to safely and ethically photograph wildlife and most species of birds.
I recently tested Canonís new 500mm f/4 lens during a two-week photo trip and workshop I was leading in Katmai National Park in Alaska. The lens was provided to me courtesy of lensrentals.com and my aim was to capture the brown bears of The Last Frontier with this new and improved classic piece of glass.
Lifting it from its box, the Canon EF 500mm f/4L IS II USM is cool, smooth, and deceptively light Ė itís 1.5 pounds lighter then the previous version (7.03 vs 8.53). This lighter weight makes for much easier handling, but for anyone not accustomed to working with a super telephoto lens, it can still feel like a beast. Still, Canon managed to significantly reduce the weight of this lens without making much smaller in size.
For all the technical specifications for the Canon EF 500mm f/4 IS II USM, visit the specifications page on the Canon USA website.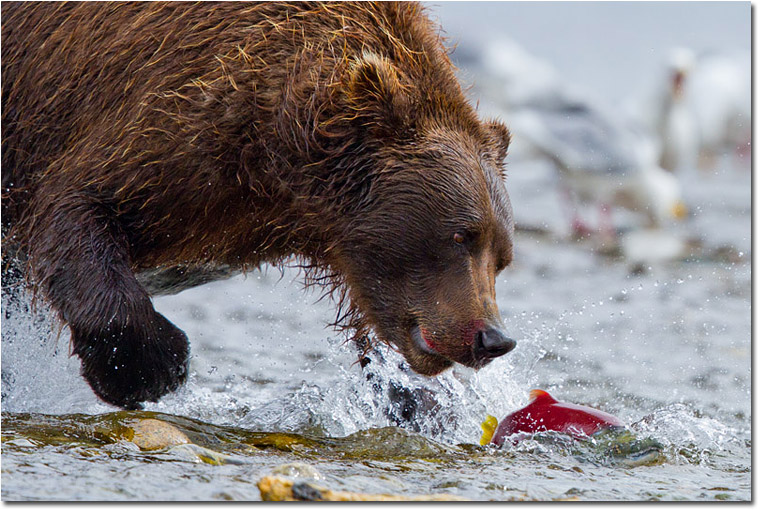 Now, on to my subjective observations on the performance of the lens. I was using a Canon EOS 7D camera body and found the lens to focus very fast and effortlessly. When comparing the new version to the previous one, I can say that itís noticeably faster to grab focus, especially when working with moving subjects, as I was much of the time. The IS is more powerful as well. Even before referencing Canonís lens specs, I picked up on a noticeable difference in IS performance right off. Canon claims there is a 4-stop advantage from IS-ON to IS-OFF, which is twice as much IS assistance over the older version. There are three IS modes on this lens: 1 is for shooting stationary subjects, 2 is for panning in one direction with one axis of stabilization, and 3 is best for tracking moving subjects. I didnít experiment with the three IS modes and only used Mode 1. I simply didnít have the foresight - nor the dexterity to change modes on the fly Ė in knowing when a stationary bear would suddenly start moving and vice versa.

The older version of the Canon 500mm f/4 was known to be famously sharp so I wasnít sure there could be much of a difference in this department. Well, if it was possible to improve on an already great thing, it appears theyíve done it. Canon claims the lens has "completely redesigned Fluorite optics that deliver sharper images with less chromatic aberration." I admittedly know nothing about Fluorite but I can report that itís one of the sharpest, if not THE sharpest lens, with which I have ever photographed.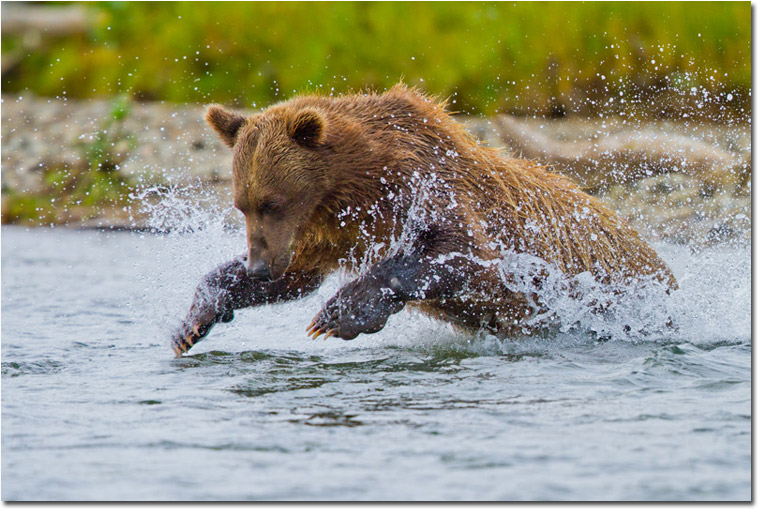 The image above demonstrates how sharp this lens is, even with a moving subject.
For more lens samples from this trip, see Life and Death in Katmai and Image Roundup from Katmai, Alaska.
There was never any need to stop down from f/4 to get sharper results, as is usually the case with telephoto lenses. I could honestly see no improvement at all with my initial test images by stopping down, so I used the lens wide open almost the entire time, unless I needed additional depth of field. The lens appears to have no distortion and no chromatic aberration (must be that Fluorite again). There were several instances while reviewing images when I expected to see some color fringing, like edges of dark trees against a bright sky, where there was done to be found. The nine-blade aperture produced a smooth, pleasant bokeh in the out-of-focus background areas, which is exactly what you want with a super telephoto.
All in all, I liked everything about the lens. It was lighter, faster, and even sharper than the old 500mm f/4 version in addition to a 4-stop IS assist. Wow! The downside? The price tag, of course. As of this writing, the retail price on this lens was in the neighborhood of $10,500 USD. Iíd have to sell a boatload of wildlife images to make this a smart business investment. But if wildlife is your thing, and you donít think of a photography equipment purchase as an "investment," then this lens has all the traits of a new classic in the making.
Richard Bernabe - NPN 1608

Richard Bernabe has been a full-time professional nature photographer and writer since 2003. He's had thousands of publishing credits in books, magazines, and calandars and regularly leads photography tours and workshops all across the United States and internationally in places like Patagonia, Iceland, and Peru.
For more information about Richard's photography, be sure to visit his personal website, Richard Bernabe Photography.