Book Review...
Close-Up and Macro: A Photographer's Guide
Review by Terri Norris. All rights reserved.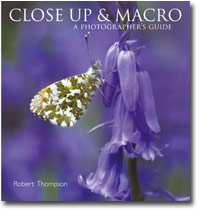 Hardcover: 160 pages
Publisher: David & Charles; (August, 2005)
Robert Thompson is a well known and published UK nature photographer. His name has become synonymous with not only beautiful images of nature, but also with his expertise in passing on his techniques to his readers.
The format of this book is similar to Thompson's previous book Close-up on Insects, which I also reviewed. The difference in his latest volume is the inclusion of information on digital imaging and equipment. In the book's introduction, Thompson makes an important point by stating "this book is not about formats, nor about the relative merits of different camera brands. It is about fieldcraft, methodology, and the use of photographic techniques that I use and have found successful." This statement is an accurate portrayal of the overall tone of this book.
Even though Thompson reveals that the camera system of choice for his professional images continues to be medium format, he offers knowledgeable and rational discussions of the pros and cons of various camera systems including digital capture systems. Many of the images seen within the book (a total of over 200) were captured with a digital camera system, demonstrating Thompson's expertise with both digital and film formats.
Throughout the book, Thompson's images offer information and inspiration. The caption of each beautiful image contains information about the techniques utilized, as well as other specific information pertaining to the subject and shooting conditions. I found these tidbits of information to be interesting and they help the reader to see how the tutorials apply to field situations.
The book is organized into three sections. The first, "Photographic Hardware," includes important information on the selection of camera, lenses and other accessories. This section will be the meat of the book for novice photographers, or those evolving into the macro realm from other photographic genres. The information here offers accurate and easily understandable tutorials that will prove invaluable to the macro photographer. While some macro texts can be rather dry, Thompson relates his teachings in a narrative form which easily keeps the reader's interest.
Also included in this section are discussions on topics such as magnification and depth of field. I appreciate Thompson's common sense approach to these topics. For example, he provides the reader with the information needed to determine magnification, but also notes that in reality, it is seldom necessary for the average photographer to determine the actual magnification factor. An extensive chapter titled "Working with Flash" offers instruction on the proper utilization of lighting techniques to obtain the best possible macro image.
Section two is my personal favorite. In this section "Putting it into Practice," Thompson tutors the reader by discussing such essentials as backgrounds, composition, and finding subjects. The individual chapters of this section also denote Thompson's techniques for photographing various macro subjects; including flowers, insects, and aquatic life as well as several more specific categories.
In the final section, "Photographing the Seasons," Thompson addresses an area which is often missed in other macro texts. Here, Thompson displays an album of his images organized by season. The instruction in this section is achieved through the image captions, which denote specific information about the shots.
Thompson's newest volume makes a good companion to his previous book. As expected, some of the information does overlap, yet Close-up & Macro expands on and augments the information contained in Close-up on Insects, while continuing to inspire and entice the reader with fantastic macro photography images. This book deserves a spot on your coffee table as well as on your macro photography reference shelf!
Editor's note - Close-Up and Macro: A Photographer's Guide is available on Amazon.com.
Terri Norris - NPN 0180
Terri Norris is a macrophotographer and is a moderator for the NaturePhotographers.net Macro Forum. Her images can be seen at www.norrisdigital.net
Comments on NPN nature photography book reviews? Send them to the editor.