Book Reviews for August 2012

Text and photography copyright © Paul W. Faust. All rights reserved.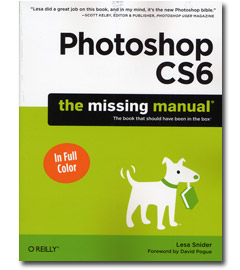 Photoshop CS6- The Missing Manual by Lesa Snider
The first thing you notice about this new Photoshop book is that it feels more like a door-stop than a book. 800-plus pages means some serious information inside, and as usual O'Reilly Publishers has made it easy to follow and use, and most important of all, learn from. Even if you are new to Photoshop, not to worry, this missing manual book makes it a breeze to work through. And "Missing Manual" is the right name for it. I have yet to ever see any product come with a manual that you could follow, let alone understand, but O'reilly fixes that problem every time they put out their how-to books. This new book covers Photoshop CS6 from front to back and is filled with added tips and notes on just about every page. It will be your one and only reference when you want to learn how to best use Photoshop CS6. If you can not learn Photoshop from this book you probably won't learn much at all from any other ones on the subject. Don't make the mistake of not getting a copy!
This soft cover book is about 7x9 inches, with 862 pages, retails for US-$49.99 - and is published by O'Reilly Media and can be checked out at www.oreilly.com. I Rate it; A
Master Composition Guide for Digital Photographers by Ernst Wildi
I have always thought that composition was a skill that one had to get by practice more than by being taught it. I still do, but there are some tricks and short-cuts that can make the skill a lot easier to acquire. Many of those you can get from a good book on the subject, and this new book is one of them. The Mastering Composition Guide takes you through all sorts of subject matter and shows, in before and after images, how using standard composition guidelines can make for better images. After you know the basic rules that cover most subjects all you need to do is refine them to meet your special needs. The book covers all of the normal things that relate to composing an image, including lighting, focal length, shapes, backgrounds, and more, and nicely illustrates each one. Today's cameras will almost do all of the picture taking for you, but they can not do a single thing about how an image is composed. That part is ALL up to the photographer to learn. Here is one good new book to start with.
This soft cover book is about 9x11 inches, with 123 pages, retails for US-$34.95 – and is published by Amherst Media at www.AmherstMedia.com. I Rate it; A
Paul Faust - NPN 1680

Paul W. Faust is a self-taught Photographer, Writer, Digital Imaging, Photo Restoration, and Photo Stock Service professional. You can see more of his images on his web site at www.Impressions-of-Light.com plus two web galleries of his images at www.paul-w-faust.artistwebsites.com and www.redbubble.com/people/pwfiol.