Nature Photographers Network™ to Sponsor Jenaya Launstein

by Jim Erhardt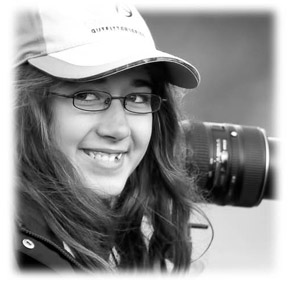 Jenaya Launstein is a 15-year-old, self-proclaimed "nature fanatic" member of the Nature Photographers Network™ living in southwest Alberta, Canada, near Waterton Lakes National Park. She's been photographing for more than two years, but after receiving her first digital SLR camera for her 13th birthday, she was hooked.
Her father, John Launstein has a background in commercial and fine-art nature photography, so he has been teaching her and her younger sister Marlise how to capture wildlife in images. Jenaya says "we usually go out photographing in nature a few times a week. It helps to live where I do, as I get to photograph lots of bears (black and grizzly), deer, elk, moose, birds and other animals"
Jenaya says her membership in the Nature Photographers Network™ has really helped her grow in her abilities and skills as a photographer. "I love photographing God's creation and hope to have a career as a nature and wildlife photographer. I am just starting to sell my images for publication and as fine-art prints, and I am hoping to develop a line of greeting cards with my Dad and sister."
Jenaya's images have appeared in Canadian Geographic magazine, Wild Magazine (Canadian Wildlife Federation, CWF), Canadian Wildlife magazine (CWF), Biosphere (CWF), The Banff Crag & Canyon, NWF's Wildlife magazine, as well as Nature Photographer and Outdoor Photography Canada where they did a short feature on Jenaya as one of Canada's best-kept secrets in wildlife photography. She has also been published in several other Canadian Geographic publications including "Best Wildlife Pictures " in both 2011 and 2012, and her hometown's newspaper, The Pincher Creek Echo. In addition, three of her photographs (and one of Marlise's) are on display at the Canadian Museum of Nature in Ottawa, Ontario, Canada.
Update 1/12/2013 - Jenaya won the 2012 Canadian Wildlife Photography of the Year Competition (Junior Photographers Division) and was also awarded a Runner-Up and received two additional Honorable Mentions! Additionally, one of her images also took 2nd place in the huge 2012 NWF contest.
Because of Jenaya's talent and participation on NPN, member Sandy Richards has nominated Jenaya for a NANPA scholarship. From its inception, NANPA has been dedicated to teaching the next generation of nature photographers. To that end, the NANPA High School Scholarship Program (NHSSP) has already presented scholarships to more than 140 creative students who have attended NANPA Annual Summits in the past.
Each year's group of ten scholarship recipients will attend regular NANPA Summit programs, participate in field workshops designed specifically for them, and receive special photographic instruction from a variety of nature photography and publishing professionals. Students will gain awareness, appreciation and concern for the natural environment, and improve their skills and confidence in the art of nature photography. This will be accomplished through classroom and field instruction, as well as personal interaction with some of the world's best-known and highly skilled nature photographers. The images which students photograph during field work are critiqued, edited, and used in a slide presentation for all attending NANPA members to view on the Summit's final day.
The scholarship covers all lodging, airport shuttles, field trip transportation and the Summit registration fee. However, transportation to and from the Summit location is the responsibility of the student and his or her family.
We are pleased to announce that the Nature Photographers Network™ will sponsor Jenaya by raising funds from its membership to pay for this expense if she is selected for a NANPA scholarship. At that time, we will send an email to all members with a link to where they can make contributions to this sponsorship fund. Our goal will be to raise $1500.00 to cover Jenaya's air travel from Canada to the NANPA Summit, which will be held in Florida from February 28th through March 3rd, 2013.
Please be sure to check out Jenaya's personal gallery - we look forward to your participation in this very worthy endeavor!
Update - January 12, 2013
Current Funding
Updated 2/16/2013
of $1500.00 Goal
We are pleased to announce that Jenaya has been been selected as one of the ten 2013 NANPA scholarship winners!
In support of this young NPN member and talented nature photographer, we are now asking for your help in getting Jenaya to the 2013 NANPA Summit. All contributions to the Jenaya fund can be sent as follows via PayPal;
Fund drive closed - thanks to all who contributed!
Jim Erhardt - NPN 1

Jim Erhardt is the founder of the Nature Photographers Network™ and the publisher of Nature Photographers Online Magazine. To this day he remains in awe of the incredible nature photography posted on the NPN website and is humbled to be your host. Jim and his wife Donna will continue to strive to provide the best online experience possible to all nature photography enthusiasts - this is why NPN was created and will always remain it's mission!