Nature Photographers Network™ to Sponsor Jenaya Launstein

by Jim Erhardt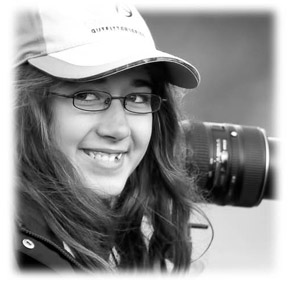 Jenaya Launstein is a 15-year-old, self-proclaimed "nature fanatic" member of the Nature Photographers Network™ living in southwest Alberta, Canada, near Waterton Lakes National Park. She's been photographing for more than two years, but after receiving her first digital SLR camera for her 13th birthday, she was hooked.
Her father, John Launstein has a background in commercial and fine-art nature photography, so he has been teaching her and her younger sister Marlise how to capture wildlife in images. Jenaya says "we usually go out photographing in nature a few times a week. It helps to live where I do, as I get to photograph lots of bears (black and grizzly), deer, elk, moose, birds and other animals"
Jenaya says her membership in the Nature Photographers Network™ has really helped her grow in her abilities and skills as a photographer. "I love photographing God's creation and hope to have a career as a nature and wildlife photographer. I am just starting to sell my images for publication and as fine-art prints, and I am hoping to develop a line of greeting cards with my Dad and sister."
Jenaya's images have appeared in Canadian Geographic magazine, Wild Magazine (Canadian Wildlife Federation, CWF), Canadian Wildlife magazine (CWF), Biosphere (CWF), The Banff Crag & Canyon, NWF's Wildlife magazine, as well as Nature Photographer and Outdoor Photography Canada where they did a short feature on Jenaya as one of Canada's best-kept secrets in wildlife photography. She has also been published in several other Canadian Geographic publications including "Best Wildlife Pictures " in both 2011 and 2012, and her hometown's newspaper, The Pincher Creek Echo. In addition, three of her photographs (and one of Marlise's) are on display at the Canadian Museum of Nature in Ottawa, Ontario, Canada.
Update 1/12/2013 - Jenaya won the 2012 Canadian Wildlife Photography of the Year Competition (Junior Photographers Division) and was also awarded a Runner-Up and received two additional Honorable Mentions! Additionally, one of her images also took 2nd place in the huge 2012 NWF contest.
Because of Jenaya's talent and participation on NPN, member Sandy Richards has nominated Jenaya for a NANPA scholarship. From its inception, NANPA has been dedicated to teaching the next generation of nature photographers. To that end, the NANPA High School Scholarship Program (NHSSP) has already presented scholarships to more than 140 creative students who have attended NANPA Annual Summits in the past.
Each year's group of ten scholarship recipients will attend regular NANPA Summit programs, participate in field workshops designed specifically for them, and receive special photographic instruction from a variety of nature photography and publishing professionals. Students will gain awareness, appreciation and concern for the natural environment, and improve their skills and confidence in the art of nature photography. This will be accomplished through classroom and field instruction, as well as personal interaction with some of the world's best-known and highly skilled nature photographers. The images which students photograph during field work are critiqued, edited, and used in a slide presentation for all attending NANPA members to view on the Summit's final day.
The scholarship covers all lodging, airport shuttles, field trip transportation and the Summit registration fee. However, transportation to and from the Summit location is the responsibility of the student and his or her family.
We are pleased to announce that the Nature Photographers Network™ will sponsor Jenaya by raising funds from its membership to pay for this expense if she is selected for a NANPA scholarship. At that time, we will send an email to all members with a link to where they can make contributions to this sponsorship fund. Our goal will be to raise $1500.00 to cover Jenaya's air travel from Canada to the NANPA Summit, which will be held in Florida from February 28th through March 3rd, 2013.
Please be sure to check out Jenaya's personal gallery - we look forward to your participation in this very worthy endeavor!
Update - January 12, 2013
Current Funding
Updated 2/16/2013
of $1500.00 Goal
We are pleased to announce that Jenaya has been been selected as one of the ten 2013 NANPA scholarship winners!
In support of this young NPN member and talented nature photographer, we are now asking for your help in getting Jenaya to the 2013 NANPA Summit. All contributions to the Jenaya fund can be sent as follows via PayPal;
Fund drive closed - thanks to all who contributed!
Jim Erhardt - NPN 1

Jim Erhardt is the founder of the Nature Photographers Network™ and the publisher of Nature Photographers Online Magazine. To this day he remains in awe of the incredible nature photography posted on the NPN website and is humbled to be your host. Jim and his wife Donna will continue to strive to provide the best online experience possible to all nature photography enthusiasts - this is why NPN was created and will always remain it's mission!
---
Comment posted by Kory Lidstrom on 08/05/12 at 4:30 pm
Cool story and congrats to Jenaya! Her future looks bright.
Registered on 11/19/08, 49 Posts, 1035 Comments


---
Comment posted by Jenaya Launstein on 08/06/12 at 8:44 pm
Wow! Thank you so much everyone! I'm very grateful for this opportunity to further my photography skills. It would be so cool to get to visit a new place of the world, with new wildlife, and get to learn more about photography at the same time. Thanks so much!
Registered on 02/08/11, 254 Posts, 1302 Comments




---
Comment posted by Stan Rose on 08/06/12 at 10:43 pm
Cool, i didn't realize Jenaya was so young, her photography is very advanced. Nice story.
New! Weather Forecasting for Photographers
EBook
Registered on 09/15/05, 836 Posts, 17099 Comments


---
Comment posted by Vincent Grafhorst on 08/11/12 at 11:57 am
Hi Jenaya, big congrats and all the best with your photography!
Registered on 02/24/06, 504 Posts, 7203 Comments




---
Comment posted by Debbie Yarra on 08/28/12 at 9:26 pm
You photography is awesome Jenaya! Keep up the hard work, you are going places! I hope you win! Blessings, Deb
"It's not what you look at that matters, it's what you see."
― Henry David Thoreau

Registered on 01/01/12, 5 Posts, 91 Comments


---
Comment posted by Wayne Jones on 01/12/13 at 3:14 pm
Great News -- Congratulations to Jenaya on winning this scholarship! I just made a contribution to the Jenaya Fund to help get her to the NANPA Summit. Paypal makes it easy and there are no additional fees to the sender. Thanks to Jim and to Sandy for giving us the opportunity to help Jenaya take advantage of this opportunity to get even more inspiration to share here amazing images with us.

Just realized that I left the currency in the default (for me) currency of U.S. Dollars. I hope that is OK.
Wayne Jones
Upstate New York

The beauty and genius of a work of art may be reconceived, though its first material expression be destroyed; a vanished harmony may yet again inspire the composer; but when the last individual of a race of living beings breathes no more, another heaven and another earth must pass before such a one can be again. William Beebe, 1906
Registered on 04/18/07, 953 Posts, 6435 Comments



---
Comment posted by Jay Levin on 01/12/13 at 3:15 pm
Jenaya is one of the most talented and enthusiastic wildlife photographers whom I have met on Nature Photographers Network. Congratulations on this scholarship nomination, Jenaya! I expect that you will be leading wildlife workshops some day, if not now!
Jay Levin
Farmington Hills, Michigan
www.pbase.com/drjaysel/profile
Registered on 04/24/09, 21 Posts, 184 Comments



---
Comment posted by Catherine Reilly on 01/12/13 at 4:24 pm
Thanks to Sandy Richards for nominating Jenaya for the NANPA Scholarship. And to Jim and Donna for organizing a way for us to support this talented and devoted young lady. Jenaya, I am so pleased and excited for you to have this opportunity to go to the NANPA Simmit in Florida! Have a blast and learn a lot! Then come back and continue to dazzle us with your images. God's blessings to you and your family.
Catherine Reilly
Seattle, WA


Ad lucem quam inhabitas--
To the light wherein Thou doest dwell
Registered on 08/16/06, 603 Posts, 9192 Comments



---
Comment posted by Eva McDermott on 01/12/13 at 7:21 pm
Congratulations Jenaya! What a fantastic opportunity. All the best to you on your photographic ventures.
Registered on 01/04/09, 1015 Posts, 13229 Comments




---
Comment posted by Shane McDermott on 01/13/13 at 09:50 am
Hi Jenaya

Congratulations on your NPN recognition and award! I had a close look at your gallery, you have some very beautiful and well crafted images. You obviously have a special way of connecting with wildlife, as they seem to be relaxed and natural in the moments you have captured them. You are young and have plenty of time potential to further develop your art, my advice would be to take it slow.

When you get into an environment like NANPA summit with very seasoned professionals and feel a little overwhelmed or intimidated, pause, breath and remind yourself of why you are doing this and what you love about it. As you are starting to find out, the world of digital photography is an incredibly creative and alluring means of self expression, and is also incredibly complex, dynamic and ever evolving. If you don't stay connected, real and grounded in your unique relationship to it, it can be easy for all various options and possibilities to fragment and cloud your vision and love for photography.

All the best on your journey.

Shane McDermott
Registered on 11/12/07, 49 Posts, 1074 Comments