Book Reviews for July 2013

Text and photography copyright © Paul W. Faust. All rights reserved.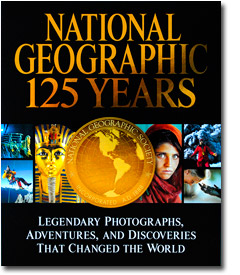 National Geographic 125 Years - Legendary Photographs, Adventures, and Discoveries that Changed the World
The National Geographic Society has always had just one goal, to inspire people to learn and then care about the planet they live on. For 125 years, the National Geographic Society has invited readers and viewers along as it explores "the world and all that is in it." This collection of 600 images from those 125 years covers everything from daily life lived with a family of chimps, to an Amish boy in Pennsylvania, from historical moments to monkeys enjoying a hot bath, and all of the stories that goes with them. This is a great book to add to any photographer's or home library, and a great thing to use for kids to learn where they came from, which so many seem to know so little about these days.
This hard back book is about 10x11 inches, with 383 pages, retails for US-$50.00 and is distributed by National Geographic, at www.nationalgeographic.com. I Rate it; A+++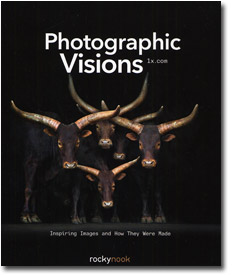 Photographic Visions - Inspiring Images and How They Were Made
Photographic Visions is a collection of 95 images, out of the thousands of images that have been posted on the web site 1x-com, taken by photographers from around the world. This book will motivate and inspire all photographers from beginners to pros alike. What makes this collection of images so great is that it is not one or two photographers traveling around the world to record their ideas of life in other countries, but they are the images from the photographers "from those countries" recording how they see life where they actually live.
The book is divided by subject matter from, abstract to children, landscapes to macro, and night to street, with 14 sections in all. Each image is accompanied by a page of text telling about the photographer who took it, why & how they took it, and its technical notes. The book will more than inspire you with images such as a frozen waterfall taken in moon light, or a small preying Mantis riding on the back of a large snail. This is the kind of book that you will consign to your coffee table so as to be sure to know exactly where to find it again, and again.
This soft cover book is about 8x10 inches, with 231 pages, retails for US-$39.95 and is published by RockyNook and distributed by O'Reilly Media and can be checked out at www.oreilly.com. I Rate it; A++
Paul Faust - NPN 1680

Paul W. Faust is a self-taught Photographer, Writer, Digital Imaging, Photo Restoration, and Photo Stock Service professional. You can see more of Paul's images on the web gallery where he sells his images at www.paul-w-faust.artistwebsites.com.