Why Personal Style is Important

Text and photography copyright © Alain Briot. All rights reserved.
Just being at a fantastic location at the best time for the light are no longer enough to create unique images.
One has to have a personal style. Alain Briot
1 - Introduction
Millions of digital cameras, from cell phones to DSLRs to Medium Format digital, are sold each year. Millions of new 'photographers' go to locations that used to see little visitation but that are now crowded.
Crowded locations mean that being at a fantastic location at the best time of the day and year is no longer enough to create a unique photograph. One has to have a personal style. If you do not develop a personal style, you are in competition with all the photographers who can take a technically adequate photograph. This means millions of people because cameras, and software, automate nearly all the technical aspects of photography.
If photography is your hobby, your images will be similar to the images of many other photographers. If we were at mesa arch for example (see the photograph below), and we did not have a personal style, the only difference between our work and their work will be the angle of view, or the camera we used, or some other minor differences.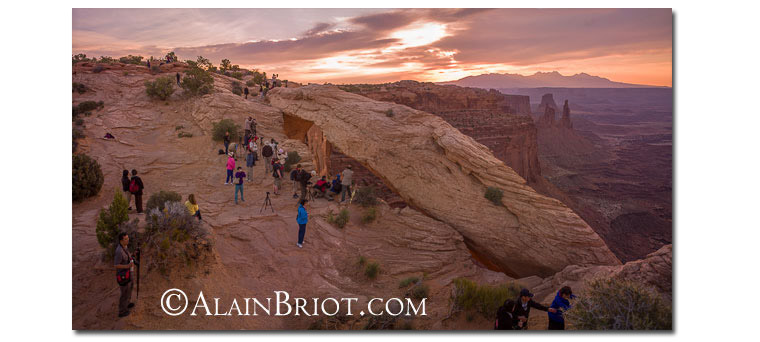 If you sell your work, you will have to sell on the basis of price. This is because if you have no personal style, price is the only difference between your work and their work.
Fact is, without a personal style our photographs will show a location. Anyone can photograph a location! There is nothing special in doing so. What is special is making this location look unique. What is special is using a personal style to depict this location so that our photographs looks different from everyone else's photographs.
In other words, if we have no personal style our photographs will look similar to the photographs of other photographers who went to the same location. But if we do acquire a personal style, our photographs will look different even though we photographed the same locations.
2 - The Problem
This situation is a problem and the solution to this problem is to acquire a personal style. Why? Because personal style is based on art, not on technique. Art is the only thing a machine (cameras) or software cannot do.
This is because art is the outcome of your emotional response to the subject, not the result of a technical process. All these new 'photographers' rely on technique -be it camera or software- to do the job for them.
The good news for us is that cameras and software alone cannot create a personal style. Cameras and software, on their own, are unable to express emotions. They need us, the artists, the true photographers, to do that. This is because technical tools cannot make creative decisions. Technical tools are designed to make technical decisions. Only us, the photographer, the artist, can make artistic decisions.
I believe that in order to make meaningful photographs, learning the art of seeing and vision is as important as learning craft and technique. After over 15 years of major advances in digital photography, there is still a need for artistically-inclined photographers to focus on the artisitic aspects of photography, to the essence of seeing and personal expression, and to the fundamental aspects of photography as an art.
Quote from my essay Creating Meaningful Photographs. You can receive a free eBook version of this essay by emailing me at alain@beautiful-landscape.com with the words 'meaningful photographs' in the subject line.
3 - Artistic Expression is Important
Developing a personal style requires a specific and well-designed plan of action. Giving you this plan of action is the purpose of the Personal Style Master Class. I spent over a year developing this plan and making it as effective as possible. Without such a plan, developing a personal style can be a long and searching journey.
This is why many photographers do not have a style. They consider developing a style hopeless because they do not know where to start. And, if they do start, they do not know how to proceed. In the Personal Style Master Class I give you a step by step Road to Success together with a timeline and specific goals that you can reach in a timely fashion.
If you don't have a personal style the only other option is to make photographs that look like everyone else. Not many people care for that. Developing a personal style is a rewarding, long term goal. Long term goals have long term results. Short term goals have short term results. Developing a personal style is more difficult than putting a camera on auto mode and using software presets. Doing so is easy. The problem is that anyone can do what is easy. It is doing what is hard that makes one stand out. It is doing what is hard, and what no one else is doing, that makes one's work unique.
4 - The Alain Briot Personal Style Master Class
Personal personal style makes a huge difference between us and other photographers. The difference between our work and theirs is not the cameras or the software that we use. The difference is the artistic choices that we make. The difference is the artistic content of our work.
But to make artistic choices one has to study art. One cannot study just technique. This is where the Personal Style Master Class comes in. I have created this Master Class for the purpose of helping you develop a personal style. Developing this style is achieved by completing 19 different steps that range from learning art and art movements, to evaluating your work, to finding out where you are at now, to defining specific goals, to working on creating your own style, and more.
If everything goes as planned, this new tutorial will be available in mid-July 2012. Right now a pre-announcement list is available. Joining this list is easy: simply email alain@beautiful-landscape.com with the words Master Class in the subject line.
After you email you will receive a link to download a FREE 21 PAGES EBOOK describing the specific contents of this class. You will also benefit from special offers and from a lower price when the Personal Style Master Class is published. These special offers will only be made available to members of the pre-announcement list.
Additional information about this exciting tutorial will be available to members of the pre-announcement list soon. This is a major undertaking, being the largest tutorial I have produced so far. It consists of 19 separate steps and multiple sub steps. I have been working on it since February 2011, nearly a year and a half ago.
Alain Briot - NPN 2054

Alain Briot creates fine art photographs, teaches workshops and offers DVD tutorials on composition, conversion, optimization, printing and marketing photographs. Alain is also the author of Mastering Landscape Photography. Mastering Photographic Composition, Creativity and Personal Style and Marketing Fine Art Photography. All 3 books are available from Amazon and other bookstores as well from Alainís website.
You can find more information about Alain's work, writings and tutorials as well as subscribe to Alainís Free Monthly Newsletter on his website at http://www.beautiful-landscape.com To subscribe simply go to http://www.beautiful-landscape.com and click on the Subscribe link at the top of the page. You will have access to over 40 free essays by Alain, in PDF format, immediately after subscribing.
Alain welcomes your comments on this essay as well as on his other essays. You can reach Alain directly by emailing him at alain@beautiful-landscape.com.


---
Comment posted by Stan Rose on 07/14/12 at 9:50 pm
If I photographed Mesa Arch upside down, standing on my head--would that be a technical or artistic decision? My shot would probably be unique (at least until some other moron copied me...) but nothing would distinguish it from the photos of the other 30 photographers that morning except my 'angle of view'

New! Weather Forecasting for Photographers
EBook
Registered on 09/15/05, 836 Posts, 17099 Comments


---
Comment posted by Ben Horne on 07/18/12 at 11:07 am
Though I really enjoyed the first part of the article and where you were going with it, the self promoting sale pitch at the end is a bit of a turn off. I know your intentions are well, and that this is how you make your living, but I was hoping for a bit more from this article. I agree with many of your points regarding the importance of personal style, but I feel this is something that will occur naturally if you have a desire to be a photographer. I've found that many people are content simply owning a camera and taking photos now and then --- they are not intent on becoming a photographer. But for those who actively pursue photography with a passion -- developing a sense of personal style will come natural
Registered on 08/27/09, 51 Posts, 959 Comments


---
Comment posted by Harry Lichtman on 07/19/12 at 11:46 am
I checked your web site to try and get a sense of your style that you have spent years developing. I must say I have to agree with much of what Ben says. Your site feels a bit heavy on the promotion side. Looking at your images, they appear in many ways like the images I have seen of the places I recognize. While this may not be such a bad thing, I don't detect a recognizeable style that you speak of. Maybe my images lack style for that matter. I guess I feel a personal style is developed through an attraction to subject matter, a preference to specific lighting that calls one back to photograph at those times, and a way of seeing what is around you.
Registered on 09/17/10, 304 Posts, 3507 Comments



---
Comment posted by Alain Briot on 07/19/12 at 1:41 pm
Hi Harry, Perhaps my artist statement, which you can read at this link : http://beautiful-landscape.com/Artist-Statement.html will help you familiarize yourself with what I do in my work. Personal style is often confused with art movement. While art movements generate noticeable differences between artists, such as between Impressionists and Surrealists artists for example, differences between the personal style of artists working in the same movement are much more low key. If you compare your work to mine, you will see that there are noticeable differences. This is because we each have a different style but are both working within the same movement.
Alain Briot
Author of Mastering Landscape Photography, Mastering Composition, Creativity and Personal Style, Marketing Fine Art Photography and How Photographs are Sold.
http://www.beautiful-landscape.com
Registered on 09/08/05, 0 Posts, 2 Comments