Gorilla Photography in Rwanda

Text and photography copyright © Kush Patel. All rights reserved.
Threatened by poaching, deforestation and civil war exists a swathe of montane forests that blanket the Virunga volcanoes. This is home to a multitude of plants and animals including the world famous mountain gorillas. A dedicated team of rangers guide tourists into this special realm sharing their passion and knowledge in the hope of preserving the Virungas and its wildlife. This article focuses on the necessities for planning and hiking in the Rwandan part of the Virungas and useful tips for photographers attempting to capture that perfect gorilla portrait.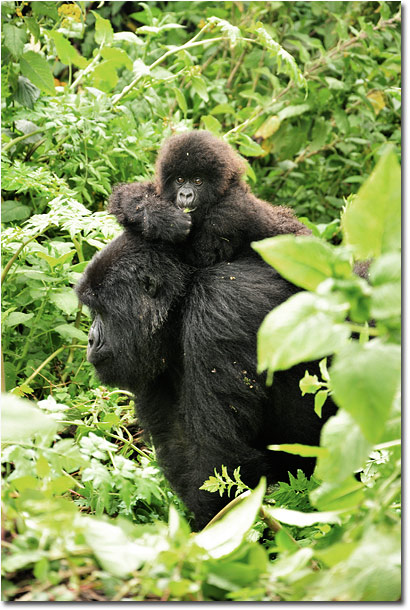 Accommodation is based outside the ĎParc National des Volcansí. Most lodges are a short drive from the park headquarters. All tourists assemble here at first light to get their permits checked and a guide assigned. In order to limit the number of tourists that visit the gorillas, permits need to be bought well in advance from the Rwandan Tourist Board. You will be placed in a group of roughly 8 people. Your guide starts off by explaining the doís and doníts of gorilla watching. He will talk you through the different members of the family and give you short spiels on their personality or their relationship with the other members. Your entire group then proceeds to a pre-determined location to start the trek.
A majority of Rwanda is crumpled up into steep hills plastered in dark green vegetation. Along your drives you will come across gaps in the foliage revealing grand vistas. If you want to photograph these, discuss it with your driver, as he/she usually knows good spots to stop. Patchworks of multi-coloured fields interspersed with rows of tea and coffee make for some interesting shots. The local folk adorned with colourful garments are usually happy to be photographed.

At the head of a trail, you will have a few minutes to get your gear organised. The country is heavily inundated in rainfall, so waterproof clothing are a must. A waterproof jacket gives you freedom of movement. However, a poncho maybe better at protecting your backpack or any other bag that you may be carrying. Invest in a well-seasoned pair of waterproof hiking boots, durable gaiters and trousers that can withstand the ravenous bite of stinging nettle and thorns. Hiking through the forest does mean you will be heating up but given that you will be doing so at 2500-4000m above sea level, it can still get pretty cold. A jumper in your daypack is useful. Some trail food and drinking water should be carried on all hikes. It is common to have completed the hike in time for lunch. However, depending on the pace your group keeps and the location of the gorillas, there is a possibility that you maybe delayed.
As you will be travelling in a group, you wonít be able to stop for a long time to photograph a subject. It is useful to have your camera gear easily accessible and ready to shoot. Backpacks are good because all your equipment can be stored in one place. However, it is difficult to quickly gain access to anything whilst on the move. It is easier to have toploading bags or waist packs. Just to give you an idea of what I mean, this is the gear I was carrying:
Lowepro Inverse 200 AW
Nikon D90 rigged onto a Nikkor 10-24mm lens
Nikkor 18-105mm lens
Spare memory cards and batteries
SB-600 flashgun
Lowepro Toploader zoom 55 AW
Nikon D300s rigged onto a Nikkor 80-400mm lens
Spare memory cards and batteries
Cleaning equipment
Backpack
Waterproof and warm clothes
Water
Food
Spare waterproof sealable plastic bags
Small dry towel (to wipe water of camera/lens body)
The Lowepro Inverse 200AW was strapped onto my waist while the toploader zoom 55 AW was slung down my left side. This setup was perfect for all situations. Wildlife is usually skittish so you only have a few seconds to capture a bird or monkey. Because I was hand holding and it was overcast, I kept my ISO at 800. Itís useful to keep your fastest camera mounted to the lens you will be doing most of your wildlife shooting. I enjoy getting close to a subject and highlighting it within its environment. For this reason, a wide angle lens is one of my most commonly used lens. This lens was loaded onto a D90 and strung around my neck during the dry spells. I also kept a flash gun and a gorillapod attached to the D90. This setup allowed me to shoot quickly in the dark undergrowth.
The trails usually start off through dense forest nearly subduing you into darkness. They are narrow and your group will slip into a single file. Itís worth staying at the back of the group so that you can photograph without holding everyone else up. Every now and then the riot of vegetation breaks up to reveal layers of hills, swathed in green as far as the eye can see. Between these rare moments, there is a lot to photograph at ground level. Insects, fungi and plants are abundant. There are sedated chameleons, strange spiders and giant worms. Birds can be heard but are difficult to see until the forest opens up at higher elevations. The forest itself is beautiful- shrouded in mist and blanketed in moss. A lot of the time visibility is reduced to a hundred feet or so. At certain altitudes there is a bamboo forest, which gives way higher up to a shrub-blanketed arena.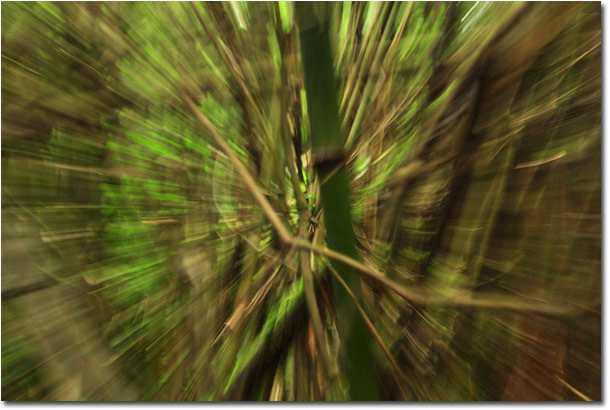 On our first hike, it was here that we stumbled upon some game scouts. They had kept vigil over a group of gorillas since daybreak. We offloaded our bags, grabbed a camera or two and proceeded silently towards the family. We almost walked past our first animal- a juvenile hidden perfectly amongst his breakfast. Then on rounding a corner, a wide silver back and elongated head greeted us. This is a moment that will leave you stunned with amazement. The family guardian gave us a nonchalant glance before twisting his back to us and continue feeding.
All the tourists have to stay together in a group and are always surrounded by the rangers to ensure their safety and that of the gorillas. Due to the thick vegetation, getting the shot you want can be difficult. This is compounded by the fact that you must stay within the group and you canít move independently to get a better angle at your own will. The rangers are very understanding and if you ask them, they will slowly take you into a better position. The gorillas usually move around and parade themselves in front of you in search of food. So by standing in one position it is possible to see a few family members.
The group is composed of one or two silver backs, females with or without young and juveniles. Most of the time you will encounter the group resting and feeding. There maybe short encounters of interactions where the animals groom each other or in the case of the younger animals, play. Young gorillas can be found riding jockey-style or cradled under a mothers protective belly. The silverback will occasionally let out a strum of chest beats if he wants to display his dominance. Having a 200kg ape stand up on twos and cause reverberations in the forest is a shot you donít want to miss.
During my encounter with the gorillas, I tended to use the 80-400mm most of the time. This allowed me to get tight portraits with narrow depth of fields and cut out any distracting vegetation. The broad focal length let me readjust to a wider angle if an animal approached close or if I wanted to involve the environment. The VR on this lens was incredibly useful. If youíre thinking of bringing along some form of stabilisation, I would recommend a monopod. They take up less space than a tripod, are easier to manoeuvre- a key ingredient in shooting a moving subject on uneven, crowded ground.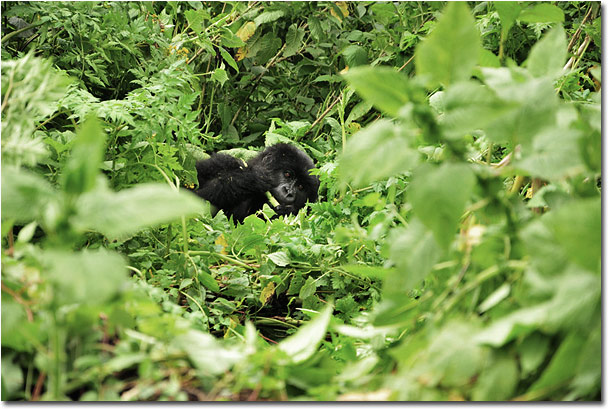 The rain feels perpetual. It is worth protecting your gear in waterproof covers, which you can buy from most camera shops or improvise one from a zip lock bag with a hole big enough for your lens hood to protrude through. The contrast between the black gorillas and green vegetation is high. This coupled with the sun bouncing off water sprinkled fur can make obtaining the right exposure challenging. A cloudy sky can be a blessing as the diffused light casts a softer touch on your subjects.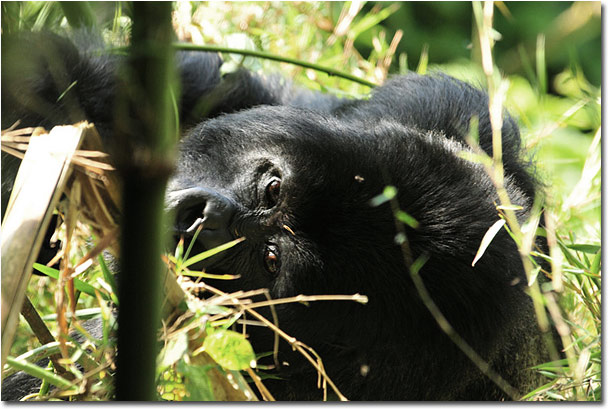 After an hour of observing the gorillas, the rangers guide you back to your vehicle and its back to camp for some well deserved R&R. A hot shower, dry set of cloths and sandals were a blessing after being wet, cold and dirty. At night a hot water bottle and an invigorating fire made for a comfortable sleep.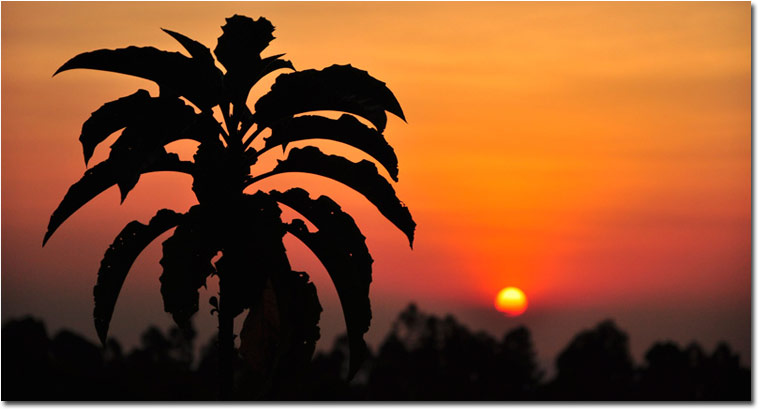 Kush Patel - NPN 6572

Kush Patel is a doctor currently based in London. However, for the majority of his life he has lived in Kenya, where the open savannah and wildlife were literally at his doorstep.
Kush has been fortunate enough to gain the experience, knowledge and enthusiasm that is required for wildlife photography from his uncle and parents. He hopes that his photographs create a greater awareness for wilderness areas and promote eco-tourism as a means of protecting them.