How Fine Art Photographs Are Sold

Text and photography copyright © Alain Briot. All rights reserved.



The more informative your advertising, the more persuasive it will be. David Ogilvy

1 - Introduction

My essay this month focuses on my just-released book: How Photographs are sold: Stories and Examples of How Fine Art Photographers Sell their Work.

This is my fourth book on photography and my second on marketing photographs. My two marketing books are very different. My first marketing book, titled Marketing Fine Art Photography, focuses on what to do to sell your photographs. This second marketing book focuses on how photographs are sold. While my first book is a comprehensive marketing manual, this second book is a collection of stories about what happens when selling fine art photographs.

The book consists of stories told by myself and by seven guest photographers. The stories I tell come from my experience selling my photographs for twenty years (I started selling my work in 1994 while working on my PhD). The stories told by the seven guest photographers cover a wide array of personal situations, from full time professionals to photographers for whom photography is a passion rather than a primary source of income. These include photographers from all over the world (the United States, Australia, France, etc.) and from all walks of life. They also cover a variety of selling venues. Some photographers sell their work at shows, some over the web, some offer portraits, others sell stock photography, and so on.

The overriding idea is to offer a wide scope of experiences to show how fine art photographs are sold. The purpose of this essay is to offer an introduction to the book and provide you with an opportunity to be acquainted with the contents of the book so you can decide if it is for you.

2 - The Stories

The goal of these stories is to show you how fine art photographs are sold and what happens when they sell. The goal is also to demonstrate some of the most important aspects of marketing and salesmanship. To this end, each story exemplifies a specific aspect of the buying and selling process.

The story I am featuring in this essay focuses on a real-life experience that Natalie and I had while selling my fine art photographs. This story is one of the many stories featured in my new book.

Story #1 - Telling Stories to Sell Your Work

After nourishment, shelter and companionship, stories are the thing we need most in the world. Philip Pullman

Telling stories about your work carries a lot of weight in the eyes of your customers and collectors. The story of how you created a particular piece can be anything from the final push a customer needs to make a purchase to an enlightening moment that reveals something about the piece that can be life changing to a customer. Stories sell the art by making the photograph come alive and by giving the customer a narrative he or she can share with family and friends.

A couple once asked me if I remembered the exact date when I took a specific photograph. It was a photograph of the Grand Canyon at sunrise created from Hopi Point, one of the overlooks on the West Rim Drive of the Grand Canyon. I did not know why they wanted this information, but I proceeded to give them the information they asked for. Fortunately, Natalie was with me and she remembered the exact month, day, and year when I captured the specific photograph they were interested in.

Seeing that they were fascinated with the image, I did not stop there. I continued by explaining how I woke up early that morning and hiked to the overlook in the dark, carrying my camera gear and hoping that the sunrise would reward my efforts. The hike is uphill and even though the rim road goes right next to the overlook, the road is closed to private cars;

back when I created the image there was no shuttle bus until 9 a.m., much too late to capture sunrise. I explained how I set up in the dark and how I used a panoramic camera, a Fuji 6x17 with a 90mm lens in this instance, because I wanted to capture the entire panoramic view from east to west.

I explained how the print was created to express how I felt that morning, and that the colors on the horizon show the transition from day to night—day on the right side, which faces east, and night on the left side of the image, which faces west. I explained how the clouds on that particular morning formed a V shape right in the center of the image, offering an ideal composition for a panorama, and how the colors in the clouds complement the colors in the landscape itself, the colors of the canyon buttes and formations, and the color of the Colorado River, forming a coherent and aesthetically pleasing color palette.

They listened intensely, staying quiet the whole time, taking it in. After I was done talking they asked to be excused so they could talk to each other. When they returned they simply said, "Can we take this one with us?" I was surprised at the question because this was my largest piece, over 7 feet wide plus framing, and most people had it shipped because of the difficulty of taking it with them while travelling. I was also surprised because this was a four thousand-dollar piece and usually people either negotiated the price, or at least discussed it before making a decision. Not this time. I did not even have to close the sale, they did this on their own, having already decided they were going to purchase it.

I said sure, then asked, "Do you have a vehicle large enough to carry it?" They said that they drove a full-size pickup truck and that it should fit inside. They then looked at each other and he said, "I proposed to her at this overlook on that day. Not at sunrise, but later in the day. We've been looking for a photograph of this overlook ever since and you are the only one who has one, plus it is beautiful and it was taken the day I proposed. There's no way we can pass on it." As he said this he gave me his credit card. I mentioned the price, plus tax since it wasn't shipped out of state, but I don't think that it mattered at all. Clearly, the decision was not made on the basis of price.

I am sharing this with you to show how important telling a story, as accurately as possible, is when selling fine art photographs, or any other type of fine art for that matter. Had I not told that story, or had I simply said, "It was taken at Hopi Point at sunrise," I would not have made the sale. The story not only mattered to them, it was the reason they purchased the piece. I am sure they continue to enjoy it to this day. In fact, I received a letter from them a few months after later in which they told me how much the piece meant to them and they enclosed a photograph of the artwork displayed prominently in their home over the fireplace.

A story such as the one I just mentioned is really a narrative about your work. I write narratives about most of my pieces. Often, it is these narratives that make the sale because they provide the little extra push that collectors need to make a purchasing decision.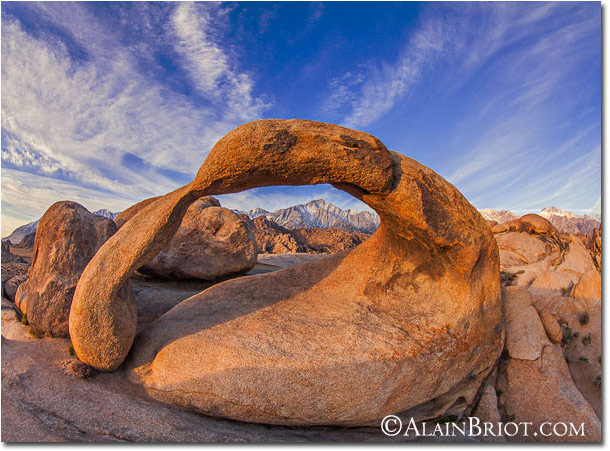 Moebius Arch, one of my recent best sellers
I encourage you to tell stories about what inspired you to create a specific photograph. While a collector might be originally attracted to your work for aesthetic reasons, a story can go a long ways toward transforming their initial attraction to an emotional response that leads to a buying decision. Knowing behind-the-scenes details about a piece that only the artist can share goes a long ways toward generating a feeling of ownership and of privileged relationship with a specific piece. While viewers are initially involved with the work on a visual level, after hearing the artist's story they are engaged on a emotional and intellectual level. This raises their level of involvement from simple curiosity to serious consideration and, if you do a good job, to a desire to own the piece that has by then become part of their experience.
Be enthusiastic when telling the story of a specific photograph. Enthusiasm is contagious, so if you are enthusiastic about your work, your listeners --your clients-- will in turn become enthusiastic about it. Enthusiasm ends with -iasm, which stands for I Am Sold Myself. You must be be proud of your work in order to sell it and nothing achieves this goal better than being enthusiastic about your photography!
3 - Conclusion
Selling your photographs is challenging and requires specific knowledge. This story is only one aspect of the process of selling your work. If you want to learn more about how to sell your photographs, read my marketing books Marketing Fine Art Photography and How Photographs are Sold. Both are available in eBook format on my site and in printed version on Amazon and other bookstores. The reviews have been excellent and it is regularly ranked in the top 10 books on professional photography on Amazon. A free sample chapter and the full table of contents are available for download on my site at here.
Alain Briot - NPN 2054

Alain Briot creates fine art photographs, teaches workshops and offers DVD tutorials on composition, image conversion, optimization, printing and marketing. He is the author of Mastering Landscape Photography, Mastering Photographic Composition, Creativity and Personal Style, Marketing Fine Art Photography and How Photographs are Sold. All 4 books are available as printed books on Amazon.com and as eBooks on my website at this link: http://beautiful-landscape.com/Ebooks-Books-1-2-3.html.
You can find more information about Alain's work, writings and tutorials as well as subscribe to Alain's Free Monthly Newsletter on his website at http://www.beautiful-landscape.com and click on the Subscribe link at the top of the page. You will receive 40 free essays in eBook format immediately after subscribing.
Alain welcomes your comments on this essay as well as on his other essays. You can reach Alain directly by emailing him at alain@beautiful-landscape.com.