Book Reviews for April 2013

Text and photography copyright © Paul W. Faust. All rights reserved.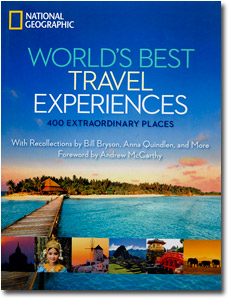 World's Best Travel Experiences - 400 Extraordinary Places by various authors.
For nature photographers, or for any other subjects you may shoot a lot, we all still have to travel to find them, and to do that there is no better way than to have a great reference book that tells and shows you what is where. This new book from National Geographic has five sections for Wild Places, Urban Spaces, Paradise Found, Country Unbound, and World Wonders. Most subjects are of landscapes, architecture, historical, and people. There are many places and names I have never heard of before, so you will find out about a ton of new places and subjects to shoot. You will find subjects you never knew existed, even at well-known locations. Everyone knows the city of Hong Kong, but few know about the mountain trails that look down on a beautiful bay and the city in the distance. The book even has web site information listings for the major points of interest in each location. What better way to get travel information than from the organization that has covered the world better than anyone ever has?
This hard back book is about 9x12 inches, with 320 pages, retails for US-$40.00 - and is distributed by National Geographic, at www.nationalgeographic.com. I Rate it; A++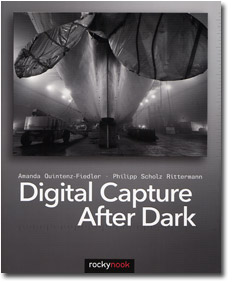 Digital Capture After Dark by Amanda Fiedler & Philipp Rittermann
Photographing with little light is a lot different than shooting in the middle of the day, and even though you use the same tools, you do it to the extreme. To begin with just getting a proper focus can be a nightmare before you even get to the other things you will need to deal with. Here is a great new book (and there are not a lot of them that deal with night photography) to learn how to use a digital camera for this photo technique. Its 13 chapters cover a host of how-to info on shooting from inside dark buildings to shooting ocean beach cliffs at night, and almost everything in between. The city streets by streetlight are most interesting, and the "light painting" is a great way to add something special to a shot. The book also includes info on using HDR, B&W conversion, and adding atmospheric effects to an image. A great how-to info book for every photo library!
This soft-cover book is about 8x10 inches, with 181 pages, retails for US-$39.95 - and is published by RockyNook, distributed by O'Reilly Media and can be checked out at www.oreilly.com. I Rate it; A+
Paul Faust - NPN 1680

Paul W. Faust is a self-taught Photographer, Writer, Digital Imaging, Photo Restoration, and Photo Stock Service professional. You can see more of Paul's images on the web gallery where he sells his images at www.paul-w-faust.artistwebsites.com.