Choosing The Right Rain Cover For Your Gear

Copyright © Chris Klapheke. All rights reserved.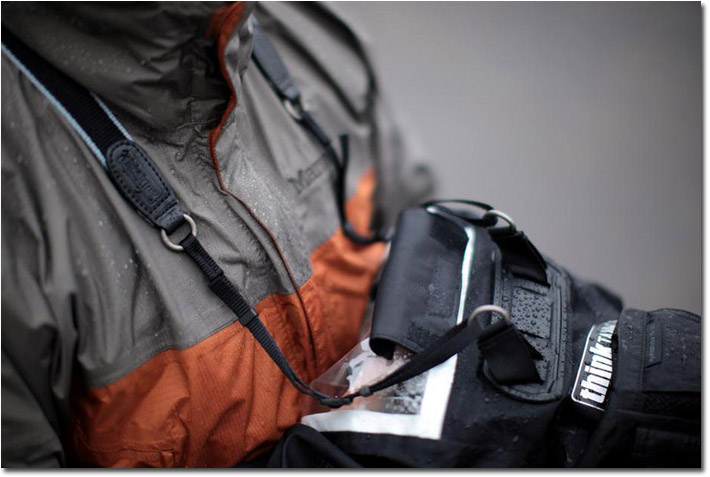 Rain Covers can protect your gear from all the elements—not just rain! Mother nature throws all kinds of corrosive material at your gear: sand, salt spray, snow and dust to name a few. Think about how dirty your clothes were the last time you shot near the water or in a dusty field. That same stuff that made your clothes dirty is on your gear!
Your choice of rain covers is all over the board, both in price and in sizes. From $5 plastic disposable covers to high tech solutions running several hundred dollars, it might be overwhelming as to which one to choose.
The answer to your optimal rain cover can reveal itself with a little analysis of two things: the lenses in your collection, and the reason you'll need a rain cover. Keep in mind that one size rain cover probably won't fit all your lenses, and you may find you need a different rain cover for different lenses. Just as you need different lenses for different situations, you may need different rain covers as well.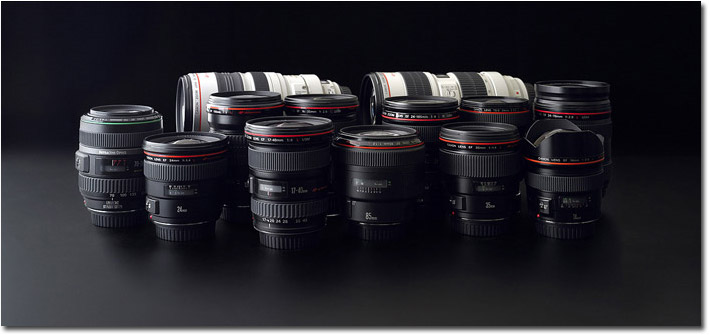 Take your lenses out of storage and line them up on a table. A quick look will (maybe painfully) remind you of the amount of investment you have to protect. Grab a tape measure—yes, you'll need to measure your lenses, both length and diameter. If you want your rain gear to cover your lens hood, include that in your measurements. Keep in mind your teleconverters, and add a few inches for them if you use them. Also, some rain cover manufacturers include the measurements for the depth of your camera bodies, so measure those as well. It only take a few minutes to measure, and you'll want to save this information.
Luckily, you won't need as may rain covers as you have lenses, as most covers span a few inches, and therefore fit several lenses. One piece of advice: always lean toward a larger rain cover. It may "bunch up" with shorter lenses, but will cover the longer ones adequately.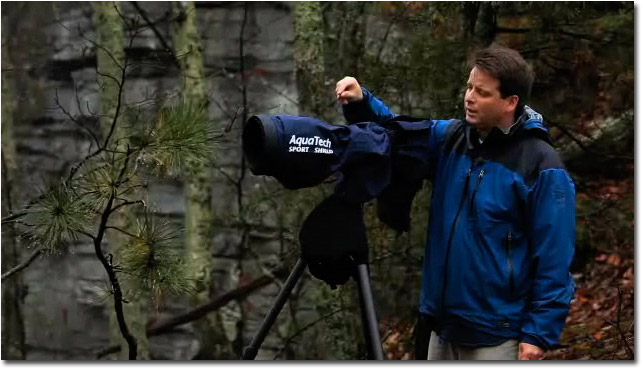 Before we move on to the covers themselves, think about how you will use each lens in relation to protection. Do you only use your 50mm when you are inside or in the back yard? Are you taking tyour 500mm to Africa or Alaska? Do you shoot ball games with your 70-200mm? Inside or out? Do you need a weather-tight solution for your trip with one lens, but only an emergency cover for another?
Now that you have measurements for your lenses, and a "need scale" for each one, you're armed with the info needed for a choice of rain covers. Rain covers run the gamut, just like your lenses. We'll start with the basic models, cover the high-tech models, and end up in the middle.
For starters, Op/Tech makes disposable clear light plastic Rainsleeves that only run around $6. These sleeves fit lenses 18" or smaller (14" for the version that covers your flash) and have a drawstring to cinch up the cover on your lens. They also have a hole to push your eyepiece through for a clearer view. Rainsleeves won't over your big telephotos, and will bunch up on wide angles, but cover about everything in between. These sleeves are great for stashing in your camera bag for that occasional surprise shower on a shoot or a day at the beach. The price can't be beat, and they are much nicer than a plastic garbage bag!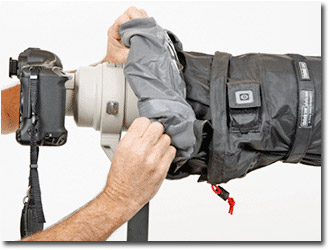 On the other end of the scale are the high-tech offerings from Think Tank Photo and AquaTech. If you're heading to Anarctica, Alaska, a whitewater raft trip, shoot outdoor sports, or want to make sure your gear is absolutely protected, then these covers are for you. Each model of these covers is made for a narrow range of lenses to provide a tight fit. They also require individual eyepieces for each of your cameras to insure waterproofing.
Think Tank makes two Hydrophobia models: one for the popular 70-200mm, with or without flash, and one for the lens range of 300mm to 600mm.
The Think Tank Hydrophobias keep your gear watertight, strap down to your gear, and provide two sleeves for ease of operation. The Hydrophbia 300-600 even sits on your long lens, waiting to be quickly pulled back at a moment's notice. To complete a custom fit, you'll need to get the proper eyepiece for your camera.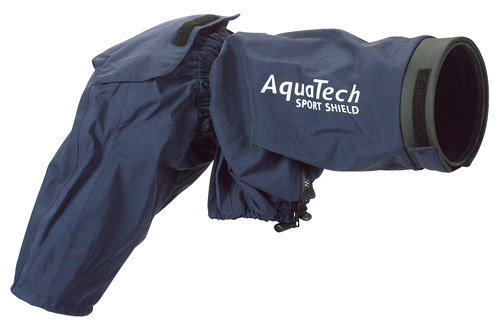 AquaTech, an Australian company that makes wetsuits, applies their technology to high end, custom fitting covers. AquaTech has five models, each fitting a narrow range of lenses. To make things easier, AquaTech has a PDF Reference Chart to help you pick the right size. Like the Think Tank, you need a specific eyepiece for your camera.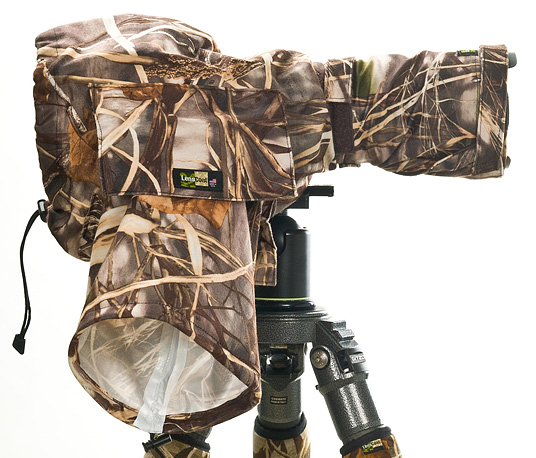 LensCoat RainCoats provide a good mix of high end features and economy prices. While constructed of high end materials similar to Think Tank and Aquatech, the RainCoats do away with the required eyepiece feature to bring the price down. RainCoats are available in several sizes and patterns including camoflauge, and have features such as cinches for a better fit, and tripod/monopod slots.
The LensCoat RainCoat Pro and Standard have integrated arm sleeves so you can operate your camera easily with the cover on. The economical RainCoat RS line does not have the arm sleeve, but has all the other RainCoat features.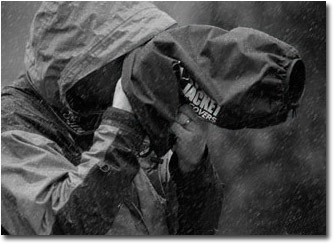 For occasional use and great protection, are the Storm Jackets. Reasonably priced, these Aqua-nylon fabric rain covers fit a wide range of lenses and have bungee-cords for enclosures. They also have Velcro openings for your tripod or monopod. Sizes range up to 31" and the product pages give suggested lens size combinations. These covers give you repeated use and are compact for storage in your bag. These are our most popular covers!
So there you have it. Although there are numerous choices of rain covers, a little analysis of your lenses and your needs will point you in the right direction.
Chris Klapheke - NPN 5828

Chris Klapheke is the proprietor of Outdoor Photo Gear and an avid nature photographer. After a short-lived stint as an attorney and a long career in retail business development, Chris considers himself fortunate to be able to combine his photography passion and his business interests.
Outdoor Photo Gear is an online store supplying gear and accessories for the outdoor mobile photographer. Please be sure to check out OPG for all kinds of unique gear!