Andy Rouse's Shots of the Month
Text and photography copyright Andy Rouse. All rights reserved.
Editorís Note - Thumbnails are links to larger images, presented in slide show format.
I've been in Sri Lanka for the past few weeks, so thought you might want to hear about that. It's a really wonderful country, with great people, curry and some really interesting wildlife. Did I mention the curry already? It's my second trip in 6 months to the island as I'm trying to get a nice collection of Asian Leopard images for my forthcoming leopard book. Now for those you unfamiliar with Asian Leopards, which I suspect is most of you, I need to point out the differences between them and their more famous African cousins. Physically there is not that much difference apart from a slightly more golden coat and a slightly different shaped face (some say more attractive). Perhaps the main difference, and that which ultimately causes my hair to be pulled out in sheer frustration, is the habitat in which they live. Unlike most African Leopards which parade happily across the plains, the Asian Leopard is a skulker, lurking in thick jungle and being notoriously difficult to photograph. Luckily I had the help of two experts, my friends Ifham and Dr Ravi, who have spent most of their lives chasing their beloved leopards.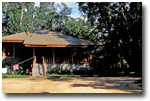 Photo 1



Photo 2



Photo 3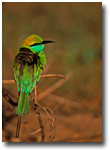 Photo 4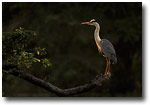 Photo 5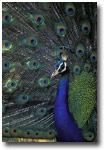 Photo 6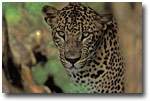 Photo 7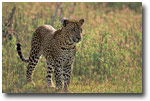 Photo 8


Home for my 14 days in the jungle was this government-run bungalow right in the centre of the national park (Photo 1). It was completely open on all sides to the elements (which was fortunate as it was incredibly hot during the daytime), had solar power for lighting, hot showers (again thanks to the sun) and a nearby river. I mention the latter as Ifham introduced me to a river bath which dictated a semi naked Rouse sitting in a fast flowing river hoping that a bear or elephant didn't chance by. It was so wonderful to sit in, and such a relief from the heat, that I spent far too long one day and managed to get a very red, sunburnt face! The main point about the bungalow was that it offered remarkable flexibility when it came to the leopards, as we'd need to make the most of every opportunity. The only problem was that there was no power for charging batteries for the period of my stay. Although we had a small generator, I know from experience how long DSLR batteries take to charge on generator power. Fortunately my dilemma was solved by my partner Tracey, who needed the 1Ds at home to work on some flower projects we needed to complete for a client. I'd also been given a Hassellblad XPAN II to review for Warehouse Express, so I had to take film with me anyway. So the decision was made, for the first time in 18 months I was going to shoot.....FILM!!!! Arrrrggggghhhhhhh! Shock - horror. Unfortunately, I really had no choice since we can't afford a second digital body, so I dusted off the two EOS 1V HS cameras (they were packed away in the loft) and bought an extra two AA battery packs. If I had a second digital body, then I would have taken it by the way and charged it from the cigar lighter socket of our jeep via an inverter that I always take with me. But I didn't, so armed with 50 rolls of Velvia, I arrived in the jungle.
The first real view of a leopard came after 4 days. We'd seen a few glimpses until then but nothing that I could photograph. This particular morning we set off at our usual time, Ravi in a second car and taking a different route, but both arrived in a clear area at the same time. There, standing in the middle of the road, was a young male leopard. He looked at us and for one minute I thought that he would rush headlong into the bush, but then strode out further onto the plains and sat down in the grass. It was still 20 minutes until sunrise so photography was impossible; so we did the professional thing and made sure that no "over excited" tourist drove up and scared him off. Just before the sun rose he stood up and walked into the jungle; my despair quickly turned to joy as he climbed the tree right next to our vehicle. Being too close, I asked KG my driver to back off a little; the shot was quite obscured so I lined myself up with the only gap. Finally he came down and I fired away, locking onto him with my autofocus and tracking him via AI Servo (Photo 2). Exposure was standard -1/3rd compensated as I find that the 1V light meter is there or there abouts in decent light. Leopards are less than elegant when descending from great heights and wouldn't win any marks from any style judges. But he finally managed to get down and disappear from view.
For several minutes we saw nothing, but then Ravi signaled us to move forward to him; I could see from the angle of his lens that he was photographing something in a nearby tree. As we go to him I could see the leopard, perched on a low branch but completely obscured from my view. In fact Ravi had the only shot, through a very small hole in the dense foliage. I sat back, disheartened, but would never dream of asking Ravi to move as he was first to the shot. After taking his shots be beckoned to me to take his spot; when I looked through the viewfinder I saw one of the best leopard images that I have ever taken (Photo 3). The male, although obscured lightly, was perched in a really nice location without too many distracting highlights from the sky. Realising that this was a priceless encounter with an Asian Leopard, I carefully focused on the leopard's head and metered directly from his fur. Again I set the compensation to -1/3rd and am pleased to say that every exposure was spot on. The result is this lovely shot, which certainly compares to anything that I have in trees from Africa. What Ravi did I can never thank him for but it does show the friendly and unselfish attitude of the Sri Lankan people.
We didn't see leopards again for 5 days; not a sight or a single alarm call, just footprints in the mud. This is the nature of Asian Leopards, but it doesn't help when you are under so much pressure to get great, saleable images. The fact that I was in a relaxing bungalow, with relaxed people, saved me from meltdown, but after 5 days I decided to cut the trip short by a few days. So it was on the satellite phone to Sri Lankan airlines and I fixed an earlier flight home. Sometimes you just have to be honest and do that, after all it's not that Sri Lanka is bad for leopards, far from it. The weather, with the unseasonable rains, was just being unkind to us and making leopard viewing impossible. Making the decision to go early lifted all the pressure and I vowed to spend the final few days trying to get decent shots of other inhabitants of the park. When we were full-on concentrating on leopards, we'd spend the best of the morning and evening light looking for them, and ignoring everything else. Well now we changed tack, and this Bee-Eater that you see here was one of the first results (Photo 4). Being restricted to a vehicle makes these kinds of shots difficult as I have little or no control over the background. In an ideal world I'd have preferred that this colourful chap sat on a perch in front of a perfectly diffuse background. But it didn't so I took it anyway, as it's colour took my breath away. The combination of using Fuji Velvia, and underexposing by -2/3rds stop really gave the colours some punch. The main problem was getting the focus to be sharp between the head and the tail, which I worked out as being around f8 (via the preview button); of course this would mean bringing the background more into focus than I'd like - oh well you can't have all the cookies in the jar (else you'd be a real porker).
Early one morning, Ifham and I came across this Grey Heron sunning itself in the first morning rays. I'd done that for most of the previous afternoon outside the bungalow, as my reddened body showed much to the amusement of all the tourists! Initially I was tempted to take the heron full frame, but then I saw a much nicer "wider" image. So I composed the shot with the Heron on the right, facing into the space to the left (Photo 5). I shot it deliberately dark (-2/3rds under) to help increase the mood and retain the orange highlight around the heronís body. Composing an image like this wouldn't win me any awards in a photographic competition, but commercially it makes the picture much more attractive as a client has space for text. At the end of the day I'd rather be a successful commercial photographer with the money to see the wildlife I love than a poor purist.
Yes seriously, it's a peacock! Any UK photographers reading this will wonder if I've finally gone mad, since we have peacocks all over the UK strutting around in parks everywhere. In fact we see them as a bit of a joke and rarely do I give one a second glance. But this is different, it's a wild peacock and it's trying to attract the ladies by strutting his stuff. Guys, we all do it in some way or another, the peacock is just more successful with it and doesn't have to smell of after shave, buy expensive flowers or sit through Opera (large people wearing Viking helmets dying on stage). The problem with peacocks is that they weren't made the right shape to photograph - in fact, they are a nightmare! Shooting one wide angle to get everything in, unless you are flat to the ground, invites too much distracting background in to the shot. So often the only option is to shoot tight and look for something abstract. So I went for a very bold, aggressive composition, chopping off the legs (they are scrawny like mine anyway) and used the stunning feather colour to maintain the interest (Photo 6). Anyway, I like it and the guy got his gal without any opera, so he deserves some credit!
The second from last day arrived and it gave us the longest series of leopard sightings for the trip. Ifham, in his own vehicle, nailed the first shot of the morning whilst Ravi and I were shooting landscapes on the sea shore. We raced to the spot but by the time we'd got there the leopard was fast asleep in a thick tree. Several hours later, after sitting through numerous rain showers, the leopard finally came down and made it's way back into the jungle. Following a hunch, Ravi directed KG to move the jeep further along the track and there was the leopard staring at us from the bush. Maneuvering inch-by-inch, we managed to get a small, unobstructed view to get the shot that you see here (Photo 7). Hardly an artistic stunner, but nice eye contact and relatively uncluttered. The shutter speed was low at 1/20th so I was grateful for my IS lens, which allowed me to keep shooting on Velvia.
After a few minutes, the leopard moved further into the bush and Ravi again directed the vehicle to move. He is the man with the experience so I had no problem in him taking control, after all he has studied these leopards for years and knows each of them individually. Slowly we edged along and there, standing in the open, was the leopard again. I hissed to stop the engine, as son as it was shut off I began shooting. The leopard was slightly backlit but in a really nice location, so again I made sure that my focus and exposure were correct before consigning 4 rolls to the film bag (Photo 8). I'd forgotten what it was like to be able to shoot at will, without the camera locking you out every 8 shots, and I soon made up for it by really burning some film that afternoon.
And so my Sri Lanka trip drew to a close. In the 12 or so days that I spent in the jungle, we had two good leopard sightings that provided me with professional standard pictures. It was really hard work to keep motivated and not to give up straight away, but that's the name of the game. I enjoyed shooting with the film camera again but looking at the images on my monitor, I can see why I prefer digital ones. Oh, apologies for the scans but since the deadline for this article was so tight, I have not had time to make drum scans of these as usual (hence the feet being cut off by the slide mount in the last image). I've been very brutal with the edit, keeping only 100 pictures from my 35 rolls of film. I'll edit this down to a final 30 or so then get them all drum scanned so that they can go off to my agents. Would I shoot film again? Hmmmm, to be honest for 35mm probably not, although I really did enjoy using the XPAN II. I do miss my 1Ds and will be using it for the next few months in the UK as I am concentrating on local stuff before my next trip in September. As always feel free to let me or Jim know what you think and I'll see you all again next month.
AR-NPN 1153
---
Andy Rouse is a professional wildlife photographer based in the U.K. His professional credits include hosting the Discovery Channelís Wildlife Photographer TV series, and the publication of six books, including his soon-to-be-released The DSLR Masterclass. Andy's images are represented by NHPA and Getty Images and are sold worldwide. To learn more about Andy, check out his NPN bio. To view more of Andy's work, visit his website at www.andyrouse.co.uk.
Comments on NPN wildlife photography articles? Send them to the editor.