Camera Gear Reviews for March 2014

Text and photography copyright © Paul W. Faust. All rights reserved.



With spring approaching it is time to get things ready to use and upgrade your gear where needed. These are a few items you might want to put on your buyers list to help make this year's photography a lot easier and more enjoyable!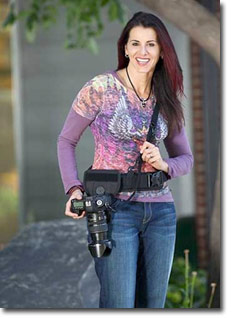 The Cotton Carry-Lite
The Cotton Carry-lite is a 1-camera holster carrying system that allows you to have a second camera/lens unit ready to use, but in a very secure locking holder that will not allow the camera to fall off. The holster can be used alone, by just running it through your pants belt, or it can be put onto the belt/sling system that it was designed for. This system gives even more security for the camera on it, while making it more comfortable to use. The belt goes around the waist like any belt does, but is also supported with a shoulder strap to take more weight off of the belt, and even that comes with yet another strap to secure the camera to the shoulder strap. So no matter if the camera is hanging on the holster or just attached with the strap, it is secure at all times.
This system also comes with a hand strap for camera only use. The system has a mounting bracket (similar to what you attach to a camera for tripod use) which is what hangs the camera onto the holster, but unlike other holster systems I have used, this one also has the option to use it directly on a tripod without having to take the bracket off of the camera. So you can take the camera right from the holster and put it onto a tripod and shoot away. Zero time wasted. Another added benefit is that another camera waist bag can also be used on this belt as long as it has a belt loop large enough to allow the Cotton Carry belt to pass through it, so you end up with an even better camera carrying system, which is what I now do all the time. Now I can put my waist camera bag, that I use for my infrared camera, onto the belt and while I am using that, my normal digital camera hangs from the Cotton Carry-lite holster, and the other way around as needed. I wish I had this system a long time ago. It would have saved me a lot of back and shoulder aches over the years.
The Cotton Carry-Lite is now on sale for $99.00 at various retailers - use Product Code: 514RTL-S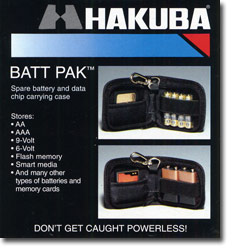 HAKUBA Batt Pak
I donít usually review real small items but this one has come in so handy for me that I wanted to let buyers know about it. The Hakuba battery pak is actually a combination carrying case. It will hold what you can see in the photo, but I use it for a digital camera battery and a few memory cards. It is small and fits in just about any space between other items in a bag or your pocket. A clip will let you hang it onto other items or your pants belt loop. At only $3.95 it is an item that will pay for itself in no time when you need that extra battery or card. I found this one at B&H Photo in New York and you can search for it there by just using the product ID code of HK-BCS.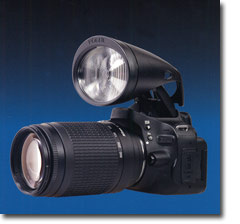 The Rogue Safari DSLR Pop-up Flash Booster
The Rogue Safari Flash Booster is a nice little compact accessory that every nature photographer will want to pack along in the field. Just about every one of the old flash extenders on the market were large, heavy and cumbersome, to say the least. Iíve had two of them and hardly ever used either because of the hassles of using them. They would not stay positioned on a flash, slipped out of alignment, and were a pain to try to pack to take anywhere. Some even had plastic lenses that would fall out of the front at the slightest bump, so loosing the lens was easier than what using the extender was.
The Rogue Safari is nothing like any of the others. First of all it is half the size of the old ones, which makes it easier to use and pack, and it has a fixed lens that cannot be lost. The Rogue is designed to use with the cameras built-in flash and not an external one. It mounts on the external flash hot shoe and not on a flash itself, and cannot change position even if you try to move it. The Rogue is optimized for lenses 100mm and longer and at 30 feet it increases the lighting 8x, at 50 feet it gives a 5X increase, and at 60 feet 4X. The Rogue is designed for all major camera makers, and it comes with two mount spacers to adjust for any built in flash height differences between the different makes. The unit itself is made of rugged polycarbonate materials and is a very light 1.9 oz.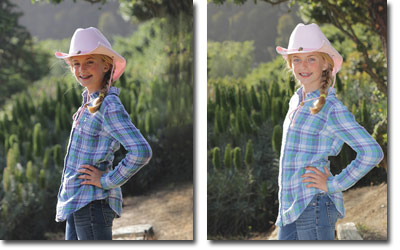 These before and after shots show how much fill light is added to a subject at 30 feet away. With a 4X increase at 60 feet this unit will be great for nature photographers, especially bird lovers.
The Rogue Safari sells for only $34.95 and is sold by ExpoImaging. Order one at www.rogueflash.com.
Paul Faust - NPN 1680

Paul W. Faust is a self-taught Fine Art Photographer, Writer, Digital Imaging, Photo Restorer, and Photo Stock Service professional. You can see more of Paulís articles and Fine Art Images on his BLOG & Gallery where he sells his images at www.impressions-of-light.com.