Puget Systems Traverse 11 Review

Review copyright © Jim Erhardt. All rights reserved.
With the advent of the Internet and digital capture, photography is now "joined at the hip" with computer hardware and software. In fact, it seems every productive task we do, from communication to spreadsheets, requires a computer. No doubt digital photography places special demands on the hardware, requiring powerful processors, lots of RAM and plenty of storage. A few years ago we were faced with replacing an old Dell 4550 that was no longer capable of digital darkroom use and replaced it with a Puget Systems Serenity desktop, built by Jon Bach and crew specifically for that task (read our review). It has remained 100% flawless in both ability and reliability - and I still cannot hear it running.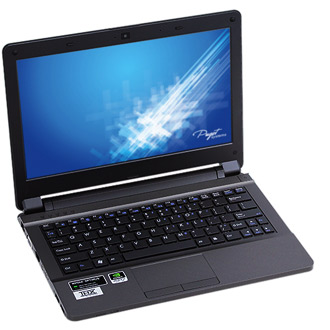 Of course, not all of my computing tasks are done sitting at the work station. In the evenings I will park my posterior in a recliner and fire up a laptop to peruse the NPN website and surf the Internet. When we travel we also bring a laptop to stay on top of NPN email and any other issue that may arise. For this reason, a laptop has become as indispensable to us as our main desktop work station. For the last seven years, that duty has been performed by an IBM X40, a very compact laptop featuring a 1.5 GHZ Centrino processor, 768 MB of RAM and the XP operating system. Since our recent updates with the Puget Systems Serenity work station and an Echo small form factor desktop for Donna's daily use, the shortcomings of the X40 with its "antiquated" specifications has become painfully obvious. Though the old X40 has remained trouble free, it no longer has the horsepower to deal with modern browsers, graphic/script-heavy websites and has always been of limited use for photo editing. But the reason I kept it was due to its compact size, easy portability and light weight - something I very much value when parked in the LazyBoy.
As I always recommend to others considering a new PC, I surfed my way over to www.pugetsystems.com and took a look in their laptop section. The Traverse 11 immediately caught my eye - a compact laptop with similar weight and dimensions to my old favorite X40. A few email exchanges later with Jon Bach, I had a Traverse 11 build specified with the following additions on top of the base specs;
Intel Core i5 2.8 GHZ dual core processor
16 GB of DDR3 RAM
120 GB Intel 520 SSD (solid state drive)
Asus 8X external DVDRW USB drive
Full list of features and specifications for the Traverse 11 can be found here
As has been always the case with Puget Systems, the order was promptly processed, the laptop built and delivered, all within a week of placing the order. As expected, the new laptop was well packed and fully protected from even the worst of potential bad-handling delivery.
Initial Impressions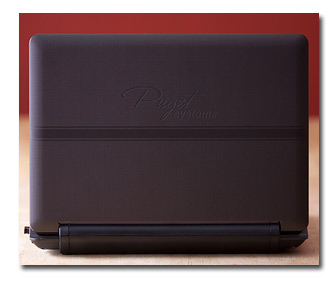 The Traverse 11 is very similiar in size to the old X40, but weighs in at 3 pounds, 12 ounces vs. 3 pounds, 4 ounces for X40 (minus the dock). The Traverse 11 feels far more solid, and the quality of the case, keyboard and components used are (as expected) superb. The moment you pick it up, you know this is a quality product.
The cover and deck are covered in an attractive soft, textured finish with the Puget System logo tastefully molded into the cover. The keyboard is full size, minus the extra numerical keypad on the right. Unlike the old X40, the three stickers applied to the deck are on straight and arranged in a pleasing manner, showing the builder's attention to detail. The movement of the cover is tightly damped with no looseness or play, giving a feeling of quality when opening and closing. Overall, the look and feel of the Traverse 11 is low on flash - no glossy finishes or illuminated cover logos - but well-endowed with quality and function.
The display is another feature worth discussing. In our email exchanges, Jon asked if I was sure that the 1366 X 768 screen resolution of the Traverse 11 would be enough. Since I was accustomed to the 1024 X 768, clear-as-mud display of the X40, I indicated that it should be fine. Turns out it is more than fine - compared to the X40 it's spectacular; bright, sharp and colorful, with more than enough resolution for its 11.6 inch size. It employs a glossy screen cover, which allows the color and detail to shine through, but can pick up reflections. So far, I prefer the glossy finish of the Traverse compared to the matte non-reflective finish used on the X40. The screen can be viewed from any angle with absolutely no loss of detail - the X40 required viewing at a precise angle to maintain its limited display quality. I do not miss having to constantly fiddle with the screen or the way the PC is sitting my lap to maintain a clear view.
As was the case with our previous Puget Systems PCs, firing up the new laptop was fast and easy due to the complete absence of bloat ware. I selected the base Windows 7 Premium Home edition (64 bit), which is more than adequate for the intended use of this laptop. We have the same OS in Donna's Echo, and the Pro version in the Serenity - having the same OS in every PC is certainly an ease-of-use benefit. The PC comes completely set up and ready to roll, and like all Puget Systems PCs, comes fully tested. They even run the Windows Experience Index test, where the little Traverse 11 comes in at a mighty 6.5 (lowest score, Windows Aero graphics category) out of a maximum possible score of 7.9, all the way to the maximum of 7.9 for primary disk data transfer rate - have to love that solid state drive! Other scores are 7.1 for processor, 7.5 for memory and 7.1 for 3D/gaming graphics. Another note is that the Traverse Wi-Fi locks on to my wireless router like a pit bull with an attitude - the X40 always struggled with that. Surfing the net is as fast and easy as surfing from either of the desktops, both of which are hard wired.
Like all Puget Systems PCs, the Traverse came loaded with the Microsoft Security Essentials software, which is free to use and never gets in the way. I have found this software to be more than adequate and have since given up paying for the competitor's software, which I always found to be excessive in the demands it places on the machine and over-priced for the benefits it provides.
Other software I have thus far loaded is MS Office and for accessories, I am using a Logitech M570 wireless trackball, which sits perfectly on the arm of my recliner or on the desk alongside the Traverse. I very much prefer using the trackball but the touchpad on the Traverse is excellent and provides full control when the M570 is out-of-reach or left at home. In fact, I'm currently parked in my favorite recliner, using these accessories and software to write this review.
Photoshop
While some may prefer workstation-size "laptops" to lug around on their photography travels, I'm firmly in the camp that smaller is better and prefer to do my serious digital darkroom work on a desktop with a big, hi-res monitor. That said, being able to at least check files in Photoshop and do some basic photo editing is a very good option to have when on the road. With a convenient card reader built in to the Traverse 11 (DSD/MMC/MS) on the front left corner, I decided to load my Photoshop CS4 software to see how useful it might be.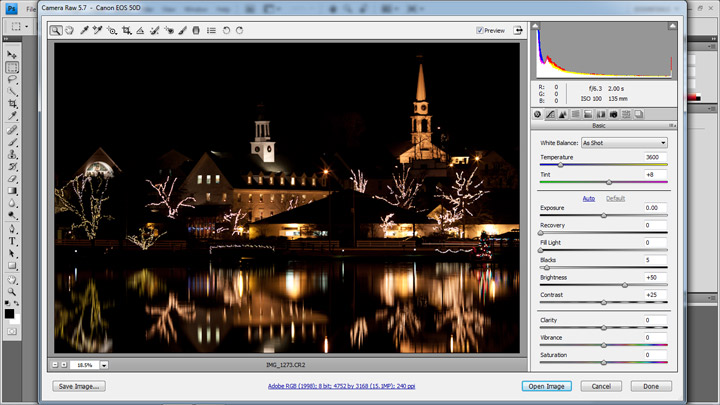 It was without any surprise that the Traverse 11 has more than enough processor and RAM to run CS4 and process large RAW files without even breaking into a sweat. In fact, there is no discernible difference in this regard when compared to our Serenity desktop. Additionally, the NVIDIA Geforce GTM 2GB video card renders files beautifully on-screen and helps enable the speedy editing of full size RAW files without a bobble or hiccup. No doubt, in combination with its Intel Core i5 2.8 GHZ dual core processor and 16 GB of RAM, the Traverse 11 can handle this duty with no problem whatsoever.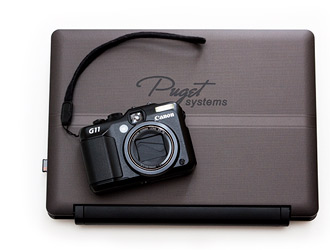 Perhaps the only challenge with using the Traverse 11 for photo editing is its limited display size and resolution. Every pixel of screen real estate is needed and setting taskbars to auto-hide is mandatory to avoid covering basic functions (see screen shot above). While the Traverse 11's small screen is obviously not intended for serious Photoshop use, the laptop can nonetheless perform the task admirably – perhaps even amazingly so given its relatively diminutive size.
I hadn't planned on loading Photoshop on the Traverse, but now that I have and given it a try, I'm very glad that I did. A small-but-capable camera in combination with a small-but-capable laptop can add some true photo-taking joy to any business travel, all without taking up much space in the luggage or requiring chiropractic treatment upon returning home.
Conclusion
Buying computers from Puget Systems is like having your own private custom computer service, who is 100% up on the latest and greatest hardware, helping you select the best components for the intended use, who build every PC like they are building it for themselves, fully testing it and then lovingly boxing-up their creation to have it safely arrive at your front door. After having dealt for years with a big-name online vendor and store-bought, mass produced machines - one of which that failed quickly and almost required purchasing Rosetta Stone for me to have any hope of getting help - the entire Puget Systems experience is a dream. From pre-purchase advice, quality of components and final product, to quick delivery and post-purchase support, Puget Systems is in a class of their own. At $1511.26 as specified, the Traverse 11 is substsantially more expensive than what you can pick up at the local Staples, but you know how that old "what you pay/what you get" cliché goes...
Located in Auburn, WA, Puget Systems rocks as does every PC we've purchased from them - including the Traverse 11!
Jim Erhardt - NPN 1

Jim Erhardt is the founder of the Nature Photographers Network™ and the publisher of Nature Photographers Online Magazine. To this day he remains in awe of the incredible nature photography posted on the NPN website and is humbled to be your host. Jim and his wife Donna will continue to strive to provide the best online experience possible to all nature photography enthusiasts - this is why NPN was created and will always remain it's mission!