Book Reviews for February 2014

Text and photography copyright © Paul W. Faust. All rights reserved.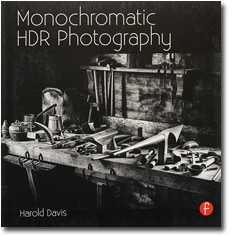 Monochromatic HDR Photography by Harold Davis
I must admit that I have found HDR (high dynamic range) photography to be interesting to say the least. When done correctly, it gives a final result like no other photography technique can. But even when done poorly, it can still give a unique look to an mage, and yes it can be done VERY poorly as many who do not know the tool learn real fast. Especially when they hear about it from other photographers. This new Monochromatic HDR book shows you how to keep away from the poor technique side of the work and adds black & white to the mix. Davis shows you how to pre-visualize a scene for a b&w result. He also shows you how to extend your in-camera range, bracket for monochrome, and use Photoshop to get the best results for a b&w HDR image. The book is richly illustrated with before & after shots, screen shots of the tools he uses along with the Photoshop tool settings, and more than enough text information to go with it all. The image on the cover will give you a very good idea of what you can also get with the info in this book. I will be using it a LOT!
This soft cover book is about 9x9 inches, with 207 pages, retails for US-$39.95 and is distributed by Focal Press. I Rate it; A++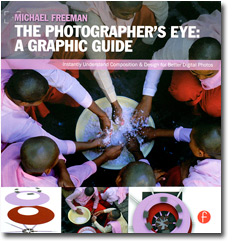 The Photographer's Eye: A Graphic Guide by Michael Freeman
No matter what subject you are photographing, they all require two things first, a correct exposure and a good composition. If either one is not up to par the whole image is usually a waste of time. Freeman is a world renowned photographer who has shot for National Geographic and Time-Life, and if anyone knows composition, he does. His new book is written in the terms photographers know best, and explained in an easy to understand way. The subjects are the normal, people, places, and things, composed & shot in all of the usual ways that you find them, so this book is basically for everyone no matter what they shoot. It is richly illustrated with diagrams, and before & after shots to show where a composition can start and where you can take it to. Even experienced photographers can, and will, learn from this guide.
This soft cover book is about 9x10 inches, with 192 pages, retails for US-$29.95 and is distributed by Focal Press I Rate it; A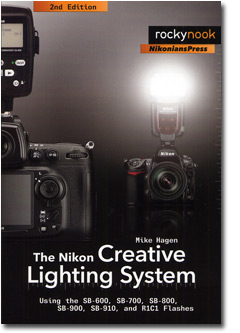 The Nikon Creative Lighting System by a Mike Hagen
Rockynook is well known for its technical equipment books and this is one of the better ones yet. Lighting is a major requirement in photography, as well as a major headache, but the more you know about it the less of a headache it becomes. For Nikon users like myself, this book can be a second (photo) bible. It has everything you need to know about the 6 flash systems it covers, and I do mean everything. Answers that I couldn't find in the flash manuals I have, I found in this book. Fully illustrated with both sample images as well as images of the flash settings used for each test, you can see what was used and not just have to read about them. A must have if you use the SB-600, SB-700, SB-800, Sb-900, Sb-910, or the R1C1 unit.
This soft cover book is about 6x9 inches, with 297 pages, retails for US-$39.95 and is published by Rockynook. I Rate it; A++
Paul Faust - NPN 1680

Paul W. Faust is a self-taught Photographer, Writer, Digital Imaging, Photo Restoration, and Photo Stock Service professional. You can see more of Paul's images on the web gallery where he sells his images at www.paul-w-faust.artistwebsites.com.