Book Reviews for February 2013

Text and photography copyright © Paul W. Faust. All rights reserved.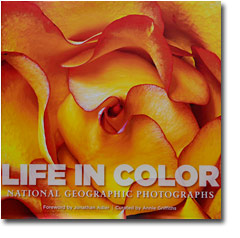 Life in Color - National Geographic Photographs Foreword by Jonathan Adler / Curated by Annie Griffiths
It would not be an understatement to say that the National Geographic Society produces thee BEST photography in the world, and this new book from them is a perfect example of that fact. This Life in Color book is divided into 12 sections, each dedicated to its own color, along with a comment page for each. Images range from three quarter page up to full 2-page spreads of top quality images. Subjects range from a Ladybug on a stem up to one of the most magnificent mountain scene I have ever seen. This is not a how-to book so you will not find out what camera and lens was used, but each image is captioned with the photographer and location the image was taken. You will also recognize many well-known photographer's names, such as Jodi Cobb, who's' images fill the book. National Geographic "has done it again" with another top shelf photography book that everyone will more than enjoy.
This hard back book is about 10x10 inches, with 504 pages, retails for US-$40.00 – and is distributed by National Geographic, atwww.nationalgeographic.com. I Rate it; A++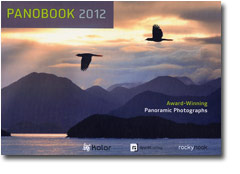 Panobook 2012 Award winning Panoramic Photographs
This is one very impressive book when opened. That is because it is filled with edge to edge pano shots of all sorts of subjects from skylines and cityscapes to a library interior, in nine sections. The images come from many photographers so you will see how different people work with pano images. The images are all top quality and I especially like the ones taken along rivers, such as the cityscapes. The information text about the images also comes in three languages.
This hardback book is about 8x12 inches, with 240 pages, retails for US-$39.95 - and is published by RockyNook and distributed by O'Reilly Media and can be checked out at www.oreilly.com. I Rate it; A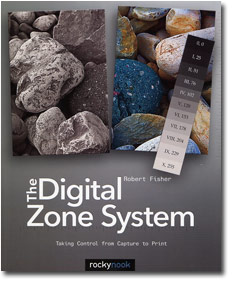 The Digital Zone System - Taking Control from Capture to Print by Robert Fisher
This is only the second book I have seen on the subject of working with a digital zone system, and I have mixed feelings about this one just as I did the first book. A digital zone system has a lot less involved with it than the original system did, just due to the fact that digital does not have to deal with all of the film and print testing features that drove many people away from it. There is a lot of useful information in this book, but the real zone part does not appear until almost the middle of the book. Most of the first half covers the normal workings of any photography, exposure, shutter speeds, and so forth. Not a lot of what the book is supposed to be about. Then when it does get to the zone part, I expected to see how-to info on how to use the zone system to TAKE the images with a digital camera, but instead almost all of it deals with working the zone system after the fact within your imaging software programs, like Photoshop, so the part of the title that says "from Capture" really has almost nothing to do with the zone system. There is a lot of useful info in this book, but I think it should have been better labeled in the title as only a small part of this book deals all that much with the zone system, unless you want to consider that everything that was said is "pointed" in that direction. BUT, if you are only interested in using a "Photoshop type" zone system, then you should get a lot out of it. I as just looking for, and expecting, something else.
This soft cover book is about 8x10 inches, with 154 pages, retails for US-$39.95 - and is published by RockyNook and distributed by O'Reilly Media and can be checked out at www.oreilly.com. I Rate it; A-
Paul Faust - NPN 1680

Paul W. Faust is a self-taught Photographer, Writer, Digital Imaging, Photo Restoration, and Photo Stock Service professional. You can see more of Paul's images on the web gallery where he sells his images at www.paul-w-faust.artistwebsites.com.