Photographing Chiricahua National Monument

Text and photography copyright © Fred Weymouth. All rights reserved.
Arizona is well known to outdoor photographers for a variety of places: itís iconic Grand Canyon, Sedonaís red rock country, or the picturesque Monument Valley - to name a few. What many may not know is that the state has a myriad amount of lesser-known, yet equally special places worthy of oneís attention. Spread out over 4.5 million acres, comprised of 88 separate wilderness areas, are mountain ranges, deserts, and canyons that will fuel the imagination for a lifetime. Chiricahua National Monument, with its gnarled trees, unique rock formations, wildflowers, and rugged landscape, is one of them.
Getting There
Located just 35 miles north of the Mexican border, Chiricahua (pronounced cheer-i-cow-ah) has a Wild West aspect to it. The Monument is a 2-hour drive from Tucson; allow 4 hours from Phoenix. From Tucson, take I-10 east and get off at the Wilcox exit (youíll see signs for the monument on I-10). Once you get off the exit youíll drive 3 miles into Wilcox and take a right at the stoplight onto Highway 186. Be sure to fill up your gas tank in Wilcox and stock up on any other provisions you may need Ė there are no services farther south. Take 186 for 32 miles until you come to the junction for 181. Turn left here and drive 4 miles until you reach the Monument entrance. Once youíre on Highway 186 donít be surprised if you see US Border Patrol vehicles - the area is regularly patrolled by law enforcement.
Photography Highlights
Massai Point
The de-facto first stop on most peopleís visit to Chiricahua, Massai Point is located at the end of the park road. A short but interesting nature trail meanders around the perimeter of the parking area; the parking area also serves as a trailhead for access to Echo canyon, Inspiration Point, and the Heart of Rocks trails. Good photography potential exists from the parking area itself as you are eye-level with nearby hoodoos and have views in all directions.
Sugarloaf Trail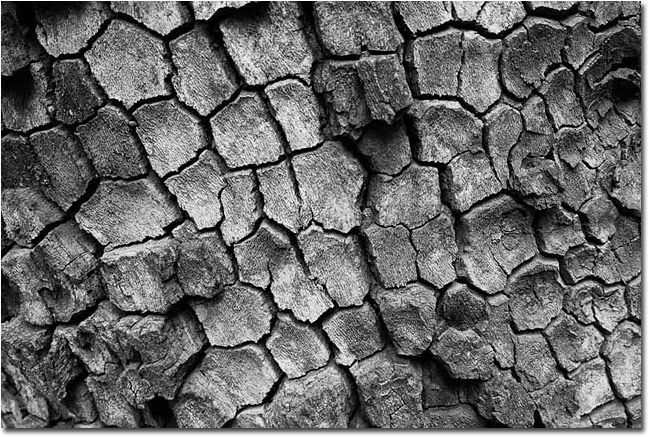 Sugarloaf Mountain tops out at 7310 feet and is the highest point in the Monument. From the parking area, the 0.9-mile hike to the top winds around the mountain, and provides good views into Bonita Canyon. Charred and blackened trees, remnants of a forest fire in 2011 that engulfed the area, blanket the mountainside. Once on top youíre rewarded with a 360-degree view. A 70-200 mm telephoto lens is helpful here, allowing reach into the distant canyons.
Heart of Rocks Loop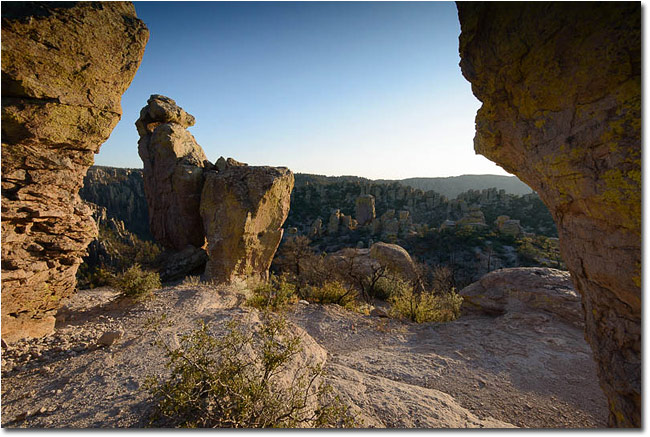 The monumentís centerpiece, the Heart of Rocks loop trail winds through spectacular hoodoos and rock formations in the monumentís backcountry. A moderate 2-hour hike from Massai Point weeds out most people from visiting this area, ensuring solitude for those that make the trek. This is a great location at dusk and a wide-angle lens works particularly well here.
Inspiration Point
Like the Heart of Rocks Trail, Inspiration Point is reached by hiking into the backcountry from Massai Point. Allow 1.5 hours to get to the Point, which provides a unique perspective into Echo Canyon. The latter part of the approach to the Point is interesting as well, as the trail travels over a plateau heavily burned from the wildfire; on my visit colorful wildflowers contrasted with the black soil, creating a surreal scene. Both a wide-angle and 70-200 mm telephoto come in handy here.
Bonita Canyon Drive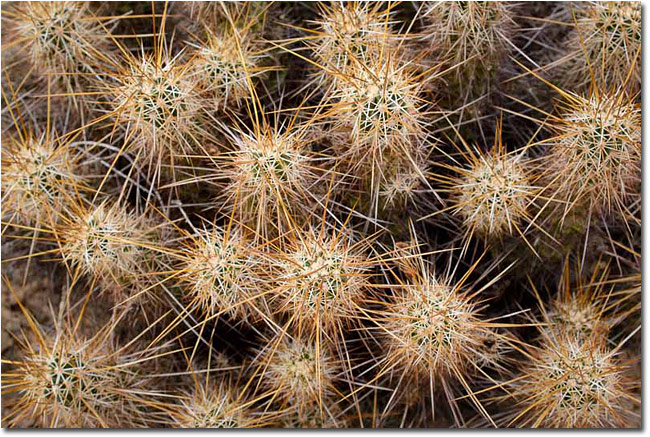 A great place to go once the sun has risen higher in the sky, Bonita Canyon drive parallels Bonita Canyon Creek in the lower section of the canyon. Dry most of the year, it contains interesting boulders, trees, and plant life. If youíre lucky enough to be in the area when it is running with water, a polarizer and neutral density filter would be useful.
Seasons
Summer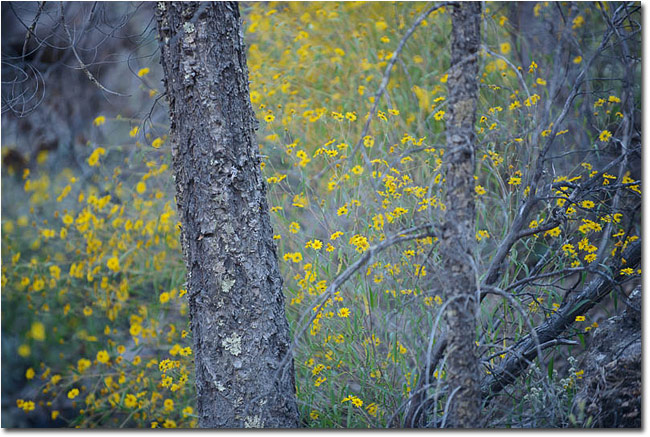 While being the hottest and wettest time of the year, it is also the most interesting, photographically speaking. The monsoon season (July Ė September) brings strong thunderstorms and lightning Ė while producing amazing sky and cloud formations. Flash floods are also a real possibility during the monsoon. High temps average around 90 and lows 75.
Fall
After the monsoon season ends in late September, temperatures gradually begin to cool and skies clear. By mid to late November, average highs are near 70 and lows around 40. Fall foliage peaks in November, bringing a dash of color to the canyons and creek beds.
Winter
Winter runs from December to March. Generally clear and sunny with the occasional light snowfall; winter temperatures range from the mid 50s to the low 30s. Snowstorms usually donít amount to more than a few inches, but will occasionally close the monument road.
Spring
By May temps are warming up to an average high of 84 and 50 for a low. Come June, the hottest temperatures of the year occur as the monsoon stirs up the atmosphere.
Wildlife
Lizards, deer, black bear, mountain lion, bobcat, grey fox, and coati-mundi all call the monument home. Poisonous snakes, including rattlesnakes, are most active in the summer. Birds vary with the seasons.
Lodging
To fully appreciate Chiricahua, I recommend visitors spend at least 2 nights and 3 days here, staying at the Bonita Canyon campground, the Monumentís only campground and lodging. Sites are $12.00 per night and reservations are not accepted. If youíre not up for camping, there are a few B & Bís in the general vicinity.
For more Information on Chiricahua National Monument visit their website at www.nps.gov/chir/index.htm.

Fred Weymouth recently moved to Tucson, Arizona after living in Maine for 15 years. He works as a Systems Engineer and Information Technology Consultant while pursuing his passion for travel, photography, and writing in his free time. For more information visit his website www.scenic-images.com.