Book Reviews for January 2014

Text and photography copyright © Paul W. Faust. All rights reserved.



All three books this month are from the same publisher, Rockynook. Over many years of reviewing photo and digital imaging books I have found that Rockynook has produced the best quality books on those subjects that I have found from anyone. You can order any of these books and others from their web site at www.rockynook.com.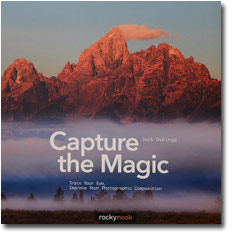 Capture the Magic - Train your Eye, Improve Your Photographic Composition by Jack Dykinga
I have long admired the work of Jack Dykinga in such publications as Arizona Highways and National Geographic magazine. To find a book by him, that you could consider to be no less than your own personal lesson on how to create great images, is a real photo gift. The images in it are stunning, like the B&W one on page 129 of Yosemite Valley covered in fog up to the tree-tops and Bridalveil Fall pouring into the valley in the background. I do not usually comment on photos inside of the books that I review, but this one just blows you away as soon as you see it. But why stop now? There is also the one of a glowing red volcano with the Milky Way stars shinning above it, and one of a Manzanita bush growing next to a layered cliff of red sandstone. All are of the quality I have come to expect from his images.
This book has 17 chapters that take you through the detailed steps Dykinga uses to create his world famous images. It covers topics like, lines, near & far, negative space, and many other creative tools. There are a lot of books that are "nice to haves" but very few that are "must haves." It doesn't take much guessing to figure out which one this is.
This softcover book is about 10x10 inches, with 182 pages, and retails for US-$39.95. I Rate it; A++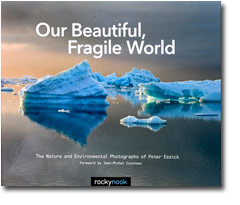 Our Beautiful Fragile World by Peter Essick
Our Beautiful Fragile World is a collection of the images taken by renowned National Geographic photographer Peter Essick. It covers the most beautiful places in the world that he has been to on assignments, as well as how those, and other areas of the world have been, and are still being effected by mans indifference to how he treats the world he lives in – (those are my words, not his) The photos range from the cover image of blue icebergs on a mirror of still water, to a green algae covered Lake Erie. From a snow covered scene in Japan to the remains of a dead coral reef that looks more like a bone-covered graveyard. Many more of these kind of books are needed no matter if you are a nature photographer who needs these places to have to shoot, or a nature lover who doesn't want to end up living in a world where everything you eat, drink, or even touch is polluted beyond belief. Each image in this book has a page that tells about that image and what is happening to that area, good or bad, and a lot of good information to go with it. Thank you Peter for letting me know about your much needed book!
This hardback book is about 10x8 inches, with 113 pages, and retails for US-$34.95. I Rate it; A++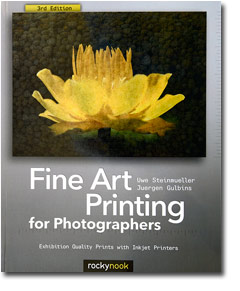 Fine Art Printing for Photographers by by Uwe Steinmueller & Juergen Gulbins
Many nature photographers, and photographers in general, are printing their own images at home, and with today's digital cameras that can produce image files as good as any 8x10 of old, knowing how to best print them is a must. This 3rd edition of this best-selling book will provide you with all of that needed information and more. Its chapters cover, printing techniques, inks and papers to use, color management, how to select the right printer, printing in black & white, and much, much more. This is both a how-to book as well as a technical reference book on the art of printing in today's digital world.
This softcover book is about 8x10 inches, with 230 pages, and retails for US-$44.95. I Rate it; A+
Paul Faust - NPN 1680

Paul W. Faust is a self-taught Photographer, Writer, Digital Imaging, Photo Restoration, and Photo Stock Service professional. You can see more of Paul's images on the web gallery where he sells his images at www.paul-w-faust.artistwebsites.com.