Discover Before You Sell

Text and photography copyright © Alain Briot. All rights reserved.



Opportunity is missed by most people because it is dressed in overalls and looks like work. Thomas Edison
The selling process starts with the discovery phase. You discover what people want by asking the right questions.
During a show, one of our competitors, unable to close the sale, gave his business card to the customer and told him to call if he changed his mind regarding buying one of his photographs. Seeing this, and aware that if the customer left the show he would probably never come back, I stepped in and did four things that eventually led to a sale.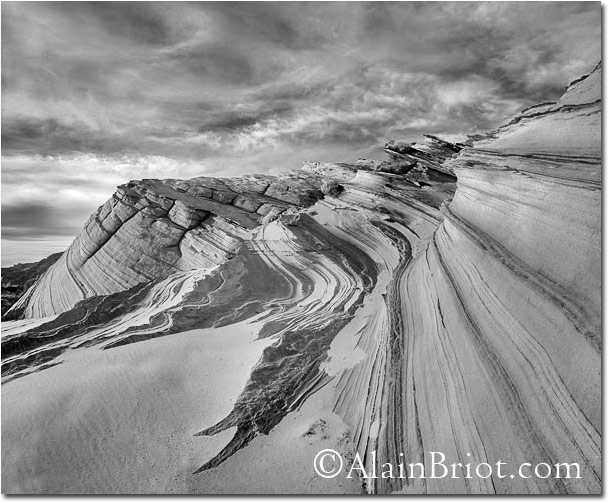 Nuages et Vagues de Roches
Navajoland, Arizona
First, after introducing myself, I asked the customer if he was ready to buy a photograph today if I was able to find one he liked. His answer was yes. Right off the bat I achieved something that my competitor did not achieve: I discovered the customer's motivation. It did not take very long, and it wasn't very complicated, but I knew how to do it and my competitor did not. Right there I started on the right foot and was on my way to making the sale.
Second, at the same time as I discovered the customer's motivation, I also got a commitment from the customer: the customer told me that he wanted to buy today. This was the real discovery!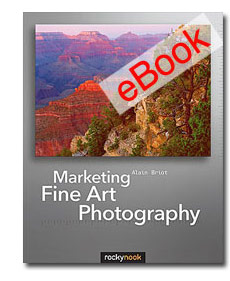 Third, I led the customer to a photograph comparable in size and taken from the same location as the one my competitor was trying to sell him. Once in front of this photograph the customer said he did not like the piece. At that time I told the customer, "You are a smart buyer. This photograph is one of my least popular ones. I show it because it gets a lot of attention, but most people don't buy it." By revealing this information I gained the customer's trust. By complimenting him I also made the customer feel good about his buying skills.
Fourth, I then led the customer to a second photograph, the same size as the previous one and also of the Grand Canyon, but showing a different location . This photograph was one of my best-selling images. Once in front of the photograph I told the customer, "This is the photograph I am the most proud of. If I had to pick a single photograph for myself, this is the one I'd buy." Again, I revealed private information, thereby building on the trust generated earlier on.
The customer was interested but wanted to negotiate, so I went to talk to Natalie, spent some time with her, then returned to the customer and said, "This is a limited edition and we only have two of these left. I am willing to negotiate, but I can't go much lower because I know I will be selling these two during this show. The best I can do is 10 percent off. I never do this when I get that low in an edition, but I want to help you because I see how much this photograph means to you." The customer agreed to the price I offered him and bought the photograph. There was no need to lower the price by more than 10 percent because trust had been established and because the customer understood I was expecting to sell it at full price during the show.
Artwork does not sell itself. Artwork is sold by discovering what people want and by helping them find a way to buy it. By doing this, I succeeded where my competitor failed.
If you enjoyed this essay, you will also enjoy my book on Marketing Fine Art Photography.
About Alain Briot's Advanced Marketing Mastery Workshop on DVD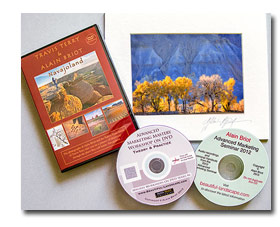 I released a new photography marketing tutorial: the Advanced Marketing Mastery Workshop on DVD This tutorial teaches you how to sell your work in the [post]-recession environment. It is designed complement my book Marketing Fine Art Photography. While my book is a good introduction to the subject of marketing your photography, the new Mastery Workshop on DVD goes way beyond the book by giving you knowledge and information that I have not made available previously. The goal is to show you exactly what you need to do to sell your work profitably today. It also tells you what not to do so that you don't make the mistakes everyone else is making.
It includes a study of limited editions and a detailed 'manual' to handling stalls and objections. After reading this 'manual' you'll no longer have customers 'get one on you!' You will know what to say, no matter what they come up with. And if there is a stall or objection I forgot to include (unlikely but possible) let me know and I'll add it to the free DVD Owner Updates Area together with the answers appropriate for this specific stall or objection. In short, you will learn how to make sales to people that before you would have let walk away! Think about how many sales you lost that are now going to be yours.
It includes much more but I don't have the space to explain everything here so go to the Advanced Mastery DVD description page to read the rest of the story.
Alain Briot - NPN 2054

Alain Briot creates fine art photographs, teaches workshops and offers DVD tutorials on composition, conversion, optimization, printing and marketing photographs. Alain is also the author of Mastering Landscape Photography. Mastering Photographic Composition, Creativity and Personal Style and Marketing Fine Art Photography. All 3 books are available from Amazon and other bookstores as well from Alain's website.
You can find more information about Alain's work, writings and tutorials as well as subscribe to Alain's Free Monthly Newsletter on his website at http://www.beautiful-landscape.com To subscribe simply go to http://www.beautiful-landscape.com and click on the Subscribe link at the top of the page. You will have access to over 40 free essays by Alain, in PDF format, immediately after subscribing.
Alain welcomes your comments on this essay as well as on his other essays. You can reach Alain directly by emailing him at alain@beautiful-landscape.com.