New Yearís Resolutions
Text and photography copyright Jan Allinder. All rights reserved.
We all have our New Yearís Resolutions. When you think about it, there really isnít too much difference between a New Yearís Resolution and Short Term Goals. But for me, the big difference is that I push the New Yearís Resolutions to the front of the goal list. With renewed vigor, Iím ready to accomplish something Ė anything! So here we go.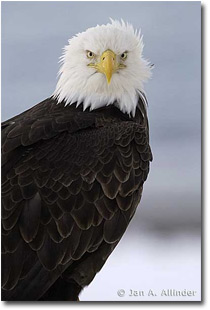 2004 Resolutions for Lucid Images Wildlife Photography:
Add a new article or tip every month - Gives people a reason to keep coming back to your site and encourages you to research your subjects or try new techniques and equipment.
Update Photo Gallery every month with new images - Keeps you out in the field shooting!
Make sure web browsers are up to date - I use IE, Netscape, Mozilla & Opera to check the sites I design. Donít be afraid to experiment with latest versions of different browsers. You might find Mozilla is preferable to IE or Netscape.
Change Style Sheets - This will give your site a new look without having to redo your entire site.
Links - Mozilla, Opera, Internet Explorer and Netscape.
So what are your new year's resolutions? Join our discussion!
JA-NPN 0015
---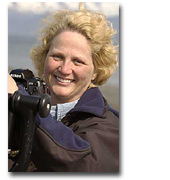 Jan Allinder is not only an avid nature photographer, but a talented webmaster as well. A member of the HTML Writers Guild, Jan thoroughly enjoys designing and creating web pages, including those for Moose Peterson, and Jerry and Barbara Jividen. Jan has been working with computers for over ten years, and believes that the Internet is a fantastic place to learn, meet new people and have a good time. Her primary goal when designing any web site is to help educate the public. Jan's e-book, A Photographer's Guide to Web Site Design is a resource of useful information for any nature photographer with an interest in building their own web site.
To view Jan's work, be sure to pay her Lucid Images Wildlife Photography web site a visit!
Comments on NPN nature photography articles? Send them to the editor.