The Camera Hunter® Archives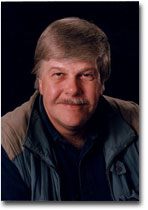 This page is dedicated in the memory of Bill Silliker, Jr., who passed away on October 13, 2003. Bill was a talented nature photographer, with a passion for the welfare of his subjects and the environment. Bill was also a long-time contributor to NPN.
The following is Bill's biography, excerpted from his website at www.camerahunter.com -
Published Credits - Audubon; Backpacker; Discovery; Down East; Ducks Unlimited; Field & Stream; Impact; Merian; National Geographic Society; Nature's Best; National Parks; National Wildlife; Nature Conservancy; Nature Photographer; NorthWord; Outdoor Life; Outdoor Photographer; Sports Afield; Wilderness Society; Willow Creek and many others published Bill's work.
Bill's photography appeared on Impact New England's 1993-2004 Baxter State Park and 1997-2004 Maine Moose Watcher's calendars.
Books - Author/photographer: Saving Maine (Down East Books 2002); Uses For Mooses (Down East Books, 2000); Moose Watchers Handbook (R.L. Lemke, 2001); Moose - Giant of the Northern Forest (Key Porter/Firefly Books, 1998); Maine Moose Watcher's Guide (R.L. Lemke, 1993).
Photographer: Just Eagles (Willow Creek Press,2000); Photographer: Just Loons (Willow Creek Press, 1998; reissued in 2003).
Monthly Columns - Nature Photographers Online Magazine; Portland Sunday Telegram, and the Maine Sportsman magazine. Bill had also written a variety of articles for Nature Photographer, Outdoor Photographer, Maine Boats and Harbors and other magazines.
Workshops - Bill taught wildlife & nature photography for LL Bean's Outdoor Discovery Schools from 1992, and GAPW - Great American Photography Weekends.
Lectures - Bill regularly conducted slide talks for camera clubs and other groups, often sponsored by Fujfilm Professional as a member of the Fuji Talent Team.
Clients - Bill's shooting assignments included projects for L.L. Bean, The Nature Conservancy, Outdoor Photographer magazine, the Forest Society of Maine and The Trust For Public Land.
Television/Productions - Bill hosted and co-produced "Special Places", a nature show aired weekly on Maine Public Television from 1995-1997.
In partnership with videographer Steve Pulos, Bill formed a video production company, P.S. Hemingway Inc. to create the videos: You Just Have To Love Bears, Maine's Magnificent Moose, Loons of the Northern Forest, Sea Birds of the Maine Coast and The Story of Baxter State Park: Nature At Peace, marketed by Down East Books of Camden, Maine.
Bill's photographs were also featured on ESPN, Discovery Channel, NBC Today Show, CSPAN's BOOKS TV and various regional television stations.
Other Activities - Animals Animals/Earth Scenes and The Image Finders stock agencies represent some of Bill's work.
Bill co-chaired the Ethics Committee of the North American Nature Photography Association (NANPA) from 1994-97, its Resource Relations Committee from 1997-99, and its Board from 1999-2002. He was a member of the Outdoor Writers Association of America.
Bill served on the Maine Department of Inland Fisheries and Wildlife Nongame Advisory Council from 1992 -98. He was founder and first president of the Friends of Rachel Carson National Wildlife Refuge from 1987-1989 and remained on its Board until his passing.
Links to Bill's Camera Hunter® articles on NPN
"Catch yours in the good light."