Yellowstone – A Rangers Perspective

Text and photography copyright © Gary Melnysyn. All rights reserved.
Each season as I approach Cody, Wyoming with my Jeep filled to the ceiling with summer gear and my best buddy Mo, a yellow lab who is an official "Bark Ranger" sprawled out in the back seat. I anticipate what new experience and sights I might encounter as I head out to McCullough Peak for my annual visit with the wild horses. Just 12 miles east of Cody this scenic area's climate is typical of a cold desert with annual precipitation averaging five to nine inches. Stock reservoirs and intermittent streams fed by winter snows and spring runoff provide adequate water for the HMA. Topography is highly variable, ranging from mostly flat to slightly rolling foothills carved by drainages, to colorful badlands and desert mountains featuring steep slopes, cliffs and canyons. This is home to approximately 150 horses with a diversity of coat colors (bay, brown, black, sorrel, chestnut, white, buckskin, gray, palomino, and blue, red and strawberry roans) and patterns such as piebald and skewbald. Most times in early spring I am alone with these magnificent descendents of the early Spanish horses as I watch the mustangs battle for dominance within the herd.
Moving westward I generally head over Chief Joseph Pass toward Cooke City Montana. This is, of course, is if weather permits. As we know, snow in Yellowstone can truly fall in any month. Although there may be only subtle changes, if any, to the landscape, it always seems so fresh and new as I wind my way over the pass, arguably one of the most scenic drives in the world.

As I roll into Cooke City, population 100, I look forward to meandering into Lamar Valley through the northeast gate of the park. Lamar Valley is extraordinary and is home to a variety of natural resources for which the park is famous, none more noteworthy than the wolf population. Once hunting grounds for the powerful Druid and Slough Creek packs, Lamar Valley is grounds for a relatively new and growing pack referred to as the Lamar Canyon Pack.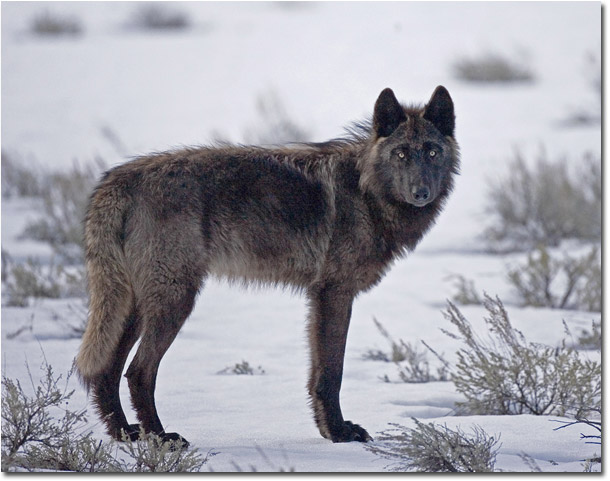 There are seven wolves in this newly created pack which supplanted the Druid Peak Pack. The alpha female (referred to as '06); two brothers, the smaller one is the alpha, both are black (754 and 755) and their four pups make up this family. The alpha female, a descendent of the Druids, carries on the bloodline of that historic pack.

In late April and early May Lamar Valley also hosts my other favorite resource, the tremendous grizzly. Grizzlies can be seen lumbering down hillsides in search of whatever food source they can find after a long hard winter. Spring is not the only season that attracts the bears to the valley. Summer is berry season and huckleberries provide a great source of nutrition for these large omnivores.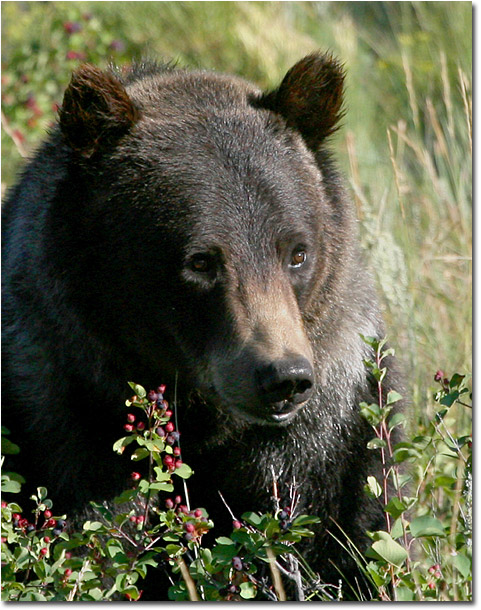 Most often as I leave Lamar Valley and reach the Tower Roosevelt area I am unable to make the trek over Dunraven Pass to the Grand Canyon of Yellowstone due to snow but there are those rare occasions where this might be possible. Dunraven Pass takes us high above the park over Mount Washburn to elevations well over 10, 000 feet where spectacular views of the snow-capped Absaroka Range abound. Descending into the canyon area of Yellowstone makes for splendid scenery and the tireless panorama of the Grand Canyon of Yellowstone is a mere few miles from the junction at Canyon Village. The canyon is approximately 24 miles long, between 800 feet (244m) and 1,200 feet (366m) deep and between one quarter of a mile (.45km) and three quarters of a mile (1.2km) wide. The lower falls drops dramatically 306 feet into the canyon as the Yellowstone River roars northward.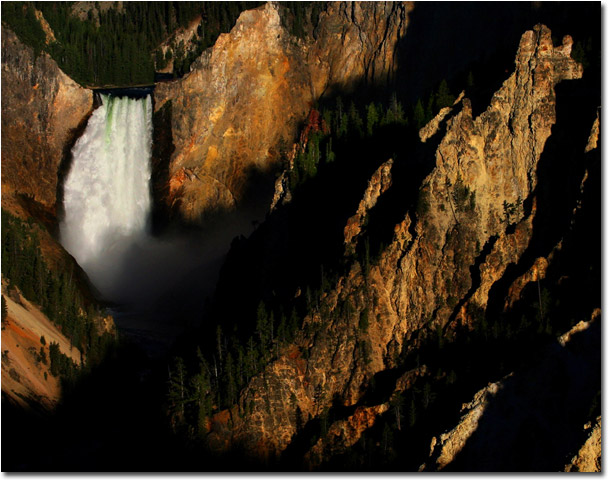 We are now at the northern most edge of the caldera following the Yellowstone River toward Fishing Bridge, one of my favorite spots to find grizzlies. The trip toward Fishing Bridge brings us through Hayden Valley along the Yellowstone River. This is another scenic drive over majestic rolling hills. The valley floor along the river is an ancient lake bed from a time when Yellowstone Lake was much larger. Hayden valley is approximately 7 miles (11 km) long north to south and 7 miles (11 km) wide east to west and occupies about 50 square miles. This area provides a perfect habitat for bison, elk, bears, wolves and water fowl.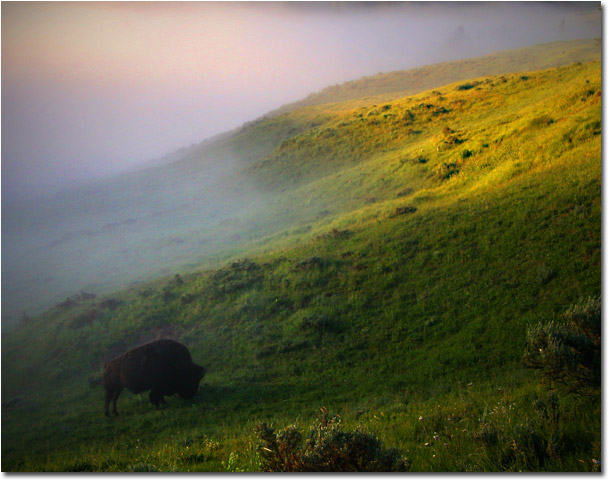 The southern-most end of the valley drops right into Fishing Bridge, which crowns the northern tip of Yellowstone Lake, the country's largest high-elevation lake at a little more than 7,700 feet. Fishing Bridge gains its name from a 1902 bridge that once served as Yellowstone's most popular angling location. During Yellowstone's early history crowds of fishermen would inundate this small fishing hole, which was popular for cutthroat trout. This is prime bear habitat and grizzlies often visit the meadows around Fishing Bridge to dig for Pocket Gophers and Voles.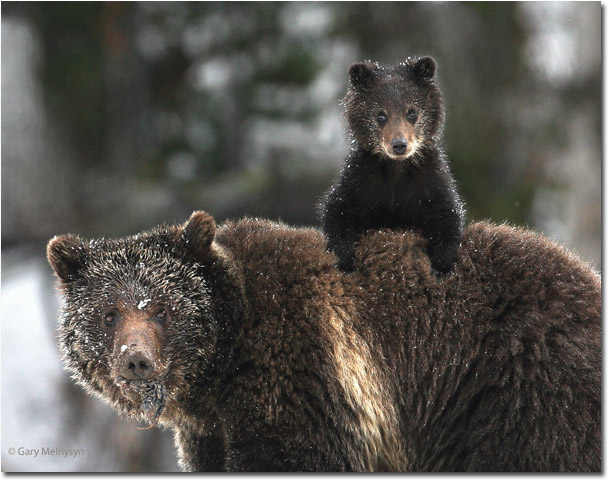 The Grand Loop Road hugs the shore of Yellowstone Lake as you head south through West Thumb toward Old Faithful. The scenery begins to change as we are now well inside the great caldera. Steam from hot springs and geysers is seen artfully rising into the clear blue skies above Yellowstone. West Thumb was created approximately 162,000 years ago when a magma chamber bulged up under the surface of the earth and subsequently cracked it along ring fracture zones. This in turn released the enclosed magma as lava and caused the surface above the emptied magma chamber to collapse. Water later filled the collapsed area of the caldera, forming an extension of Yellowstone Lake. This created the source of heat and water that feed the West Thumb Geyser Basin today.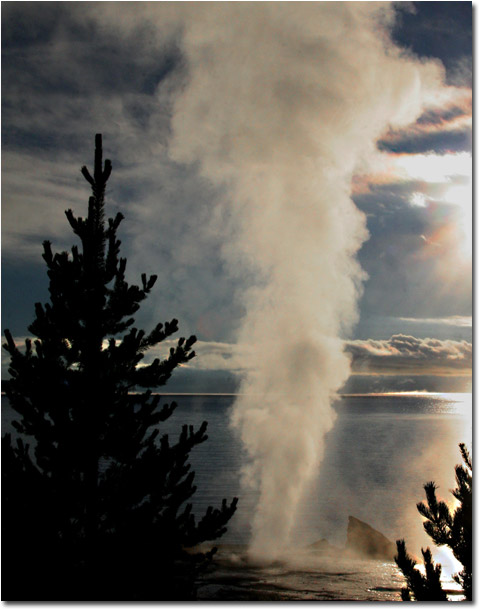 Continuing south we head over Craig Pass and cross the Continental Divide as we approach Old Faithful Village and the Upper and Midway Geyser Basins. The thermal areas around Old Faithful are unprecedented - the largest concentration of geysers in world is here including the iconic Old Faithful Geyser and Grand Prismatic Spring.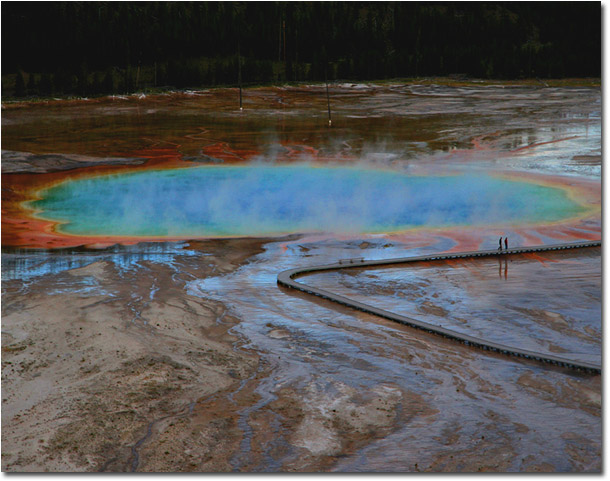 The number of thermal features in Yellowstone is estimated at 10,000 and 200 to 250 geysers erupt in Yellowstone each year, thanks to its location in an ancient active caldera.

This is where I call home for 4 to 5 months every year and each season I prepare my interpretive programs in anticipation of the millions of visitors who stare in awe not only at the thermal features but at all the natural wonders the park has to offer. Yellowstone truly is the crown jewel of our national park system and it's no wonder it is often referred to as the American Serengeti.

Comments on NPN landscape photography articles? Send them to the editor. NPN members may also log in and leave their comments below.

Gary Melnysyn is an avid outdoor enthusiast and has been interested in wildlife from a very young age. As a certified Master Naturalist, Master Wildlife Conservationist and National Park Service Ranger he has led and narrated eco tours as well as taught adults and children alike about the coastal ecosystem of Florida, the wildlife of New England's woods and the geology and wildlife of the Yellowstone Ecosystem. In his travels throughout North and Central America he has concentrated on digitally documenting a variety of wildlife species. A self-taught photographer, his travels have taken him from the far reaches of Alaska, across the Canadian tundra, through the wilderness of Montana and Wyoming, southward to the shores of the Sea of Cortez, through the Great Divide and deep woods of Maine. His passion for photography combined with his wildlife background results in stunning wildlife images. Gary is affiliated with a variety of professional organizations and has received various awards. He was most recently an Honoree in the George W. Glennie Nature Exhibition.