Book Reviews for October 2011

Text and photography copyright © Paul W. Faust. All rights reserved.
Through the Eyes of the Gods, An Aerial Vision of Africa
by Robert B. Hass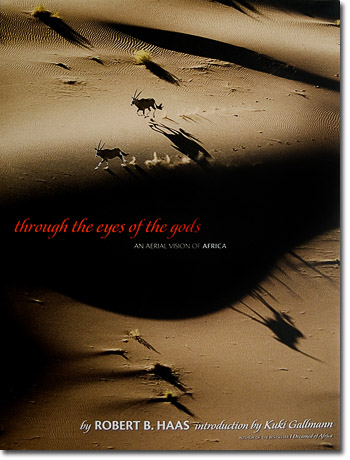 This huge book is probably one of the best photo books I have ever seen, let alone reviewed. At 11.5 x 15 inch, the two-page photo spreads are really something to behold, and then when you consider that ever image in the book was taken from the sky looking down on this land, you can see why this is one of the most unique books you will find in print. From above, everything takes on a completely different look, as you will see with subjects like village fishing boats, and lakes filled with flamingos, to landscapes that look more like abstract paintings than they do hills and stream beds. Herds of animals, or just small family groups take on a new shape, as does the work of village life. They range from images taken high up from light planes, to down low in helicopters just above tree top level. The cover shot is just a small sample of what the images inside are like. This is one "Must-have" book for any serious photo library!
This hardback book has 100 full-color images on 208 pages and retails for US-$50. I Rate it: A+++++
The Southwest, Gold, God, & Grandeur
by Paul Robert Walker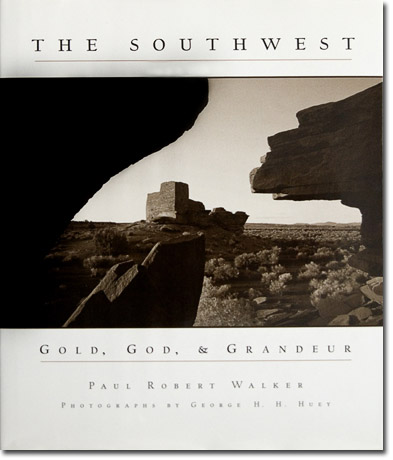 The southwest of the United States is one of the most dramatic areas of the country, and this outstanding new book covers all of it in eight sections that start out with its earliest recorded history, c-1528, and continues on to the present. The book tells it all in stories of its history, and shows it in over 150 images, both old and new. For any photographer looking for new locations to shoot, this book is filled with places to check out, and when you get there you will already know all about them.
This hardback book is over 9x11 inches, 208 pages and retails for US-$35. I Rate it: A+
Last Stand, America's Virgin Lands
by Barbara Kingsolver
photography by Annie Griffiths Belt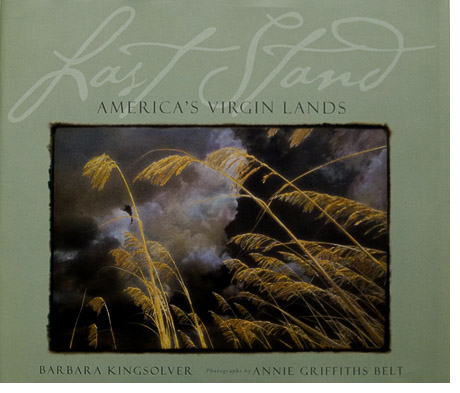 If you enjoy top quality books filled with beautiful images of nature, you will want to add this one to your library. The 100 images are said to be half shot on color film, and the other half with infrared film that was then hand colored, but for many of them I couldn't tell the difference, they are so well done. Many images are two-page spreads, and some are so detailed, such as one of a rain forest scene, that I don't know how anyone could have hand colored it, but if they did, then it took more time and work than I even want to think about doing. Besides the information part of each section, there are famous quotes included next to many images by people such as John Muir, and Thoreau. The images cover the subjects of wetlands, woodlands, coasts, grasslands, and drylands, all done with the same touch of a true artist. This book is filled with both inspiration and motivation, and is a "must-have."
This hardback book is over 12x10 inches, 191 pages and retails for US-$40. I Rate it: A++
CAVES, Exploring Hidden Realms
by Michael Ray Taylor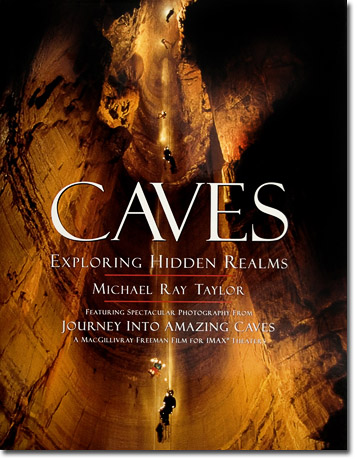 This book was published in conjunction with an IMAX film, "Journey into Amazing Caves," done by MacGillivary Freeman Films, and many of the images in it come from that filming. I already knew of the quality of this film team as I knew both of them, (Greg and the late Jim Freeman) in their early surfing film days, and readers here may know their work from their filming of the movie Jonathan Livingston Seagull. Filming quality that is considered, "the best of the best." This book covers the filming of major ice cave systems in Greenland, underwater caves in the Yucatan jungles, and other cave systems in the American east and southwest. The cover shot will give you just a small idea of the rest of the incredible images inside, and you will be amazed at how they were able to get a large IMAX camera into places that a person can hardly crawl through. If you get this book you will also want the film, which is available on DVD.
This hardback book is over 9x12 inches, with 216 pages and retails for US-$35. I Rate it: A++
Comments on NPN nature photography book reviews? Send them to the editor. NPN members may also log in and leave their comments below.
Paul W. Faust is a self-taught Photographer, Writer, Digital Imaging, Photo Restoration, and Photo Stock Service professional. You can see more of his images on his web site at www.Impressions-of-Light.com plus two web galleries of his images at www.paul-w-faust.artistwebsites.com and www.redbubble.com/people/pwfiol.