In Memory of Ronnie Gaubert

Text copyright © Jim Erhardt. All rights reserved.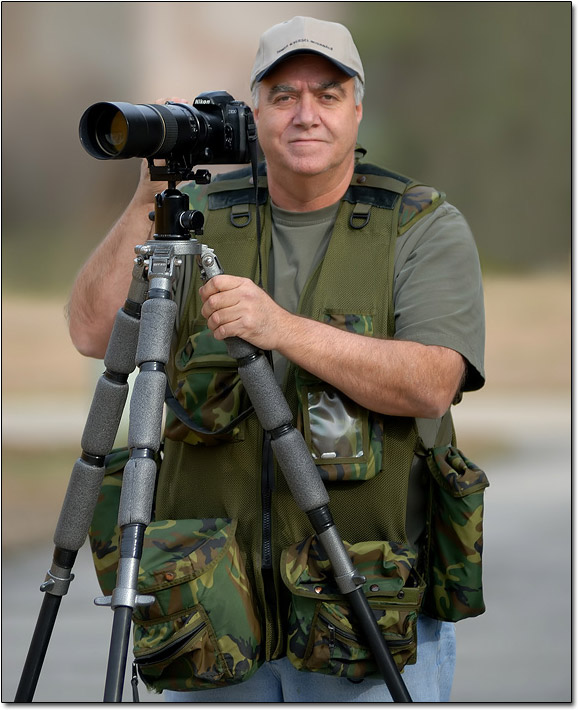 After a long battle with ALS (also known as Lou Gehrig's Disease), long-time NPN member and forum moderator Ronnie Gaubert passed away on May 3, 2011.
Ronnie had been a member of NPN since August of 2003. When Ronnie joined, he brought with him an easy-going style and great passion for nature photography. Always helpful and always willing to share his photographic expertise with others, Ronnie inspired all of us with every photo he posted.
Below are some links that showcase Ronnie's work;
We encourage you to set some time aside to view the links above, to experience the inspiration and love of nature that lives on in Ronnie's name. We also encourage you to log-in and share your memories of Ronnie in the comments section below.
Rest in peace, our friend.
Comments on NPN nature photography articles? Send them to the editor. NPN members may also log in and leave their comments below.


---
Comment posted by Guy Tal on 05/08/11 at 09:55 am
This is so sad. My condolences to Ronnie's family and friends.

Guy
Registered on 11/01/03, 566 Posts, 15507 Comments




---
Comment posted by David Chauvin on 05/08/11 at 7:59 pm
Do you know Ronnie Gaubert? It seemed every time I would meet a local nature photographer the question would eventually be asked. For a while I would jokingly respond, "yes, I know that hack" just to see the response on their faces. I had been asked so many times we had joked about making tee shirts with this question and his picture on them. Since Ronnie's illness became known and his subsequent passing, the true scope of the number of people he influenced is becoming clear. Cindy (Ronnie's wife) told me the number of emails from around the world has been overwhelming and that she had no idea just how known his work has become. Many people came to know Ronnie through his online images and his willingness to share his knowledge with anyone who asked. I will always be honored to say yes, I knew Ronnie Gaubert.


Many thanks to everyone for their thoughts and prayers. The exhibit of Ronnie's work was put on display this past February at the ALS research center in Houston. With the sale of prints and other donations, the cost of framing was covered. If anyone would like to purchase one of his prints from my website, all profits will be sent to his family.
David Chauvin
South Louisiana

"Thunder don't wet the ground" -unattributed
Registered on 08/05/04, 1007 Posts, 5595 Comments



---
Comment posted by Youssef Ismail on 05/09/11 at 12:11 am
It is always a sad and sobering time when someone passes. It is also more so when it is an individual who had so much to offer humanity. His work will live on and be an inspiration to others. My deep and heartfelt condolences to the family. My aunt struggled with ASL and eventually passed because of it as well. I know what you all must have gone through. Take care.
If you contemplate the sublimity of The Sublime then all suspicion will sublimate into certainty about what you are seeing and what you saw and what you will see. The fog of illusion will then vanish and only Reality will remain without any doubt or suspicion.
Registered on 11/01/03, 474 Posts, 5555 Comments




---
Comment posted by Bill Chambers on 05/09/11 at 1:42 pm
Thanks Jim for this tribute. Ronnie was indeed a superb nature photographer in that his love of the outdoors came through in his images so well. We will all miss him dearly.
Bill Chambers
Gulf Breeze, Florida
Please visit Enchanted Light Photography
Landscape & Man and Nature Co-Moderator

"You don't make a photograph just with a camera. You bring to the act of photography all the pictures you have seen, the books you have read, the music you have heard, the people you have loved." - Ansel Adams

Registered on 04/10/05, 753 Posts, 21216 Comments



---
Comment posted by Jim DeWitt on 05/09/11 at 5:00 pm
Jim, thanks for posting this. David, thanks for doing so much for Ronnie and his family. My [url=http://wickershamsconscience.wordpress.com/2011/05/06/a-few-words-about-ronnie-gaubert/]tribute[/url] to Ronnie had a very high number of hits for a photography post. The comments on his photography were uniformly high praise. R.I.P. Ronnie.
Jim DeWitt
Frozen Feather Images
Fairbanks, Alaska


Go on, prove me wrong. Destroy the fabric of the universe. See if I care.

      - Terry Pratchett
Registered on 08/28/06, 1240 Posts, 8506 Comments



---
Comment posted by Jim Hackley on 05/10/11 at 2:09 pm
Very sad to hear about this, Ronnie was one of the best nature photographers I have seen. I was thinking about him the other day while I was photographing at Sweetwater Wetlands. His photographs of ordinary birds would make them look exceptional with how he composed the scene and his use of light. He will certainly be missed. Best wishes to his family and friends.
Registered on 09/17/09, 302 Posts, 5535 Comments

---
Comment posted by SandyRichardsBrown on 05/10/11 at 10:50 pm
Jim deW - hope you don't mind my giving a better link to the very nice Wickersham post.
Sandy
http://wickershamsconscience.wordpress.com/2011/05/06/a-few-words-about-ronnie-gaubert/
Sandy Richards, NPN 0367
San Francisco East Bay
CA + PNW Regional Member
NATURE'S MAJESTY IMAGING
http://naturesmajestyimaging.zenfolio.com/

"All things bright and beautiful, All creatures great and small, All things wise and wonderful: The Lord God made them all.
Each little flower that opens, Each little bird that sings, He made their glowing colors, He made their tiny wings."

- Ce­cil F. Al­ex­an­der, Hymns for Lit­tle Child­ren, 1848, Ireland
Registered on 11/24/03, 3937 Posts, 12909 Comments



---
Comment posted by Tony Kuyper on 05/20/11 at 10:18 am
Very sad to lose such a wonderful photographer. His passion and pictures will continue to inspire all of us.
Registered on 11/01/03, 364 Posts, 22328 Comments