Review: Olympus E-5 Digital Single-Lens Reflex Camera

Text and photography copyright © Jim DeWitt. All rights reserved.
Olympus famously uses the four-thirds technology it helped develop in its DSLR products. That technology defines both the strengths and weaknesses of the DSLR product line, including the E-5.
The sensor in Olympus DSLR cameras is half the size of a 35mm frame. On the downside, that limits the number of pixels the sensor can capture in comparison to a full-frame product. It also implies more noise than a full-frame sensor at the same ISO setting. The E-5 captures 12 megapixels; there are Canon and Nikon cameras in the same price range that get twice as many pixels. The E-5 can now shoot with acceptable levels of noise at ISO1600 (a four-fold improvement over the E-3). But, again, Canon and Nikon DLSR cameras in the same price range manage the same low noise at ISO3200 and even ISO6400. This is by no means the best low-light DSLR camera on the market. The E-series wonít be as long as it uses the Four-thirds technology.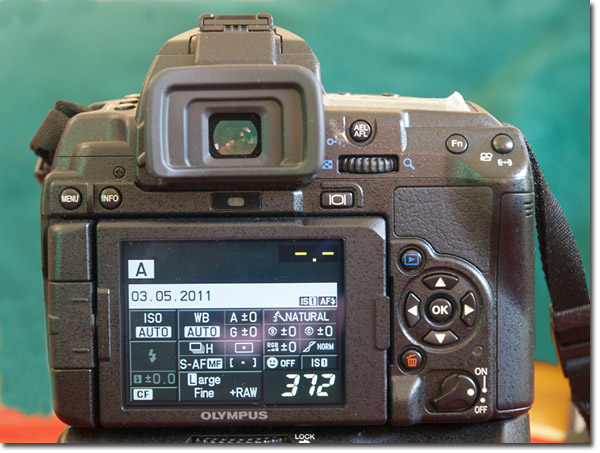 But there are very real, very important advantages to the four-thirds technology, too. The Zuiko lenses built to 4/3rds are quite simply the best DSLR lenses available in the world. Itís not just that they are razor-sharp, aberration free, and well-built; the 4/3rds technology makes them focus faster and makes them lighter and superior to the equivalent Canon and Nikon glass. The Olympus 300mm f/2.8 Super Telephoto ED Lens for Olympus Digital SLR Cameras is by far the best telephoto lens I have ever owned. Because image stabilization is in the camera, not in the lens, the form factor is smaller as well as lighter. The improvements to the E-5 play to these strengths.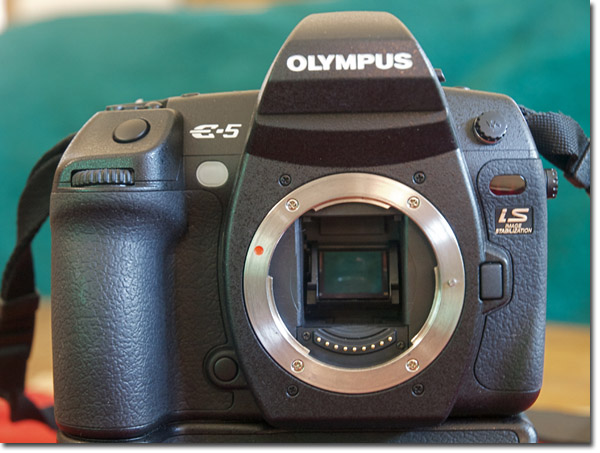 I just finished a 17-day trip into the tropics photographing birds. I used the E-5 for every shot. While the E-3 is a splendid camera, that I have happily used for years, the E-5 is so superior to the E-3 that I never broke the E-3 out of my gear bag.
Some of those advantages:
(1) Much faster focusing, and more reliable Ė although still not ideal Ė focusing in low light. Focus acquisition with a teleconverter is especially improved, and itís now possible to shoot a bird in flight with the 300mm with a Olympus Zuiko EC-20 2x Teleconverter for Olympus Digital SLR Cameras mounted.
(2) Greatly improved performance in low light. Noise levels are acceptable to ISO1600, where the E-3 wasnít much good above ISO400.
(3) Improved in-camera processing. Images emerge needing much less Photoshop work. The level of detail is simply extraordinary.
(4) Substantially improved multiple shooting, with a higher frames per second rate and a bigger buffer. Thereís some improvement in the write speed as well, so you spend less time waiting for the buffer to write to media.
(5) Larger, more accurate LCD view screen. Pixel count and density are higher, and you can adjust the viewer for lighting levels.
(6) Greatly enhanced user configurability. As someone who is left-handed, thatís especially important to me.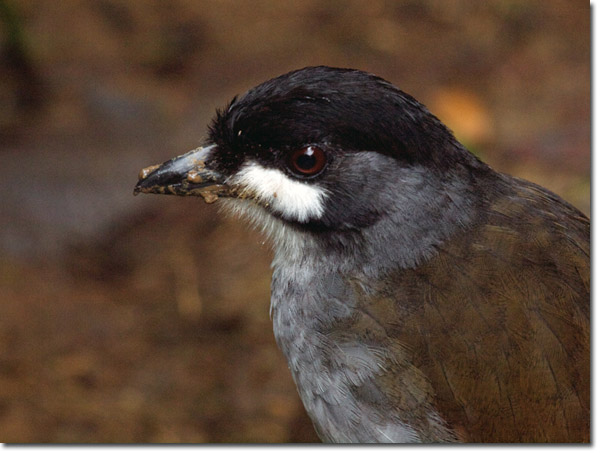 I understands that the JPEG processing is especially good, but I exclusively raw, so thereís little benefit for me. Art filters arenít of any use in nature photography, so I canít speak to the ten new art filters, either. The new video features are fine, but not my primary goal.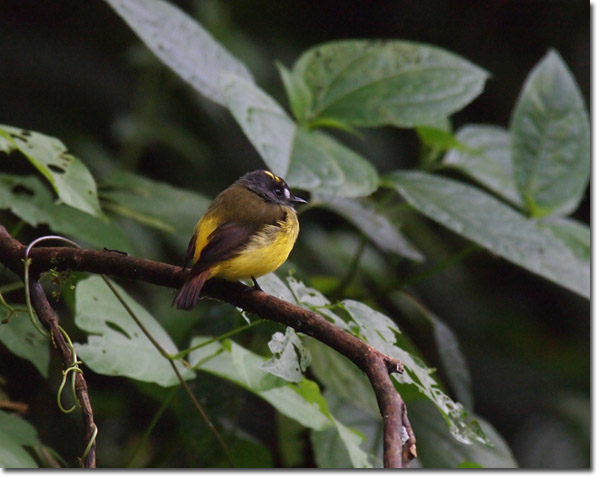 If you have an investment in Zuiko lenses or want the best possible glass for your work, then the E-5 is an easy choice. Beyond question, youíll get better photos. If you havenít invested in Zuiko, then the E-5 may be a more difficult choice. But if you are a nature photographer looking for the sharpest possible images and not shooting in consistently low light, then Zuiko lenses and the E-5 are the tools of choice.
Comments on NPN photography equipment reviews? Send them to the editor. NPN members may also log in and leave their comments below.
Jim DeWitt lives in Alaska. He has camped, hiked, skied, fished and photographed in the Pacific Northwest for 46 years.


---
Comment posted by Lorna Taylor on 05/08/11 at 4:57 pm
Thanks Jim , I have been wanting to up grade my Olympus gear for the last six months and have not been sure if the new E5 was enough and had dare I say consider switching . I kept putting it off because I dearly love my Olympus and its wonderful colour range with out post processing work. Your review has helped me off the fence, I will stay an Olympus girl ! Thanks for the review.

WWW.Taylorimages.ca
http://www.flickr.com/
Alberta, Canada
Registered on 11/12/10, 254 Posts, 3083 Comments

---
Comment posted by John Reed on 05/10/11 at 09:25 am
The "print this page" link takes one to the book review article and not this one. Can you please fix this.
John Reed
Jacksonville, Florida
Registered on 07/20/08, 0 Posts, 0 Comments


---
Comment posted by David Bostedo on 05/24/11 at 4:53 pm
"...the 4/3rds technology ... makes them lighter and superior to the equivalent Canon and Nikon glass."

Jim - One point of clarification.... The Olympus 300mm/2.8 is larger and heavier than the Nikon and Canon equivalents :

Olympus - 12.7x28.5 cm, 3290g
Canon - 12.7x25.15 cm, 2540g
Nikon - 12.45x26.67 cm, 2900g

And those are the f/2.8 VR/IS equivalents. What you DO get with the Olympus is more reach due to the size of the sensor. And they may be superior - I believe most of the higher end 4/3rds lenses are telecentric, which means flatter fields and less distortion; But those are all great lenses. It should be theoretically possible to make a smaller lens for the smaller 4/3rds sensor, but in practice, Olympus has stuck with larger lenses - maybe due to design/part re-use with full frame lense? I don't know.

Now if only I could afford a 300/2.8 for my E-520!!
David Bostedo
Fairfax, Virginia, USA
Digital Imaging Forum Moderator
Registered on 05/05/06, 178 Posts, 2224 Comments