Richard Costin's Shots From The Wild

Text and photography copyright © Richard Costin. All rights reserved.
Hello one and all! It is a real pleasure to be here writing for you at the Nature Photographer's Network. Each time I will be presenting a few chosen shots from the image vaults, and relating my experiences taking them. I hope you enjoy. Please let us know if you like them and what types of images you may like to read about next time.
Ok, let's start with a biggie, this backlit young male lion.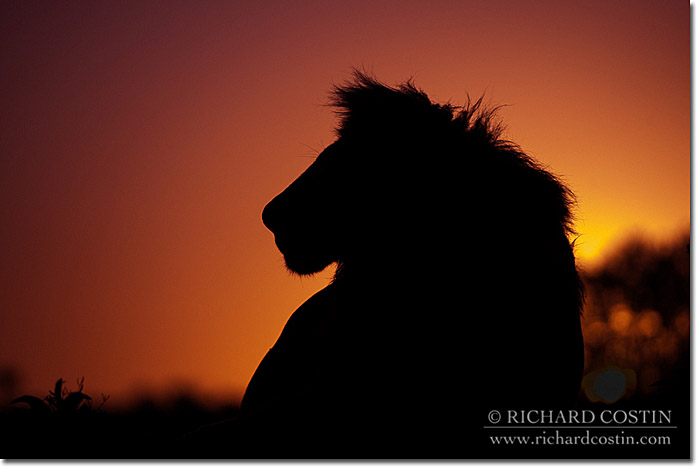 This is the sort of image I love to take, illustrative and instantly identifiable. Males Lions lend themselves more to this technique due to their mane, and this chap had the most pristine hairdo of any lion I have seen! We nicknamed him Beckham for the duration.
At the time I was staying at a tented camp on a private reserve away from the main Mara park, I usually enjoy working in the quieter, private reserves as there are far less vehicles to contend with and although the animals are a little harder to find, I have got to know some fantastic guides over the years that seem to have a sixth sense and binocular vision. I have learned a lot from them, but their ability to track the cats still wows me on each and every visit. On this occasion we were making the long drive to the main reserve as there had been reports of the migration starting early and couldn't pass up the chance to see some of the spectacular river crossings. An hour into the drive, with the sun still below the hills, Daniel (a good friend and guide) noticed a Topi giving the look I have since learnt to always pay attention too. They have incredible eyesight and are often a first alert for other animals (and wildlife photographers) in the area that there danger nearby. Sure enough we followed its gaze and (eventually, amazing eyes!) came across this handsome chap. I was elated as we still had a good 10 minutes before sunrise and we were the only vehicle for miles! The chance to prepare is rare out in the Mara so I was going to make the most of this.
He was very much out in the open and I immediately told Daniel where to position us for a backlit shot. I first started making backlit images working deer back in the UK and love taking them. I instructed Daniel to put the back wheel in a convenient ditch for a lower angle and slowly opened the door and lay down. Some people think opening the door mere meters from a wild lion is a huge risk but Daniel has taught me to read the cats behavior very well now (he is always keeping a more experienced eye on me anyway) and the lions of the Mara are very tolerant of vehicles. He lifted is head somewhat to see what was happening and then slumped back down.
Moments later the sun began to rise and all I could do was stay poised and hope he raised his head to get the classic lion profile. I refuse to make any noise to try and get a reaction as this could rattle him (not a good idea), also I believe if you treat the animal with respect you will in the long run have a better encounter that lasts. Sure enough a few minutes later he thankfully raised his head in reaction to the sun's first rays soaking him in warm Mara light. He looked stunning and I fired off a few select shots in single shot mode, no need for the machine gun mode here. I locked the camera's metering to expose for the sky, knowing it would give a rich dark silhouette. I played around with the light a little, trying a few exposure compensations and having the sun's orb in shot, but simple is often best and placing the sun, hidden behind him, keeping him in total shadow worked best (to my eye at least!). Over the next hour we worked in this early light, with him keeping an eye on us all the while. His mane was magnificent and luckily, he was a real poser, totally relaxed with us. As the sun began to heat is up, he finally made it to his feet to find some shade. I often position my vehicles well ahead of a walking cat, cut the engine and get low down (door open) for walking shots and this method works well, especially out in the open. It also means the lion comes to us and therefore comes a lot closer than if we raced up, engines firing. A fantastic encounter and I have included some additional images from the time we spent with him. A true portrait session!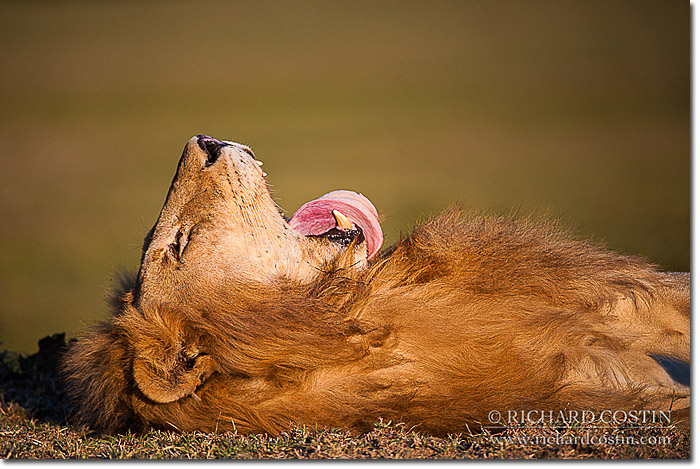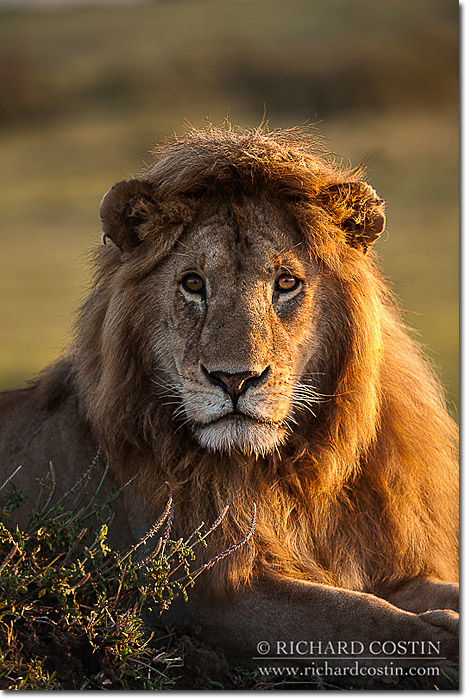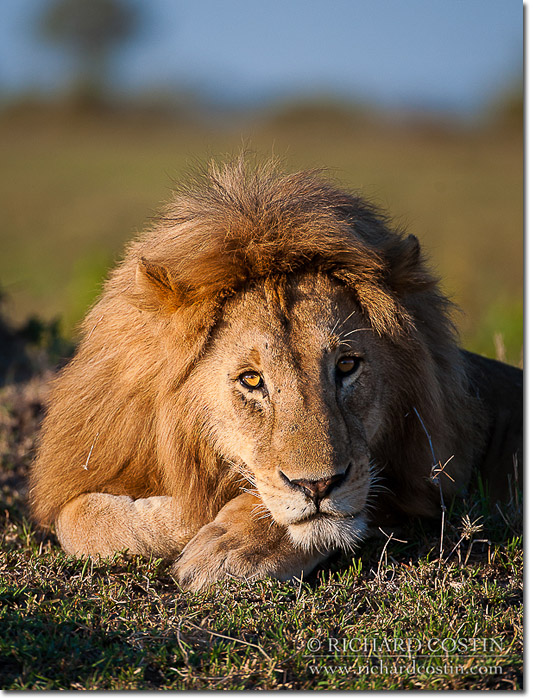 From wild Africa, to wild England, and one of my favorite subjects to work with…. BADGERS!
Badgers are such characters, typically English and always a real pleasure to simply observe. This is a personal favorite of mine, certainly in my top 5. It is the culmination of many, many hours spend observing their behavior as well as a touch of on the spot planning and a sprinkling of luck. Luck, like it or not is, no matter how much other photographers may tell you, is very important in wildlife photography. Although the more effort you put in, the luckier you tend to get in my experience!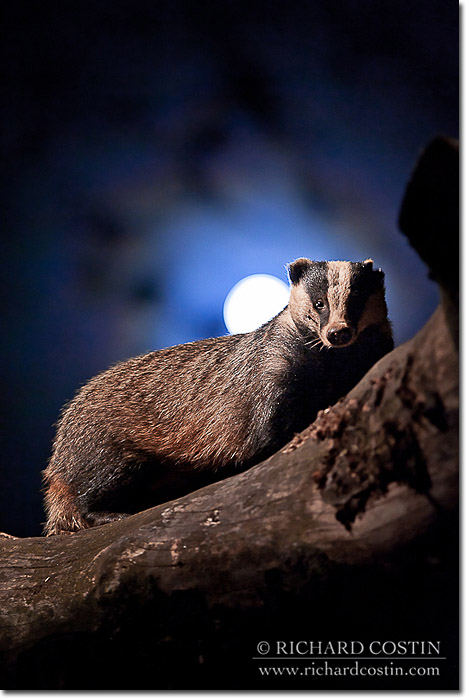 It had been another long night spent at a set I work a fair amount with, I often come away with something at least half decent after a session. I was however struggling for motivation. It was cold, damp and I was desperate for some unique shots; different from my past efforts. It was a relatively clear night and the moon was lighting up the field well. Now I hate to work with flash, but the Badgers are an exception I have to live with. I use off camera, very diffuse, very weak flash. The excellent low light capabilities of the Nikon D3 mean I can pump the ISO up and get away with a very weak flash. I always look very closely to see if the flash is bothering them, but they seem far more concerned with the tasty invertebrates they are digging for. Badgers are very nose, rather then eye orientated which helps. That, combined with a slow rate of photography (no click-click-click action) has no effect on them and the only real concern they seem to initially have is the shutter click which they soon learn to ignore by the 3rd or 4th shot (slowly taken over 5 minutes to start with).
The composition of this shot (one I have been accused of "Photoshopping" in the past!) was preconceived about an hour before I took it. I was tired, down on enthusiasm and a warm bed beckoned. I was considering calling it a night when I noticed the moonlight shining through some trees to the side. I then noticed that the moons path would put it, for a while, right behind a fallen tree that I regularly see the badgers using. For the better part of an hour I could hear several around me, feeding on the ground but none seemed interested in making their way across the tree. The moon crept up slowly and eventually emerged behind the tree stump as I predicted. I had a window of 10 to 15 minutes where the shot might work, after that it would be game over. Fully prepared to go back empty handed (a regular pastime for any wildlife photographer) I kept still and suddenly saw my old friend (I know him as part of his ear is missing) trudging in the way that badgers do, along the tree and right where I wanted him to be! It rarely all happens so perfectly in this business and I don't think I have ever been as focused on nailing the shot as I had been then. This is also one image that probably couldn't have happened without the new low light capabilities of the newer digital cameras. I was at ISO 2000, a value that not long ago would have produced an unsellable image. I chose to up the ISO as there was no way I was going to mess the shot up with any slow shutter blur. I was face down in the dirt, hand-holding the huge 200-400 lens and had been proned since the badger first started onto the tree some 5 mins earlier. I would always rather have a slightly noisy image than a blurry yet noise free one! I needed a touch of fill flash to balance the light and fill in the shadows, triggered via a pocket wizard to an SB800, taped to a tree branch nearby. The blue cloud formation was also a lucky addition, one that quickly vanished as you can see from these photos taken very shortly afterwards.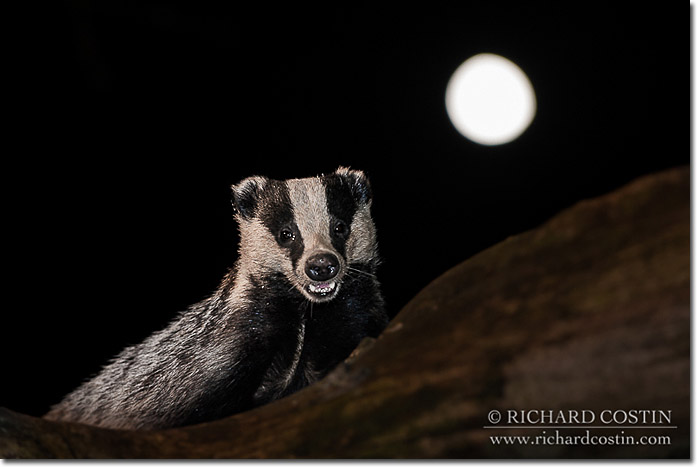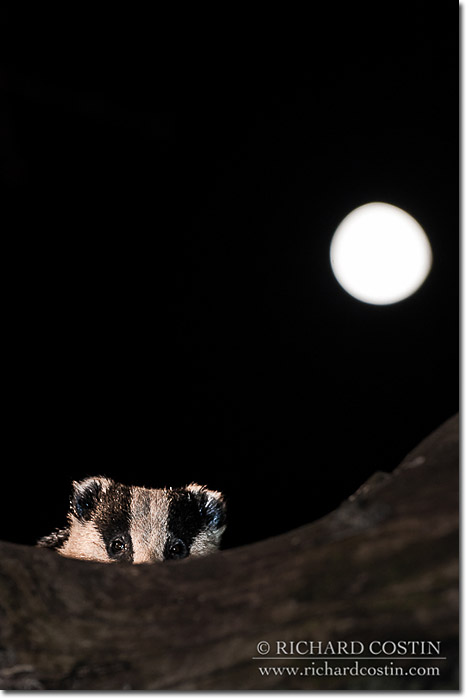 I always think back to this occasion each time my enthusiasm drops, if I had gone to bed early that night I would never have know what I missed!
Comments on NPN wildlife photography articles? Send them to the editor. NPN members may also log in and leave their comments below.

Richard Costin is a Wildlife Photographer and Animator based in the United Kingdom. He has always had a passion for nature and has been professional photographer now for several years. You can find out more about Richard and his work at www.richardcostin.com as well as his Facebook fan page at www.facebook.com/richardcostinphotography.